 Accurate Nepal is a mid-range Nepalese smartphone accessory brand aiming to provide quality products at an affordable cost. Last year, we got a very good response from you guys on our full review of Accurate HX03 TWS Buds. This year, Accurate Nepal has added a new affordable TWS to its arsenal i.e. Accurate AT-01.
In this article, I will be taking you along my two weeks journey of using these buds.
Price and Availability in Nepal
It is available at Rs. 3499 in three color options – White, Pink, and Black. It is available for orders from Accurate DarazMall, offline retail stores and Accurate's official Facebook page.
Accurate AT-01 TWS Buds Specifications
| | |
| --- | --- |
| Driver | 13mm 32Ω |
| S/N Ratio | >= 70db |
| Frequency | 20Hz – 18.5KHz |
| Battery | 40mAh (Buds) and 400mAh (Power case) |
| Charging Time (0-100) | 1hour (Buds), 2hours (Power case) |
| Bluetooth | V5.0 + BR + EDR |
| Case to Buds | 4 times |
| Music Playback | 4.5 hours |
| Talk Time | 3.5 hours |
| Port | USB Type-C |
| Noise Cancellation | No |
Unboxing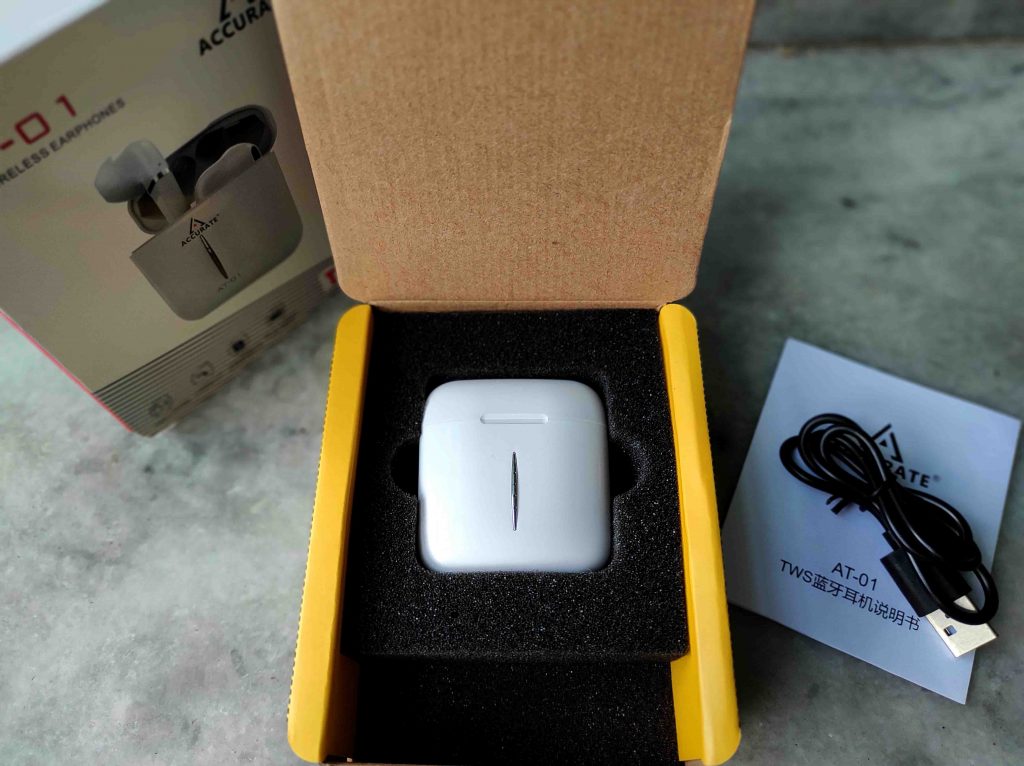 The packing is similar to last year's Accurate HX03 and I mean to say it is pretty good. You get the buds in the case, a USB Type-C cable and User Manual in the box.
Accurate AT-01 TWS Earbuds Full Review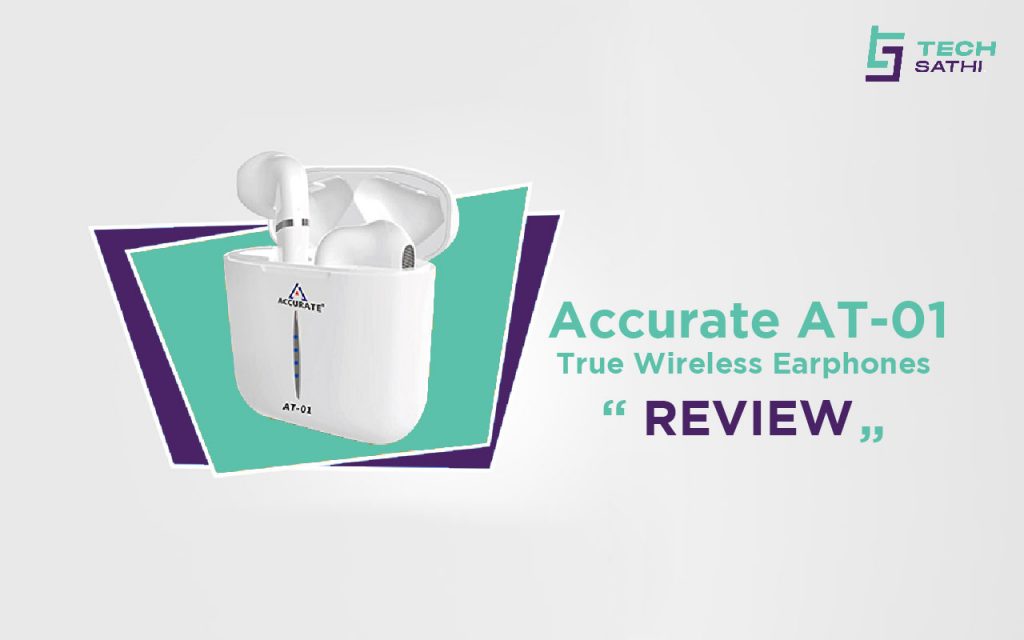 Build and Design
The best part about these buds for me is the drastic change in the design of the case as compared to last year's HX03. Though the case now looks highly similar to Apple's Air pods case, I am not complaining here. The case now has smooth edges and is more compact making it look and feel much premium. The plastic case has a glossy mono-color finish with a blending 'Accurate' logo on top. The case is sturdy and attracts very few fingerprint smudges. The front of the case has a metal oval module that houses the battery indicating LEDs which are of four in total. The back of the case has a USB Type-C port for charging. The lid of the case is magnetic and produces a click sound when the lid is closed which I am highly fond of.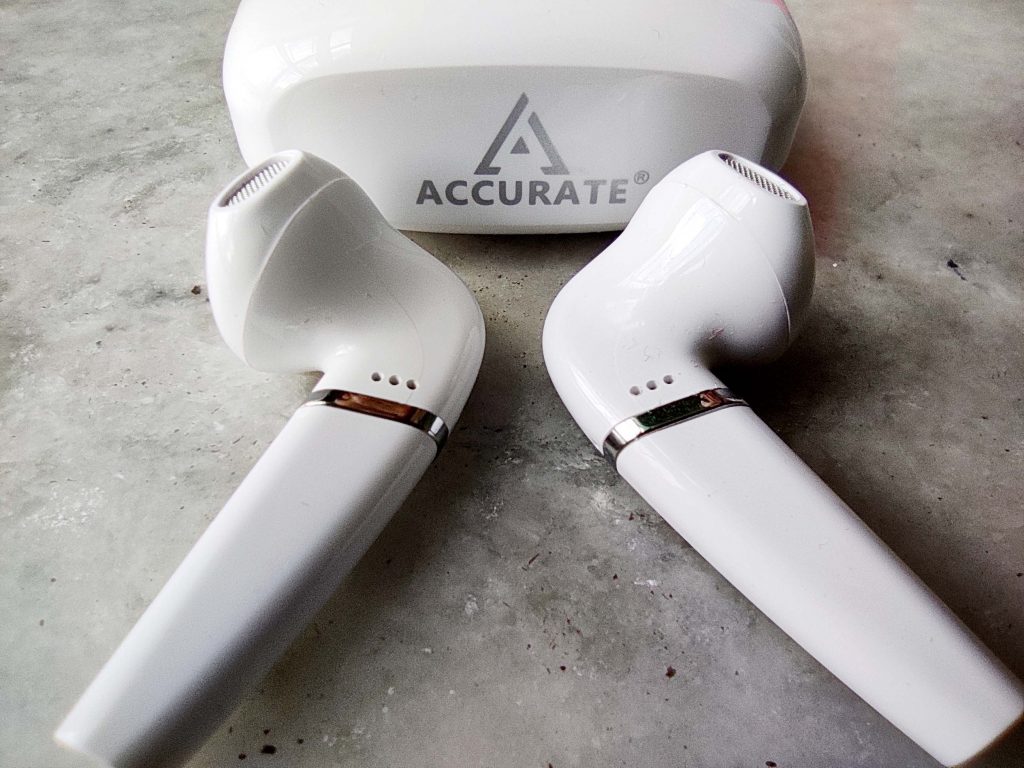 The Accurate AT-01 buds in particular are completely identical to the HX03 buds with no ear nozzle cover yet still a perfect fit in my ears. The buds and the power case connectors are magnetic so they won't fall out of the case unless you pull them out. Each of the buds has a multi-functional touch control area for various functions that I will mention later. The company doesn't claim the buds to be sweat or waterproof. I did use them while jogging and working out and they haven't gotten damaged but use them at your own risk.
Battery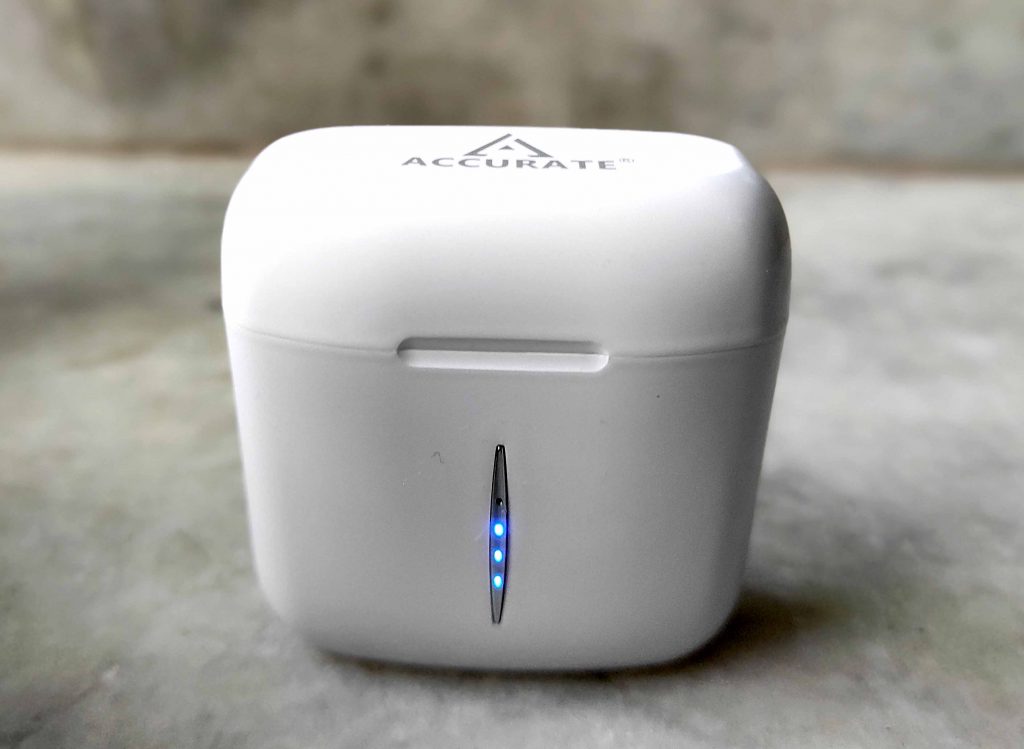 The power case has a 400mAh battery whereas each of the buds has a 40mAh battery. On my usage with 70% volume, I was able to listen to Spotify for around 4 hours and 30 minutes while talk time on both FB Messenger and NTC 4G lasted around 3 hours and 40 minutes on a single charge. Then I simply put the buds in the case to charge them where they are attached to the case by the magnet. The buds go from 0 to 100 in around an hour while the empty case takes nearly 2 hours to get fully charged. The case doesn't support fast-charging as both my 33W and 10W adapters charged the case in around the same time.
Unfortunately, to know the amount of battery left in the case you have to take at both buds out and put them back into of the case for the battery indicator to turn on blue unlike how a single button press can do that on the HX03 which isn't present here. You can also see the amount of charge while the case is charging as the blue battery indicator LED keeps on blinking until the case is fully charged. Four blue battery indicator LEDs mean that the power case can fully charge the buds four times. When the buds' battery is low, the battery icon of the TWS buds on your mobile will turn red and you will get a voice prompt message of "Please charge" three times, and then the buds will turn off automatically.
How to Use Accurate AT-01 ?
The left and the right earphone can be used individually or both at the same time for music playback or phone conversations as both the earphones have a microphone. Once the earbuds pair with your device, they will automatically pair with it next time so to pair the buds, simply open Bluetooth on your device, search 'AT-01' and hit pair and connect. The buds will give voice prompts i.e. 'Connected' or 'Disconnected' as per the situation. For some devices, if a pairing password is asked, enter '0000'. The earbuds will go into sleep mode if you stay without BT connection for about 20 minutes. You can simply touch the control area on the buds to wake them into work mode.
Note: Sometimes if the earphones fail to connect with your device or the buds do not pair with each other i.e. only one bud works when both are taken out, simply turn off both earphones by putting them back into the case. Then take them out of the case and wait for 3-12 seconds for the buds to pair with each other before turning the Bluetooth on your mobile device.
Now let us take a look at what the multi-functional touch control area does:
Play/Pause Music -Touch the control area once on the L/R earbud.
Previous Song -Double-tap o the left earbud.
Next Song – Double tap on the right earbud.
Siri/Google Assistant – Touch and hold the control area for around two seconds on the L/R earbud.
Receive or hang up a call – Tap once on the L/R earbud.
Reject a call – Touch and hold the control area on the L/R earbud.
Sound Quality and Performance
Considering the price tag, the sound quality is pretty good here. Bluetooth 5.0 helps in good audio transmission but you have to be careful that you are within range of 10meters without any obstruction of physical objects or higher frequency (such as Wi-Fi) for the best connection.
The buds is supported on both Android and iOS devices. During my usage, the connection was quick and stable for all the phones in my household that support Bluetooth 5.0. Even though high-quality audio transmission still isn't supported by these buds, the highs, lows, and mids along with the audio separation of vocals and instruments in stereo mode are much improved than HX03. The distortion at the highest volumes is also pretty less now.
The best improvement award still goes to the latency. Unlike HX03, I don't have to be hesitant to recommend these buds to gamers as well as I have personally tested them while playing PUBG mobile. Even though they are not as good as wired ones, the game is now definitely playable with it. The microphone quality on both buds remains the same as before but the sound quality is somewhat acceptable if you aren't in a noisy environment as these buds do not come with noise cancellation or isolation at all. So yes, you can still hear your friend whisper beside you while listening to music on these buds.
Verdict
Well, despite the shortcomings which are to be expected for TWS buds at this price range, the features and improvements it provides over last year's HX03 make it a highly recommendable product. In case you are wondering, I am still using last year's HX03 and it works just as new with great battery backup even after a year. So, I can say that Accurate Nepal brings great products to its customers at least based on my personal experience. Let us see how long the Accurate AT-01 will last for me.
See you next time. Stay safe.