 Get ready to enjoy the huge cashback on Khalti while booking a flight. Khalti, Nepal's leading online payment service provider, has teamed up with Yeti Airlines to offer the biggest and fastest cashback of Rs. 450 on domestic flight bookings from Yeti Airlines App.
The cashback amount will be distributed in two stages: Rs. 150 will be taken from the bill amount and the remaining Rs. 300 will be credited to your Khalti ID. Users would receive a total of Rs. 450 in cashback on flight bookings.
This offer is valid from January 13, 2022, through February 15, 2022.
How to get Cashback on Khalti for Paying to Yeti Airlines?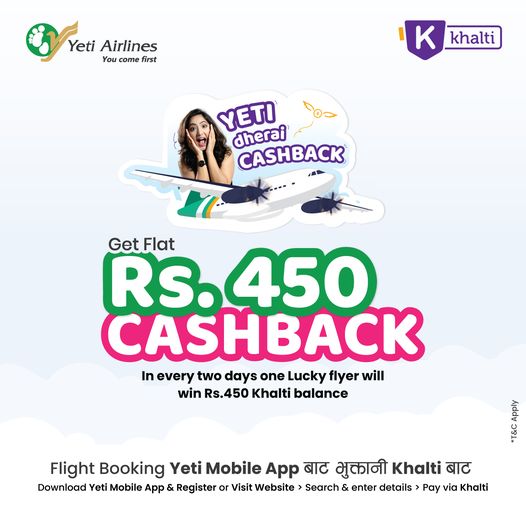 To receive instant cashback on flight booking, users need to:
⦁ Download the Yeti Airlines app and register or visit https://www.yetiairlines.com/
⦁ Select and Search the Origin and Destination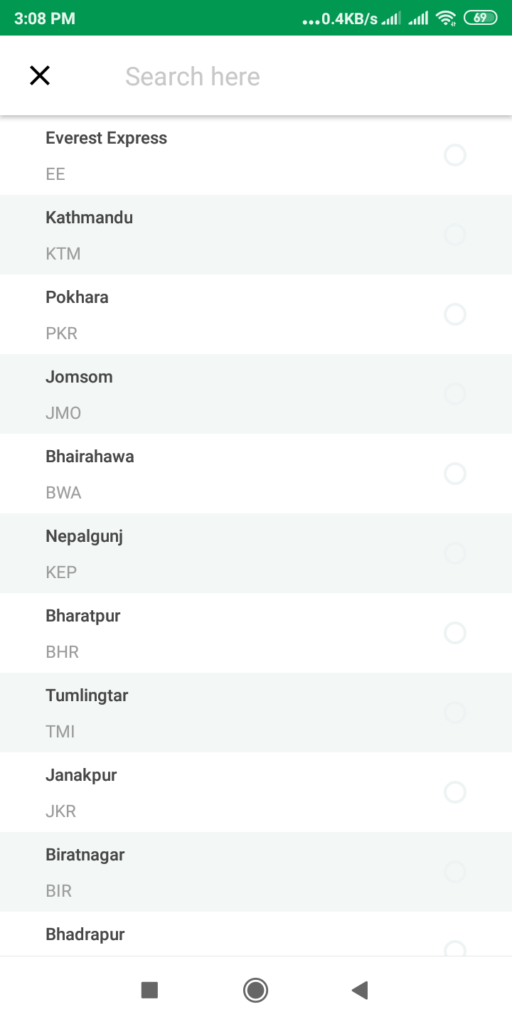 Then select the Nationality and Number of adults/children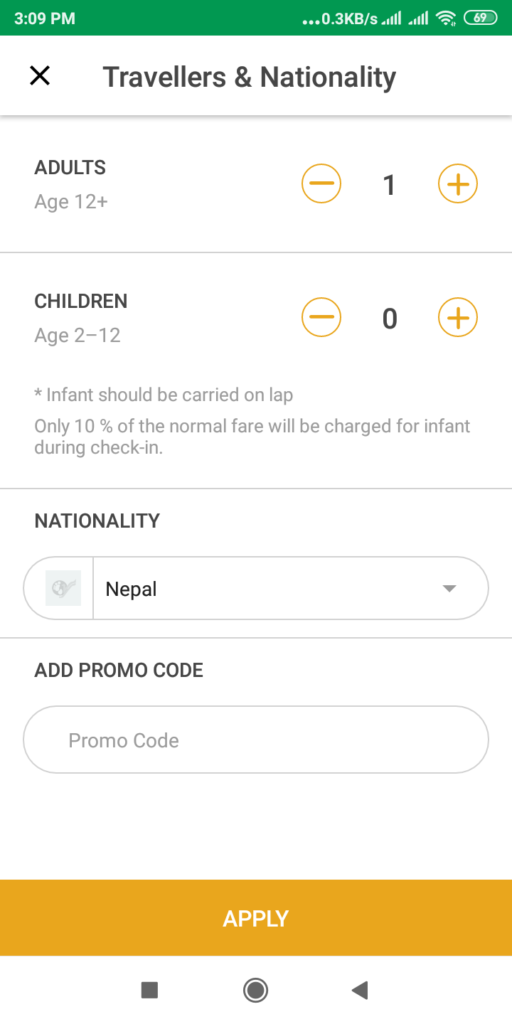 Choose the desired ticket and tap on"Continue"
Fill in the details and tap "Next"
Choose Khalti Wallet for payment and Tap on "Pay"
Users will receive fast cashback on their Khalti ID once their flight ticket is confirmed.
Regarding the cashback offer, Khalti's CEO Binay Khadka shares,
"We are really thrilled to work hand-in-hand with Yeti Airlines and deliver additional convenience and access to quick flight booking and digital payment for users."
In addition to this, Mr. Yubraj Bista, Chief Business Officer of Yeti Airlines, said,
"We are delighted to cooperate with Khalti and give the users a hassle-free ticket booking experience."
About Yeti Airlines App
The Yeti Airlines app is newly developed by Yeti Airlines for easing its customers. It is a mobile app which you can use to book flight tickets. There are 20 domestic airport destinations in the app. You can choose your place of origin and destination from the available options. Similarly, you can also select the packages among the different options available. Moreover, you will get push notifications on any new cashback offers while booking flights from the app.
About Khalti
In Nepal's fintech market, Khalti has established itself as a young, popular, and innovative brand. It currently has over 2.0 million active users around the country, as well as a 30K+ Agent network. Users can use Khalti to top up their phones, watch TV, pay their internet bills, insurance premiums, Government Revenues, Waste Management Bills, and purchase domestic travel tickets, among other things. Khalti also offers its consumers numerous cashback and discounts in order to assist them to save time and money.
Khalti has been delivering easy, reliable, and competitive digital payment options through its wallet since its inception in 2017. Similarly, its fantastic cashback offers, widely recognized payment alternatives, and interoperability features like QR code scanning, bank connecting, and more governmental services have made it popular with over 15 million users. You can also fill your wallet with more than 50 banks and 5000 Khalti counters.
In Khalti, there are now roughly ten government payment methods. Similarly, Khalti is Nepal's first PSP with an open API, allowing developers to test the system. Furthermore, this capability allows users to take payments from the following sources:
Khalti Users
eBanking users of partner banks
connectIPS users
SCT/Visa Card holders
You can download the Khalti app for both Android and iOS devices. Khalti is introducing various cashback offers time and again to delight its users. Moreover, it has been organizing various digital literacy campaigns too in collaboration with various other companies.
Through this collaboration with Yeti Airlines, Khalti is providing more incentives to its users while booking tickets for flights through cashback. Khalti is providing this huge cashback to encourage customers to make digital payments and travel bookings. So, get ready to enjoy this huge cashback on Khalti while booking flights from Yeti Airlines and save your money.
Also read: Khalti Launches "Khalti मा 100GB Free Wifi" Campaign: Here's How to Redeem