Fonepay, the leading mobile paying networks in Nepal has been taking numerous initiatives towards the betterment of society. After the announcement of the student ambassador program, fonepay is now conducting a live webinar session called "Yesh Teej ko Lahara Digital Banking Sarara " on the occasion of Teej, 2077.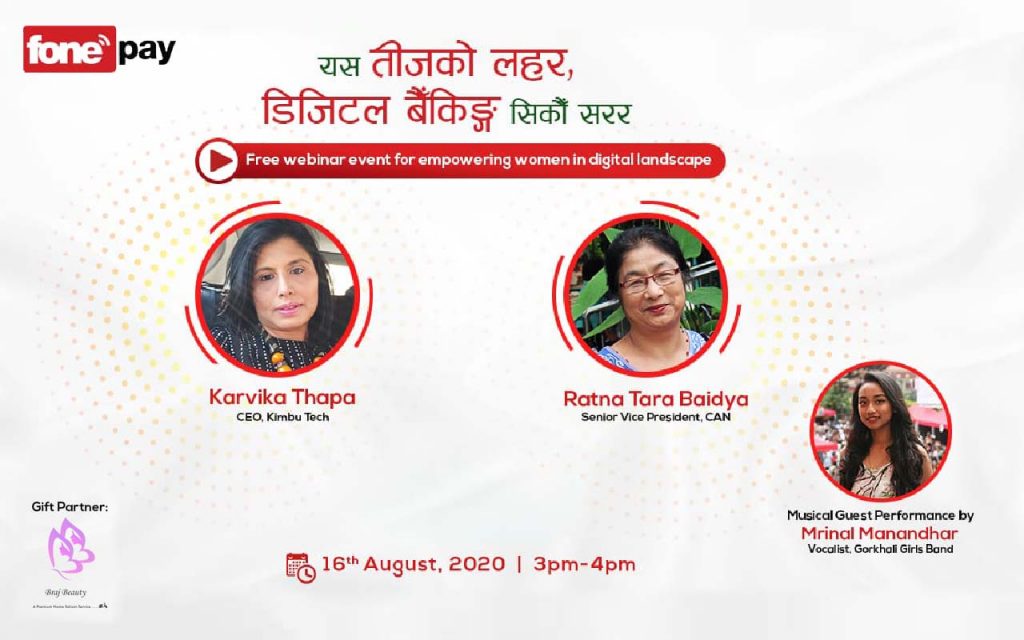 This will be an hour-long Live digital webinar session which will completely be women-centric. It will cover the importance of digital banking in Nepal and the benefits of various digital payment methods such as utility payments, QR scan, fund transfer, etc.
Moreover, this webinar has limited space for only 50 women-participants who will have the opportunity to join through the registration. Moreover, you can also win exciting prizes by completing the allocated task during the webinar. So, if you are willing to join then you better hurry up!
Yesh Teej ko Lahara Digital Banking Sarara; Fonepay
The main objective of this fonepay webinar session is to provide the participating women with insights regarding the urgency of digital banking in Nepal. It will solely focus on providing necessary means and resources to digitally literate women in Nepal.
Moreover, this session will include some really inspiring ladies in Nepal who are the living definition of female leadership as their special guests. These inspiring women will also be contributing their presence to encourage women to be digitally literate.
Mrs Ratna Tara Baidhya (Sr. Vice President of CAN Federation)
Mrs Karvika Thapa (CEO of Kimbhu Tech)
This event is a great opportunity for women and all the tech-enthusiastic girls. Here, you will have the opportunity to learn something new yet very important. More to that, you will also get an opportunity to get inspired by amazing female-entrepreneurs of Nepal.
Webinar details: