Fonepay shells in the Student Ambassadors program 2020, an opportunity for students to showcase their leadership skills and thrive through it. This is an absolutely amazing opportunity for someone who believes in creating change for the better.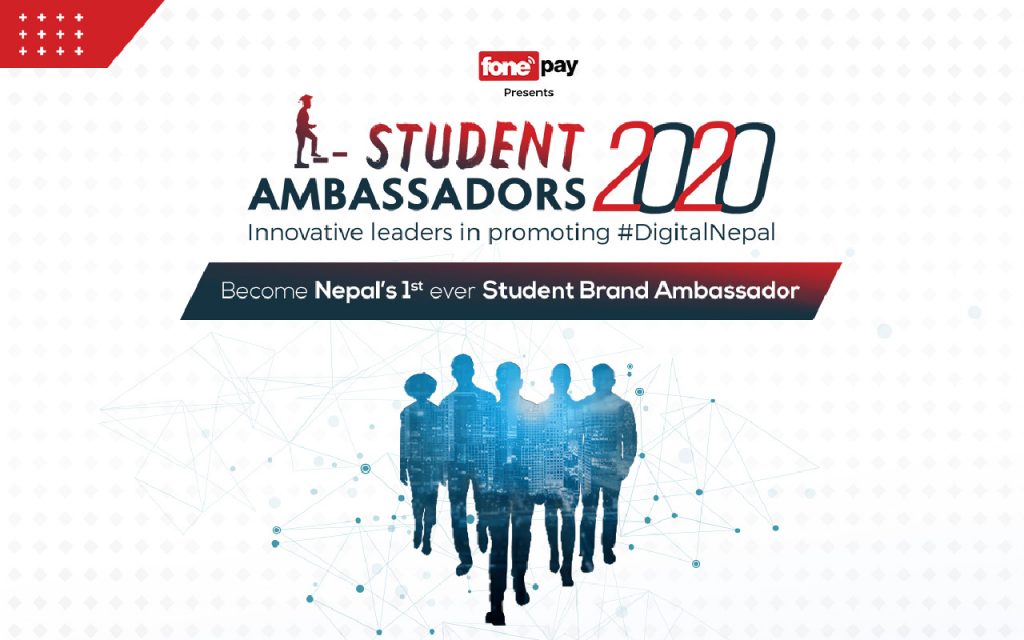 With this program, students will be able to become Fonepay Nepal's first-ever student ambassadors with a purpose to help build DigitalNepal. This program by fonepay is a platform for students to learn, teach, and grow professionally and individually.
So if you have consider yourself Spontaneous, a Leader, Communicator, Tech-friendly, Innovative and an Excellent in multi-tasking then this programme is for you.
Fonepay Student Ambassadors Program 2020: What's in for you?
Like mentioned earlier, this is an absolutely amazing opportunity for students who have leadership and advocacy skills. So some of the perks that this program has to offer are:
Holistic Learning Package
Here, you can get the opportunity to learn about things. From marketing, social media, tech, valuable leadership, and communication skills there is also an opportunity to learn from the best in the industry.
Career Development
Building up a strong carrier is very important. So, you can learn to make plans, advocate, execute marketing campaigns, and receive life-long rewarding experiences to build your resume.
Connection Building
You also get an opportunity to build your network among the like-minded peer, mentors, and experts in the industry.
Recognition
You will also get recognition from the leading fintech brands in Nepal. Moreover, you will also be awarded certificates of recognition from those bands.You can apply if you think you are,
Some inside details on the event:
Now, coming to how it will operate. This program is divided into three phases. Here, you will get a chance to do various activities and use your skills to think out of the box.
PHASE 1 (CAMPAIGN ACTIVATION)
In the first phase, you will have to fill up the application form and create an introduction video showcasing your interest in becoming a fonepay Student Ambassador.
PHASE 2 (AMBASSADOR SELECTION)
Likewise, in the second phase, you will have to present your action plan on how you will advocate the brand as a student ambassador for
3 months.
PHASE 3 (ADVOCACY PERIOD & WINNER SELECTION)
Finally, in the third phase, you will have to conduct webinars, social media activation programs, and surveys during the campaign execution period.
How to Apply?
You can apply through fonepay's web portal. There are some ground rules and mandatory rules that you should follow. So, to learn more about the program, click here to go to the website.
What do the Winners Get?
Certificate of appreciation
Fonepay merchandise
Cash price Winner-Rs. 50,000 (1st Runner up- Rs 30,000 2nd Runner up- 20,000)
Event Details:
Entry Date: 9 August to 22 August
Participants age: 18 years-35 years
Cost of Program: Free