 Yaki brings 3-in-1 offer to its valuable customers this summer. You can get a discount of 10% up to Rs 100 on each purchase of Rs 2,000 on the spot, if you pay by scanning the QR code through your Fonepay enabled mobile banking app or eSewa digital wallet.
Not only that, you can get a chance to win headsets worth Rs 2,000 each month from Tuddrom Nepal on their monthly giveaway. Not only that, but also you can get a chance to win iPhone 13 in the bumper prize.
Participate in Yaki's T-shirt Kinda iPhone Jitne Mauka Campaign and get a chance to grab all of these deals
Yaki has been introducing a "T-shirt kinda iPhone jitne mauka" offer for its customers where they can get a chance to win an iPhone 13 with a purchase of just Rs 2,000. Anyone buying t-shirts from Yaki in a total of campaigns since the month of Chaitra 2078. And they are running this campaign till the end of Kartik 2079.
What are the prizes in Yaki's 3-in-1 offer?
In this offer, Yaki is awarding the customers with various exciting offers while making a purchase of at least Rs 2,000. You won't afford to miss these exciting deals:
10% discount up to Rs 100 on making the payment through QR code payments on the purchase of Rs 2,000 or above
1 lucky customer will get a chance to win headsets from Tudrrom Nepal every month
iPhone 13 to 1 lucky customer
The discount offer on eSewa is valid till the 31st of Jestha 2079. However, the headsets and iPhone offers are still on till Kartik 30, 2079.
This is how you can participate:
Buy any number of T-shirts with a total price of Rs 2,000 or above from Yaki
Pay through QR code via eSewa or Fonepay QR supported mobile banking apps and get a 10% discount up to Rs 100 instantly
You will get a 6-digit alpha-numeric code with your package for the monthly and bumper lucky draw
Wait for the monthly lucky draw which will be broadcasted live from the official page of Yaki on the first day of each month till Kartik
Yaki has revealed that they are providing this offer on any type of t-shirts available in their online store. You can shop through their website www.wearyaki.com, or through social media. Also, they are available in Daraz.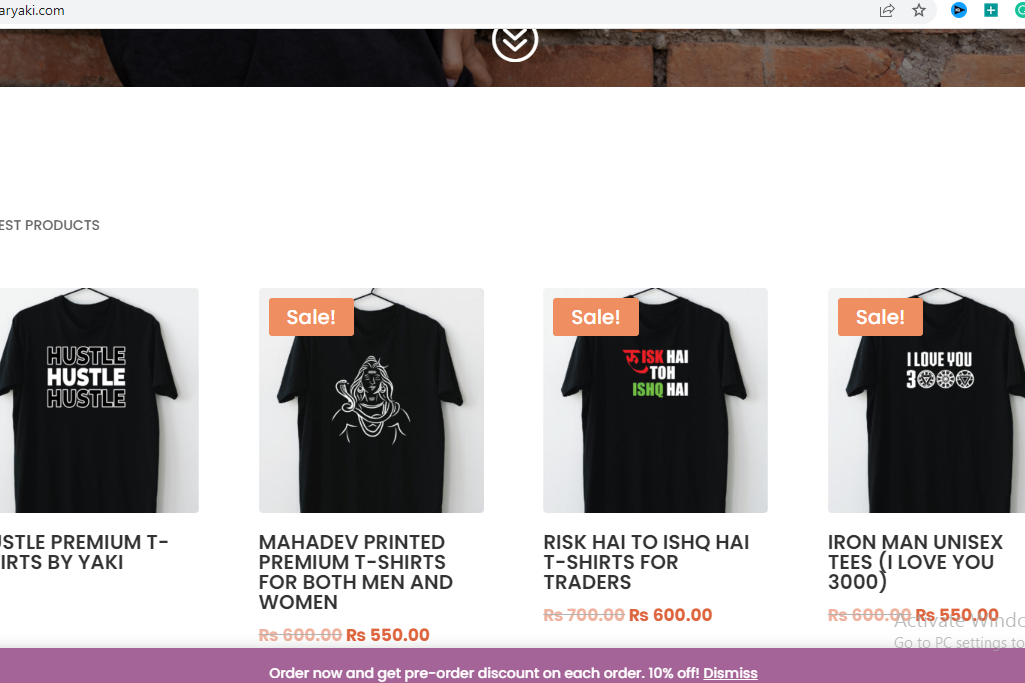 Know about the terms and conditions in Yaki's 3-in-1 offer
The customer must buy t-shirts at least worth Rs 2,000 in total
Returned orders will not be eligible for the lucky draw
The customer must have liked its Facebook page and followed the Instagram account
The prizes are not transferrable
The winners of the giveaway must contact Yaki within one month of the announcement
Yaki will not be liable if the customer loses their order ID
About Yaki
Yaki is a new clothing brand in Nepal that started its operation 6 months back. Starting from selling unisex t-shirts, sweatshirts, hoodies, and joggers, they are now making their niche in printed and non-printed basic t-shirts that young ones would like to purchase. Moreover, they are partnering with various startups and communities like Tuddrom Nepal, ITSNP, and others for collaboration. They are also taking orders for custom t-shirts for individual and business customers. So, if you want a custom printed t-shirt for your company staff with a logo, you can contact them.
So get ready to grab these deals and enjoy Yaki's 3-in-1 offer on a single purchase.
TechSathi has been covering the stories of startups like Yaki in Nepal to make them visible to the Nepali market. We are also a proud media partner of Revamp Nepal 2022 which is going to be held this Saturday (April 30, 2022). You can visit Chhaya Center on this day and attend the event where many startups are having their stalls.
Also read: 3 Years of TechSathi; The Effort to Inform, Aware, and Educate Is Still On