Hult Prize at IOE and NxtGen – a non-profit organization of Pulchowk Campus, are again back with a more serious and fun workshop series. Nov 12 is the first workshop of this series, titled "Workshop on Idea refining" for the Hult Prize 2020/21 challenge.

This workshop will be primarily focused on sharpening your idea to make it a game-changer for the "Food For Good" challenge. Hult at IOE will also work through impact generation and the market demand aspects to determine and improve the economic and general feasibility of the participants' ideas. So, it is made compulsion for Hult Prize at IOE Registered Participants!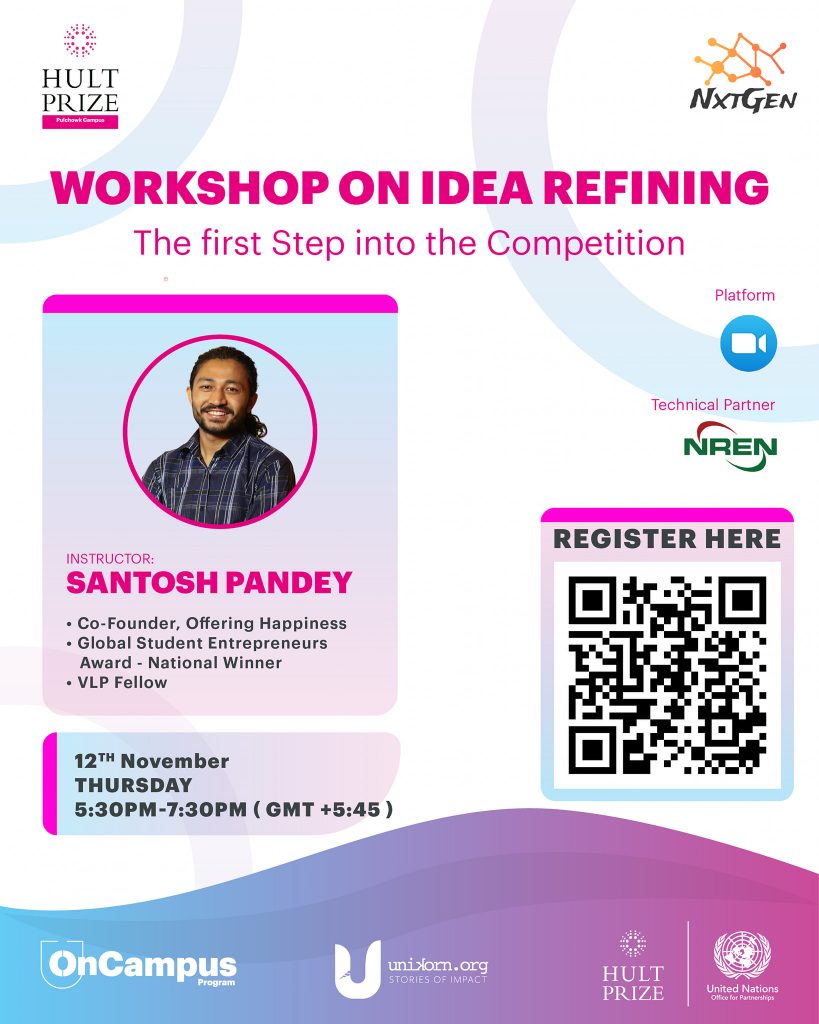 This workshop wil be graced by Mr. Santosh Pandey as an Instructor. He is Co-Founder at Offering Happiness. He is also the National Winner of the Global Student Entrepreneurs Award. He's also the VLP Fellow. He will be sharing his game-changing ideas specially for the ones competing for the Hult prize challenge.
This event is free for anyone to join but will be very priceless for anybody who is willing to learn.
Register Here: https://forms.gle/yhP3e7qJAoMds3BAA
Event Date: 12th November, Thursday
Time: 5:30pm-7:30pm (GMT+5:45)
Register your team here: http://www.hultprizeat.com/pulchowk
The popular "Entrepreneurship Talk Series" from Hult Prize at IOE 2021, where all the celebrities, professors, and industry experts come to share their experience is not finished yet. Hult Prize at IOE is yet to have the grand final talk series. It will happen next Saturday with the semi-final round of Hult Prize at IOE 2021.

You can follow their page here,
Hult Prize at IOE: https://www.facebook.com/HultatIOE
NxtGen: https://www.facebook.com/NxtGen.ioe