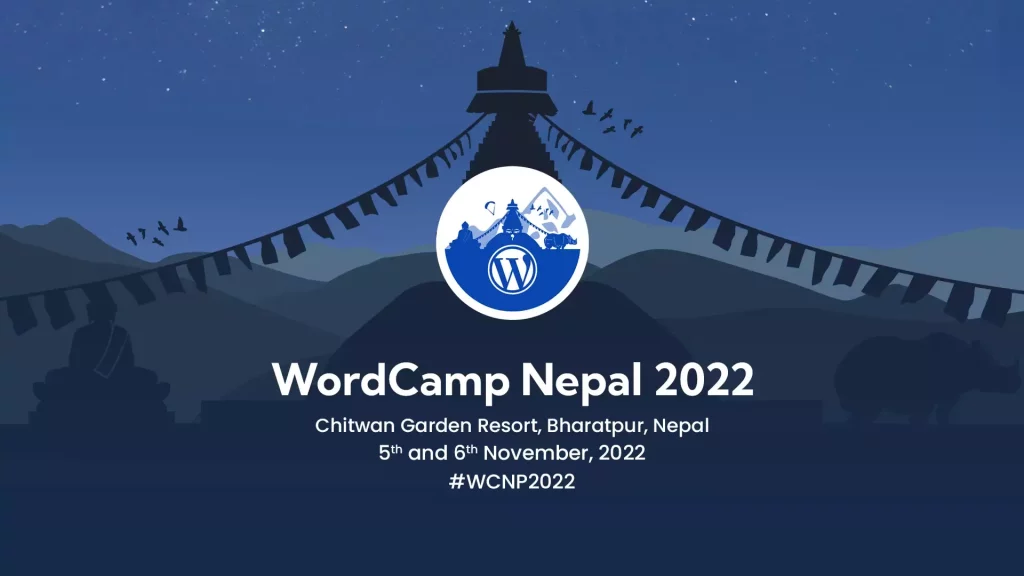 WordCamp 2022 is just 38 days away meant that, the event is being organized on 5th and 6th November. Venue selected for the event is Chitwan Garden Resort (CGR) located at Bharatpur, Chitwan. Earlier in 3rd and 4th of September WordCamp Kathmandu 2022 was organized. WordCamp 2022 will be the 10th anniversary of the event as it has been organized every year ever since 2012; however, it was cancelled twice because of COVID-19 pandemic.
What is WordCamp?
WordCamp is an event locally organized by WordPress users so as to help the participants gain some knowledge from other participants and share the knowledge they have. This event runs for two days; the first day is Event Day and the second day is Contributer Day that brings all of the WordPress users together to for relationship with one another, share their experiences and knowledged. WordCamp Nepal is indeed the biggest conference that is held in the country. It was first organized in the year 2012 in Kathmandu where as many as 120 presented themselves actively. But, this year organizers expect presence of more than 800 participants.
Tickets for WordCamp
Two types of ticket are offered by the organization to the public. One is an 'Early Bird ticket' and the next one is 'Student Ticket'.
A regular ticket costs NRs. 2000 but the early bird ticket costs NRs. 1200. A total of 200 Early Bird tickets are made available. Since they are provided in first come first served basis, you have to hurry up in order to reserve your seat. This type of ticket will be available till 8th October while the payment deadline is 15th October, 2022. To purchase an early bird ticket for you, fill the form by clicking this link: https://forms.gle/Tzqjq8pN8W3DBzyH7
By the name itself it is clear that Student ticket is the type allocated for students only. This sort of ticket will cost you only NRs. 1000 if you have a valid student ID card. 300 student tickets are available and they too are provided on first come, first serve basis. Students ticket will be available till 30th September while the payment deadline is 7th October. To purchase fill the form by clicking this link: https://forms.gle/jmZoyDt1QFzcrKAo7
Buying these Tickets will provide you access to:
Pass for the event and after party
Workshops that will help you strengthen your knowledge on WordPress
Lunch
T-shirts and other supplies
Opportunity to teach, learn and connect.
You can pay for the ticket through:
Khalti and Fone pay
Bank transfer to account number 046010010000574 of Sanima Bank Ltd.
Cash payment to Sher Bahadur Adhikari/contact no. 9849137530
WordCamp Nepal is now registered as Not Distributing Profit incorporated Organization and also in PAN. It means that the money you pay for the tickets are used for running the program only and aren't used for generating profit. The surplus amounts are utilized in another event organized in the country.
Appeal for Speakers and Contributor Day Team Leads
Organizers are looking forward to include amazing presentations that can depict the diversity of the WordPress community, Nepal in the program. So they call out enthusiast to present themselves in WordCamp Event the Contributor Day scheduled to be held on 6th of November. The program will provide a platform to over 20 speakers from Nepal and across the globe for presenting their thoughts and experience in an interesting way.
The speakers shall give a presentation for 25 minutes including an 5 minutes QA session that encompasses various topics such as development, entrepreneurship, work-life balance, time management, inspiration and many more. If you want to be a speaker, you can submit an application to the organizers by keeping all the guidelines into consideration. Deadline for the submission is 5th October 2022.Fore additional information and the application form go to:
Code of Conduct
WordCamp Nepal 2022 shall be open for everyone regardless of gender, sexual orientation, ethnicity, social status etc.
One shall be considerate, respectfully collaborative and mindfull of the surrounding.
Stop oneself from showing harrasing or discriminatory behaviour.
If an individual is found to be depicting unacceptable behaviour, the organizers will take actions that can even result to expulsion from the conference without warning or refund.
If you witness or are subject to unacceptable behavior you can notify a conference organizer without any hesitation as soon as possible.
If you have any quires, you can contact the organizers through social media of the organization. During the event, you can directly contact the organizers who will be wearing a CREW t-shirt.