The gender gap in technology is real. According to the World Economic Forum, women represent just 22% of AI professionals worldwide. The only way to bridge the gender gap and eliminate gender bias in AI is to encourage more women to pursue tech subjects. To encourage more women to involve in Data Science and celebrate their achievements, the Women In Data Science conference is happening in Nepal. The event is set to start on July 24.

About WiDS WorldWide
​The Women in Data Science (WiDS) is an initiative that aims to inspire and educate data scientists worldwide, regardless of gender, and to support women in the field. WiDS started as a one-day technical conference at Stanford in November 2015. Five years later, WiDS is a global movement that includes a number of worldwide initiatives. Among many other activities, some of the activities initiated by WiDS are conference, datathon, podcast series, education outreach, and workshop.
WiDS Kathmandu 2021
WiDS Kathmandu 2021 is an independent event that is organized by Manisha Panta and Reecha Khanal as part of the annual WiDS Worldwide conference organized by Stanford University and an estimated 150+ locations worldwide, which features outstanding women doing outstanding work in the field of data science. All genders are allowed to attend all WiDS Worldwide conference events.
The online event will last for three days and will see 15+ speakers and 50+ attendees. WiDS Kathmandu 2021 is happening on July 24 – July 25 NPT (Shrawan 9 & 10). The click reader (TCR) and Rotaract club of Dillibazzar have supported the event as Educational partner and Publicity partner respectively. For the event, the ambassadors are Manisha Panta and Reecha Khanal. Currently, Manisha Panta is a Ph.D. student at the University of New Orleans while Reecha Khanal is working as Software Engineer at Gainwell Technologies LLC. If you wish to experience this exciting event and get more info about Data Science, make sure you register today.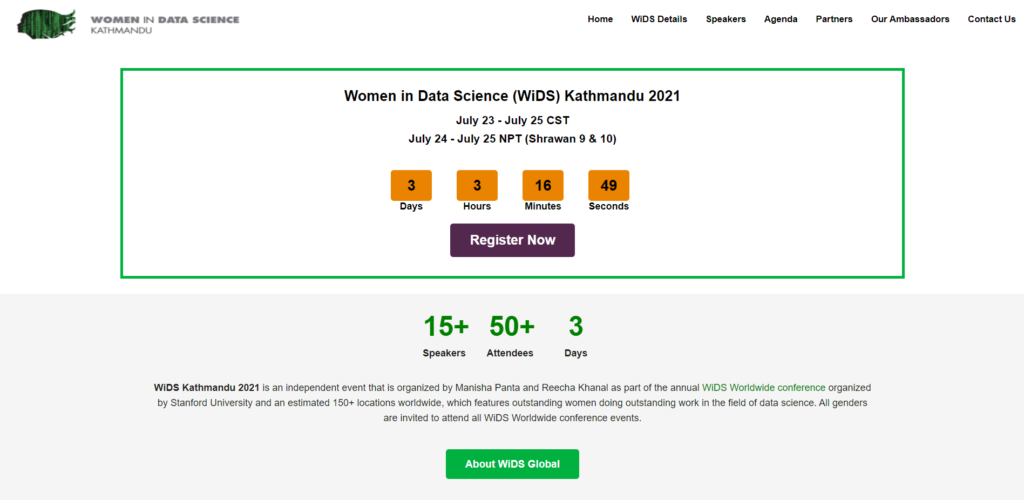 The Speakers
Dr. Archana Bhattarai
Senior Search Relevance Engineer | Apple
Topic: Beyond Keywords, what matters in Semantic Query Understanding
Asmita Bhattarai
GIS Analyst, Ph.D. Student | University of Utah
Topic: Visual Analytics of High-dimensional Data with Self-Organizing Maps
Dr. Dovan Rai
Independent Researcher | AI in Education
Topic: AI in Education
Dr. Elina Pradhan
Economist | World Bank Group
Topic: Data Generation and Use for Health Policy Design and Implementation.
Dr. Jwala Dhamala
Research Scientist | Amazon (Alexa)
Topic: Applications of Artificial Intelligence for Social Good.
Dr. Reshma Shrestha
Assistant Professor (CIVIL & Geomatics)| Kathmandu University (KU)
Topic: Looking from the lens of gender mainstreaming: the inclusiveness of women in surveying and geo-information technology in Nepal.
Rubeena Mahato
Development Policy Expert | UNICEF
Topic: Data-driven solutions in Global Development: Trends, Possibilities, and Limitations.
Dr. Sabita Acharya
R&D Scientist, NLP | Procter & Gamble
Topic: Applications of NLP and ML in various domains.
Dr. Samrachana Adhikari
Assistant Professor of Biostatistics | New York University, School of Medicine
Topic: Data science for evidence-based decision-making in medicine.
Sangita Sharma
Project Manager | Leapfrog
Topic: Role of Data Science in Project Management Metrics.
Dr. Smrittee Kala Panta
Director of Planning and Outreach | Samridhhi Agriculture Research and Development
Topic: Gender mainstreaming in Data Science: some examples from field-based research in Nepal
Dr. Reshma Shrestha
Assistant Professor | Kathmandu University (KU)
Topic: Looking from the Lens of Gender Mainstreaming: Inclusiveness of Women in Surveying and Geo-information Technology in Nepal.
Dr. Prerana Shrestha
Assistant Professor | the University of New York at Stony Brook
Topic: Towards understanding the molecular basis of emotional memories.
Sayam Moktan
Ph.D. candidate | Department of Political Science at University of Cincinnati
Topic: The migration of Nepali women for domestic work to the Gulf countries and the impact of the Nepal government's policies banning out-migration for domestic work.