 Hult Prize at IOE and NxtGen-a non-profit organization of Pulchowk Campus, are going to organize the WildCard Pitch with Final Entrepreneurship Talk Series from this November 28th from 12 PM to 7 PM.
The speaker of this talk series will be Cassidy Murray from Greece. She is a refugee advocate, international speaker, and activist who has traveled to 100+ countries around the globe volunteering and empowering youth to make a change for a brighter future. She is the director of HumanityUp, co-founder of non-profit Kids Unite 4 Hope, and co-founder of social enterprise Changemaker Odyssey. Her mission is to empower the next generation of youth to become global changemakers and create a new future for humanity based on peace, unity, and equality.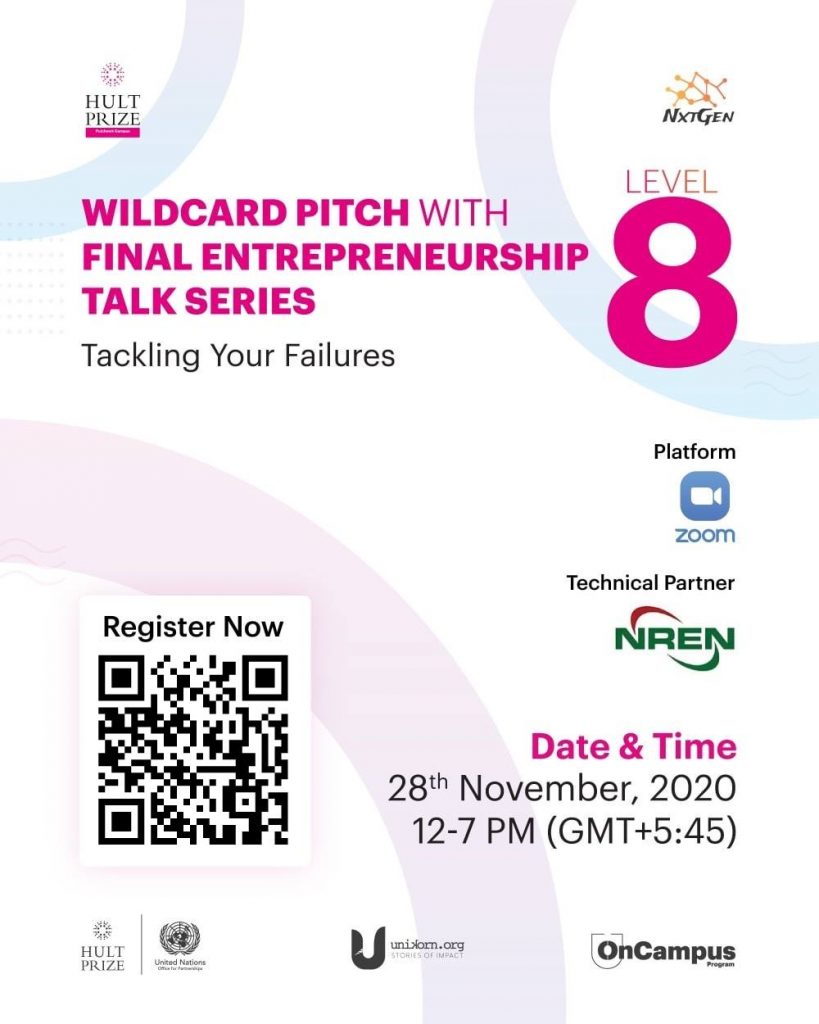 Sumit Saha, Sanjog Koirala, and Ahmad Farhad Sarwari will grace as a Wildcard judge for Hult Prize at IOE 2020|21. Those teams which were not selected in the semi-final round and new teams can participate in this competition. The speakers and guests of the talk series will be announced soon.

Mr. Sumit Saha is a Management Professional experienced in Dairy, Food, Packaging, and Biotechnology Industries. From 2004 to 2015 Sumit Saha worked with Amul-Asia's largest milk brand. Sumit Saha graduated in Dairy Technology in 2001 from West Bengal University of Animal and Fishery Sciences, Kolkata. He started his career as Technical Officer in Kishan Milk Union, Nadia, West Bengal. The profile entailed good quality milk procurement from the rural farmers in Nadia District.

Mr. Sanjog Koirala is a popular Nepali Actor, Producer, and Entrepreneur. He owns a number of businesses like Hashtag Lounge Durbarmarg, Ice Cream Live, KTM Kafe, and Hi-Macs Nepal. Besides his multiple businesses, he is also an actor.
Mr. Ahmad Farhad Sarwari is a business coach, business strategy builder, economist, and creative art director. He is doing his business studies at several international universities. He is an experienced team leader in various organizations and has been working in 50+ national & international organizations.
Level 8: Tackling Your Failures
Date: 28th November, Saturday 2020
Time: 12 PM to 7 PM
Register now for a premium package of business pitch and some uplifting workshop on tackling your failures:
Registration Link: https://forms.gle/bxeWaYgQ7N2W7Z8A9
We are excited to see you on board!
Register your team for wildcard entry:
Registration : https://forms.gle/xL9FUFzkJ8FVHoLQ6
For more info:
https://www.facebook.com/HultatIOE/