 Many of us have not even been able to use the latest Wi-Fi 6E and there is already a talk about the next Wi-Fi 7 and its specifications. People have not even been able to fully grasp the specifications of Wi-Fi 6E which provides us with more than 2 gigabits per second (Gbps) of wireless data. The new Wi-Fi 7 will pick up where Wi-Fi 6E left off by incorporating several of Wi-Fi 6E's gimmicks while also adding a few of its own and improving what already exists.
What is Wi-Fi 7?
lets us first discuss the concept of Wi-Fi. So What is Wi-Fi? Whenever you open your smartphone and any other devices that can be connected to the internet then you will find the option on your device to be connected with Wi-Fi. So what is Wi-Fi? According to Cisco, "Wi-Fi is a wireless networking technology that connects computers, mobile devices and other devices to the Internet. It enables these devices, as well as many others, to communicate with one another, resulting in the establishment of a network."
Wi-Fi 7 is the most recent network and the most modern Wi-Fi since it supports 320 MHz transmissions and Higher modulation orders, optionally permitting 4096-QAM (up from 1024-QAM in 802.11ax), and the distribution of various resource units, such as groups of OFMDA tones. Because of the distribution of numerous resource units, Wi-Fi 7 is suitable for the enterprise space as they continue their digital transformations, adding AR/VR, IoT, and IoT applications to their workflows. The promise has yet to be completely realized, but it has the potential to improve support for applications that require high dependability and latency.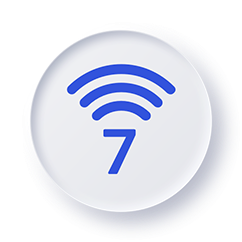 According to the Wi-Fi 7 draft specification, it will support backward compatibility with legacy devices in the 2.4 GHz, 5 GHz, and 6 GHz bands, and the proposed Wi-Fi 7 specification aims for lower latency and improved dependability for time-sensitive networking. Cloud computing necessitates this.
You can experience the 320 MHz channel bandwidth because of the broader channel and capacity enhancements from the 6GHz band, Wi-Fi 7 can give substantial throughput gains. Wi-Fi 7 has a peak rate of more than 40 Gbps, which is a 4X improvement over Wi-Fi 6E. It also introduces a number of multi-link options that can greatly enhance throughput while decreasing latency. High-Band Simultaneous Multi-Link is the most powerful multi-link solution since it uses two Wi-Fi radios operating concurrently in the high bands (5 or 6 GHz), generating one aggregated data stream to give excellent performance even in congested locations.
This technological innovation is based on preamble puncturing to avoid interference-prone channels, resulting in the capacity to use broader channels even in the presence of interference so it means you are to do flexible channel utilization.
When compared to Wi-Fi systems that use 1K QAM modulation, Wi-Fi 7 is adopting an improved modulation strategy called 4K QAM, which can boost peak rates to increase throughput and capacity.
Read: How to Save Electric Vehicles from Fire in the Summer? Problem Solved!
When can you expect it to be available?
We should not be over-ambitious about it because we need to understand the simple fact that the Wi-Fi 7 is still far from a finalized specification and the Wi-Fi Alliance has yet to assign it the Wi-Fi 7 designation. But according to MediaTek, they have already reached the fastest speed and it hopes that devices that will support Wi-Fi 7 will be available in 2023 whereas according to IEEE the compatible devices for it will hit the market by the year 2024. At least we need to wait for one or two years to get the opportunity to hold the devices that will capable of running on it.