 It is very evident that Nepal lacks a good culture of company-building mentorship. There are so many ideas that go unheard or unexecuted due to the lack of proper mentorship. Although, we have seen a rise in the number of tech startups in Nepal, there is still a big void to be fulfilled. Adding on to that, even the brightest minds have let go of their ambitions and ideas because of the lack of proper guidance.
Entrepreneurship is a difficult yet a rewarding journey. There are a lot of steps involved in converting an idea into a plan and finding the right team to execute the plan. However, don't you think it would be cool to find out what's it like to give life to an idea?
"Ever wondered how Nepal's successful startup builders did it? So did we, and that gave birth to the
idea of WebCon 2022"

Praveen Shrestha (Senior Marketing Manager at Webpoint
Solutions)
What exactly is WebCon 2022: Tech Startups in Nepal?
WebCon 2022: Tech Startups in Nepal is an initiative by Webpoint Solutions to create a
platform, to bring together some of Nepal's brightest minds and start a discussion. The event will be solely focused on discussing the environment of tech startups in Nepal, what it takes to start one, and overcoming the challenges faced by Nepali entrepreneurs. The list of panelists includes reputed names like Sixit Bhatta (Tootle), Rohit Tiwari (Hamrobazar), Amit Agrawal (Khalti), and more.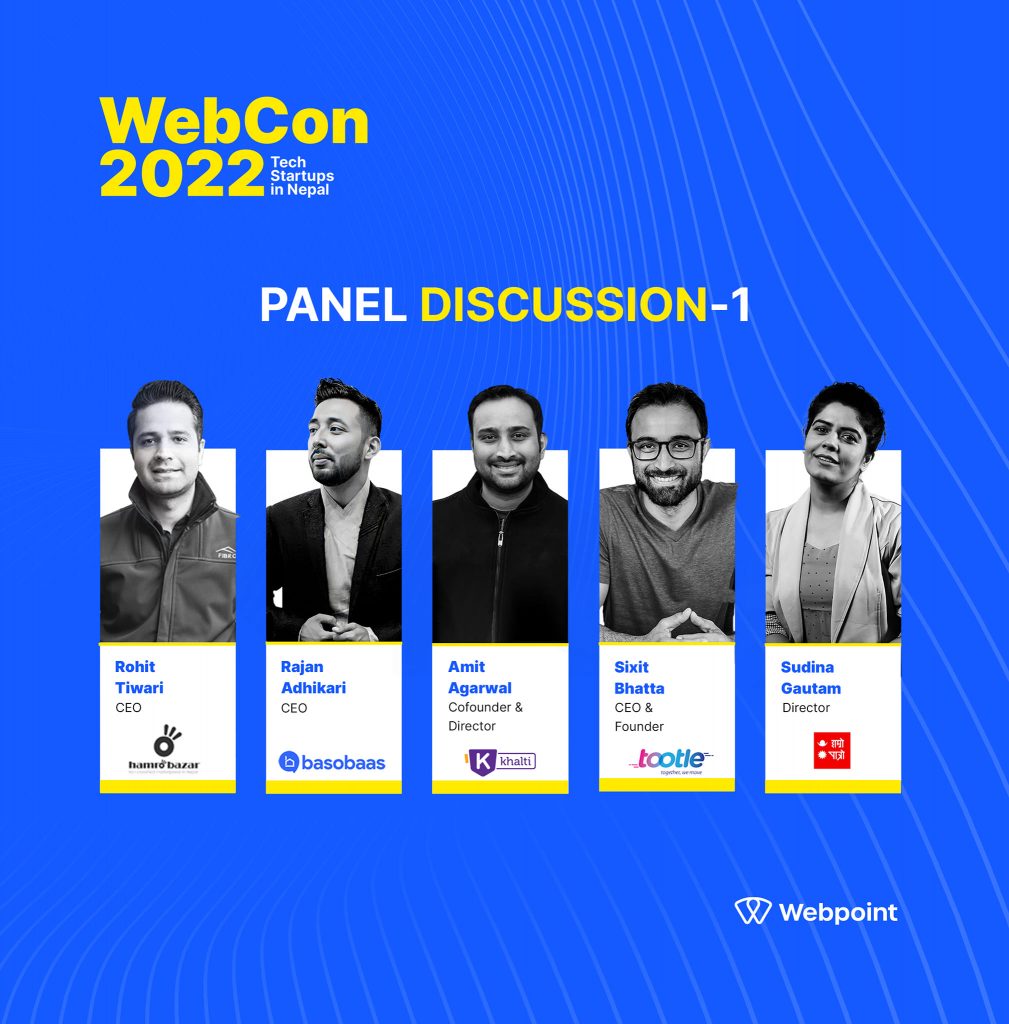 "While it is a panel discussion, we hope to create a podcast-like vibe where the floor is open to a
free-flowing conversation"

Minav Adhikari (Engineering Manager, and the host of WebCon
2022)
What to Expect?
It is almost rare to see Nepali founders come together in a room to have discussions. It's even
rarer for an average professional to get access to such conversations. That is where WebCon 2022 is going to be something special. WebCon 2022 is an invite-only event. Meaning, that the registration forms are open to the general public via webcon.webpoint.io. The registered applicants will be carefully screened to produce the final list of 120 participants.
Apart from the exposure to different brands in Nepal, the selected event participants will also be able to connect with the panelists on a personal level. Of course, we'll have to wait and see how the event unfolds, but just the fact that there is a company trying to open up discussions about surviving and thriving as a tech startup in Nepal is fascinating.
WebCon participants will get direct exposure to in-depth conversations about how an idea takes
the form of a plan, and how the professionals execute those plans to produce results.
Also, as a participant, you will be walking into a room of 120 like-minded individuals who
happened to share the same interest.