 Vianet Communications, one of the leading internet service providers of Nepal has been providing high-speed internet at an affordable price for a long time. Vianet was the first ISP in Nepal to offer dedicated speeds without any sharing ratio since Fiber Optics Internet aka FTTH Internet was launched in Nepal. Now that the number of ISPs is rapidly increasing in Nepal, Vianet Communications has been coming up with exciting packages to stay in the competition pool. In this post, we discuss Vianet latest internet packages, price, installation charges, and fair user policy set by the company.
About Vianet Ultra-Fi Plans
Vianet recently launched Ultra-Fi Internet plans with the objective to give its users the highest speed and quality Internet services to meet the growing needs of their customers for work, play, and school. This Ultra-Fi internet plan is also compatible with ViaTV, allowing you to watch live TV and videos on demand from the comfort of your own home. At the moment, this is the best value plan provided by the company with ultra-fast speeds at rock-bottom prices as the company promises.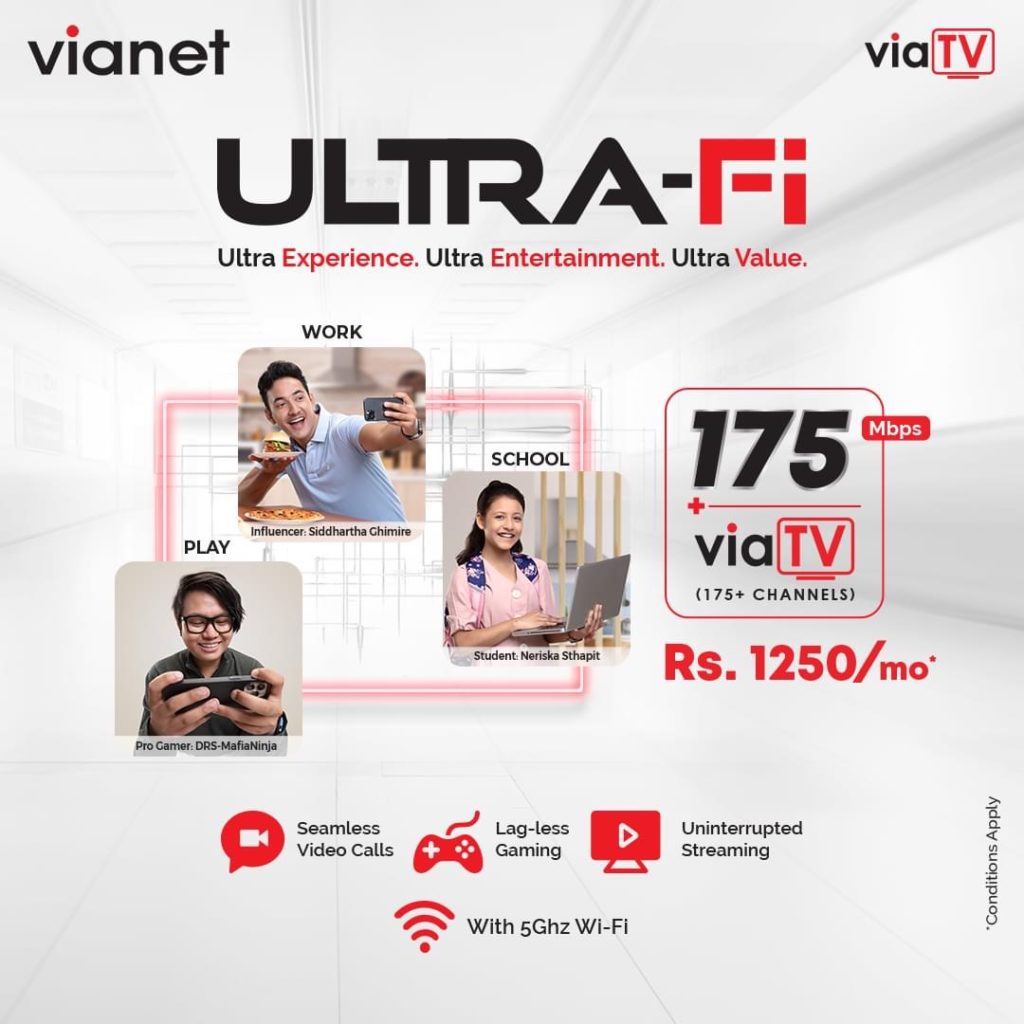 Ultra-Fi Internet Plan and Pricing
The plan and pricing for the newly launched Ultra-Fi internet package are mentioned below:
Ultra-Fi 125 TV+
Ultra-Fi 175 2TV+
Ultra-Fi 250 3TV+
125 Mbps
175 Mbps
250 Mbps
1 Month
Rs 1,400
Rs 1,550
Rs 1,900
3 Months
Rs 4,050
Rs 4,500
Rs 5,550
12 Months
Rs 13,200
(Effectively 1100/m)
Rs. 1,000 Reward Points Free!
Rs 15,000
(Effectively 1250/m)
Rs. 1,000 Reward Points Free!
Rs 18,000
(Effectively 1500/m)
Rs. 1,000 Reward Points Free!
Note: the above-mentioned prices are subjective to 13% VAT according to policy
Installation Charges and Extra Fees
One-Time Installation Charge for Internet
| | | | |
| --- | --- | --- | --- |
| For Internet | 1 Month | 3 Months | 12 Months |
| Installation Charge | Rs 500 | Rs 500 | Rs. 0 |
| Ultra-Fi Dual Band WiFi device Installation | Rs. 2,500 | Rs. 2,000 | Rs. 1,000 |
| Fiber WiFi Device Deposit | Rs 500 | Rs 500 | Rs 500 |
One-Time Installation Charge for ViaTV
| | | | |
| --- | --- | --- | --- |
| For ViaTV | 1 Month | 3 Months | 12 Months |
| STB Activation (Primary) | Rs 3,000 | Rs 2,500 | FREE |
| STB Deposit | Rs 500 | Rs 500 | Rs 500 |
| Secondary STB Activation | Rs 2,000 | Rs 2,000 | Rs 2,000 |
| STB Deposit | Rs 500 | Rs 500 | Rs 500 |
Note: For additional viaTV package (more than the number of viaTV included in your Internet pack): Rs. 200/m
About Vianet Mini-pack
Currently, Vianet Communications also has a Vianet Mini pack offer running which will be available only for a limited period of time. By subscribing to this offer, customers will be able to enjoy super-fast Internet speeds of up to 75 Mbps Internet at only Rs. 800 per month with a Free Ncell sim. Subscribers will also be able to enjoy 48 GB of free mobile data over the course of a year if they use the Ncell Sim card, which comes with 4GB of mobile data every month for a year.
Vianet Mini Pack Package Details
Duration
Cost for 75Mbps
12 Months
Rs. 9,600
(Effectively 800/m)
Data Consumption and Speed Range
| | |
| --- | --- |
| Data Used Per Month | Speed |
| Up to 450 GB | 75 Mbps |
| 450 GB – 550 GB | 45 Mbps |
| 550 GB – 600 GB | 23 Mbps |
| Above 600 GB | 5 Mbps |
Ncell Sim Details
Mobile Data
4 GB per month
(Total 48GB in 1 Year)
Mobile Data using Vianet Mobile App
FREE*
Voice (Ncell-Ncell)
50 mins per month
Call to Vianet Call Centre Ncell Number
FREE*
SMS (Ncell-Ncell)
50 per month
Note: * Mobile data when using the Vianet app is restricted to 1GB per month
* Free call to Vianet Call Centre Ncell Number is applicable for the number 9801046410 only.
* Free call to Vianet Call Centre Ncell Number is limited to 50mins per month
According to Vianet, their mission is to brighten people's lives by offering the finest digital experience possible. Vianet has improved its infrastructure to support the extra capacity and is now supplying Dual Band ONUs – Optical Network Units – through partnerships with worldwide firms such as Nokia, Juniper, Cisco, Ciena, and now C-Data. According to Vianet, the ONUs given are Mesh capable, and the business plans to offer affordable Mesh Wi-Fi solutions to its clients soon.
Vianet Fair Usage Policy
Internet service providers across the globe practice a fair usage policy for the internet plan. It allows ISPs to restrict or throttle Internet Speeds on unlimited plans so as to prevent misuse or excessive use of bandwidth provided. Like other ISPs of Nepal, Vianet also checks for excessive usage by monitoring clients' data usage in a monthly cycle.
As Vianet's fair usage policy, data usage is calculated by adding both downloads and upload data used from the start of every English month. There are three levels of speed throttling done depending on the client's usage within an English month. At crossing Level 1 Fair Usage Quota threshold the client's speed will be throttled to 60%, at Level 2 speed will be throttled to 30%, and at level 3 speed will be throttled to 10% or 5 Mbps whichever is lower. If a customer has crossed the FUP Quota threshold, their data usage counter will reset at the first of every English month and their Internet will return back to its original speed.
About Vianet Communications
Vianet is acknowledged as one of the internet service providers in Nepal that distributes the internet through the intermediate of optical fiber. They facilitate their customers with facilities like Via TV, Via Secure which is a web filtering tool, Service assurance within 24 hours, free multi TV schemes, and an Ultra boost system. More than 1,20,000 people have subscribed to this internet service provider as per the data from NTA i.e. Nepal Telecommunications Authority. This makes Vianet one of the leading internet service providers in the country.