 IELTS (International English Language Testing System) is an international proficiency test for the English language taken by non-native English language speakers. You as a non-native English speaker have to do IELTS to go to the countries like Australia, Canada, New Zealand, the USA and the UK no matter what the reason is.
The exam comprises 4 sections, consisting of reading, listening, speaking and writing. Usually, all four sections of the test are taken in person; however, those who opt to take a computer-based test can take the reading, writing and listening through the computer.
With the increase in the number of Nepali nationals going abroad, especially for employment and education, the craze for the exam is also increasing every day. An institute normally charges Rs. 15,000 or more to students for the class. Nevertheless, you can prepare yourself for free from your own home through a number of websites on the internet. Here are the top websites where you can sharpen your proficiency for free.
English-exam.org
This is a website where you can practice effortlessly by appearing on an online mock test and get free access to practice materials and resources. You just have to go to https://www.english-exam.org/IELTS/mock-test, scroll down, click on the available sample tests and then start the test.
Besides appearing on the online mock tests, you can also find a test centre nearby you to appear for a physical test. Among 1,100 centres all around the globe; to find one that suits you, all you need to do is go to https://www.english-exam.org/IELTS/ and click on 'FIND A TEST LOCATION' and enter the location you reside in. Click on the search bar and type 'Online IELTS Courses' to get free resources. You don't need any sort of registration if you are taking online tests.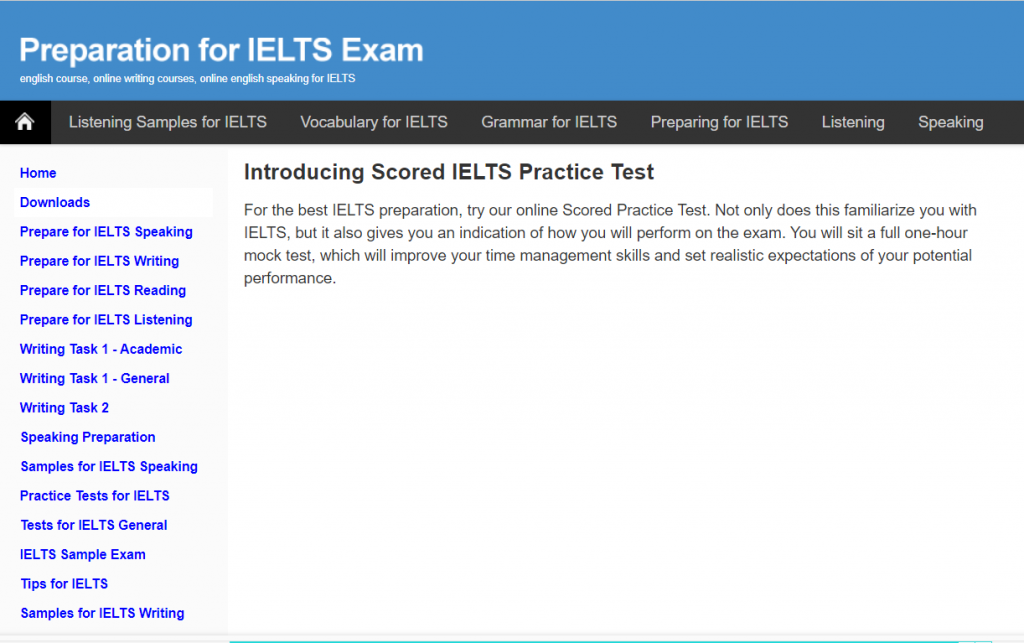 iPassielts.com
Go to https://www.ipassielts.com/. As soon as you enter the site, you will see different sections for speaking, listening, writing and reading. Click on either of them and then click on 'free practice material' then on 'Practice test question' and start practising. You don't need to register for appearing free test; however, in order to get feedback and take online courses, you will need to register and get a subscription.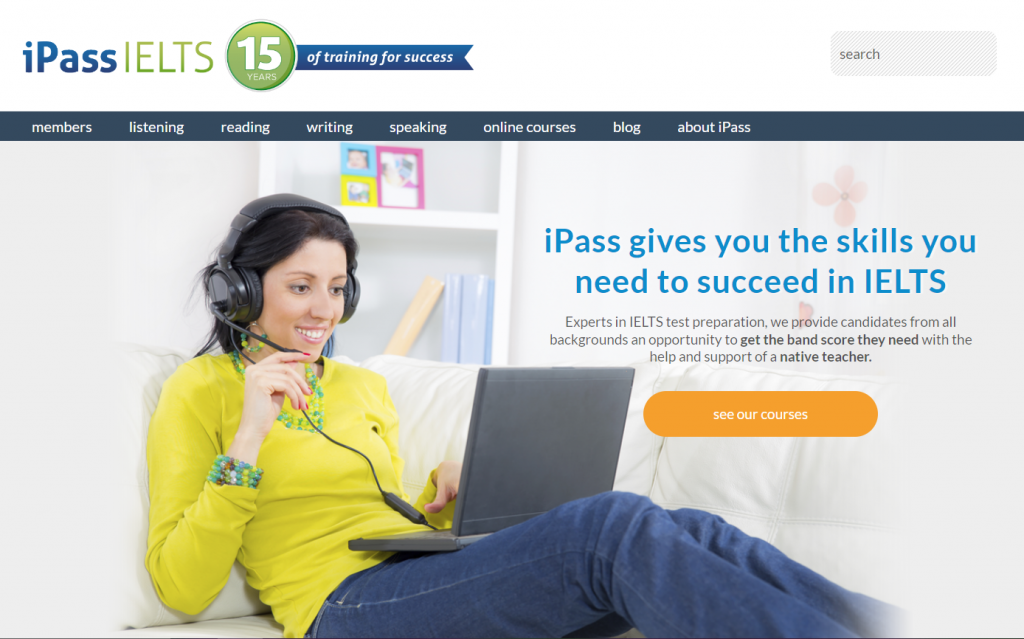 IELTSbuddy.com
At https://www.ieltsbuddy.com/ you can take practice tests, get lessons and tips to get the result you possibly deserve and practice vocabulary. In addition to this, you can also download free practice material that you can use to sharpen yourself even when you don't have access to the internet. You need to pay a certain sum and register yourself in order to take a computer-based test and see your band score.

Bestmytest.com
Bestmytest is another website where you can take 2.5 hours long practice exams that are similar to the real exam. Additionally, you will get lessons and tips that can help you ace the real test. Click on 'IELTS prep' and then on 'IELTS practice test' at https://www.bestmytest.com/, take your time to rock the test. To take helpful lessons and tips, click on 'IELTS guide'.
Furthermore, you can take a year subscription for getting reviews, grammar correction, 1000+ practice questions, 2500+ commonly used vocabulary words, 200 lessons organized into a study guide, 20 full-length 3-hour test simulations and instructions from a tutor etc.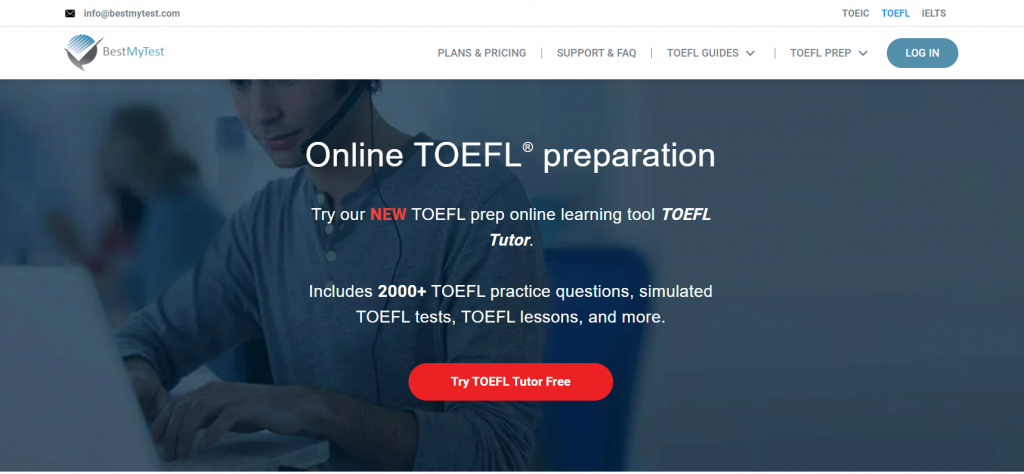 Ieltstester.com
https://www.ieltstester.com/ is another amazing website that charges you no money for taking exams that imitate the real ones. Similar to other websites, the test is divided into 4 different sections; reading (1 hour long, 3 parts, 40 questions), listening (1 hour long, 4 parts, 4 recordings, 40 questions), speaking (10-15min long, 3 parts, 15-20 questions) and writing.
Furthermore, there are as many as 5000 English words on the website that will help you improve your vocabulary and grammar part where you can learn about the parts of speech and also a preparation guide that assists in improving reading and writing skills.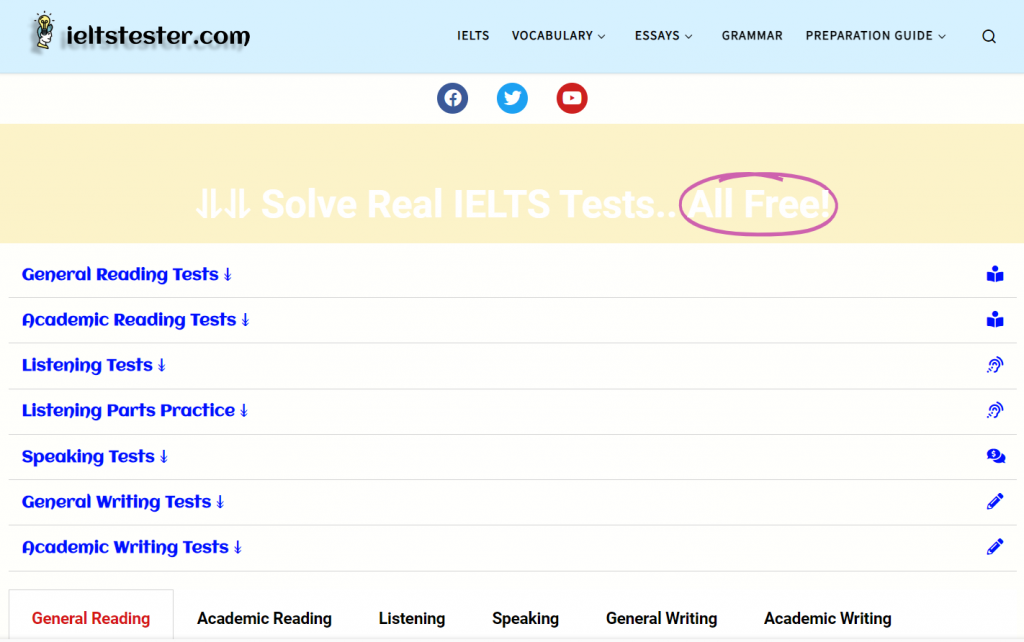 IELTSmaterial.com
On this website https://ieltsmaterial.com/, you can find a number of test questions that will definitely help to progress your preparation. Under 'IELTS modules' on the site you can find a number of questions in all four sections. You can register yourself and get a subscription if you need online classes from pioneer tutors and helpful e-books. Also, the writing evaluation service is free on this website.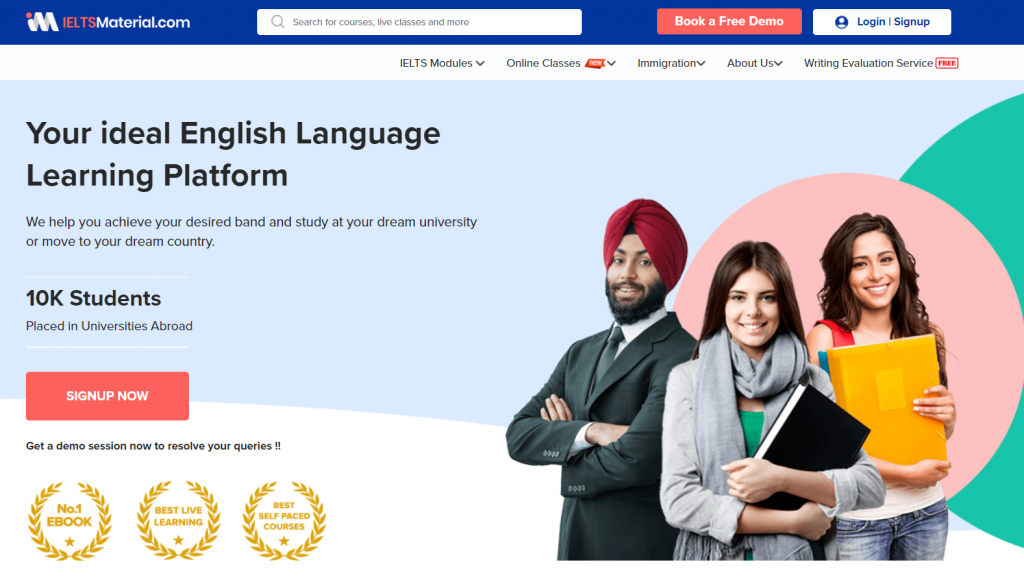 IELTS-up.com
Another website for free exam preparation is https://ielts-up.com/. On this website, there are lots of practice questions for each section along with which you can get helpful tips as well. This website also features writing correction, vocabulary, test samples, and writing and speaking stimulators that will help maximise your score for sure. You can find all the required materials to sharpen and prepare yourself to ace the real test in; this is why the site labels itself as 'Your Best IELTS Guide'.


Howtodoielts.com
Do you need tips and lessons more to crack the test? https://howtodoielts.com/ might be the best website for you as it is stuffed with uncountable words of guidance for each section. Not only tips and lessons but this website also abounds with lots of practice questions and sample answers. Vocabulary and grammar improvement comes along with the questions and tips.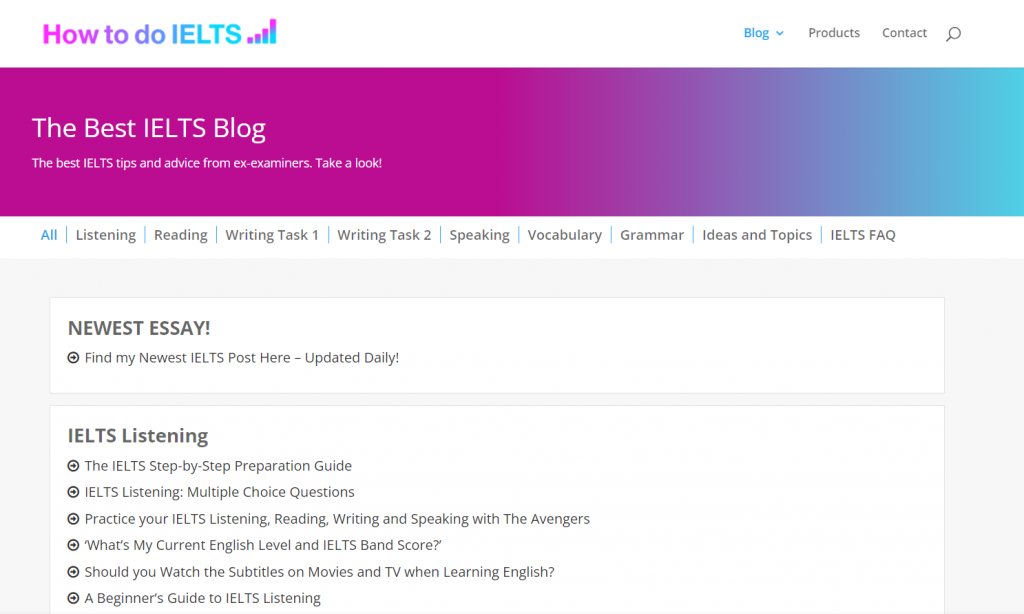 Roadtoielts.com
One more website that adds up to the list of free yet effective websites for the preparation is https://roadtoielts.com/. Click on 'Try Academic' that you will see as soon as you enter the website, scroll down and click on 'Test Practice' to take a test through a PC. You can also get tips and advice by clicking on 'Advice and tutorials'. This website also features an 'IELTS score calculator' using which you can calculate your band score by entering the score obtained in each section.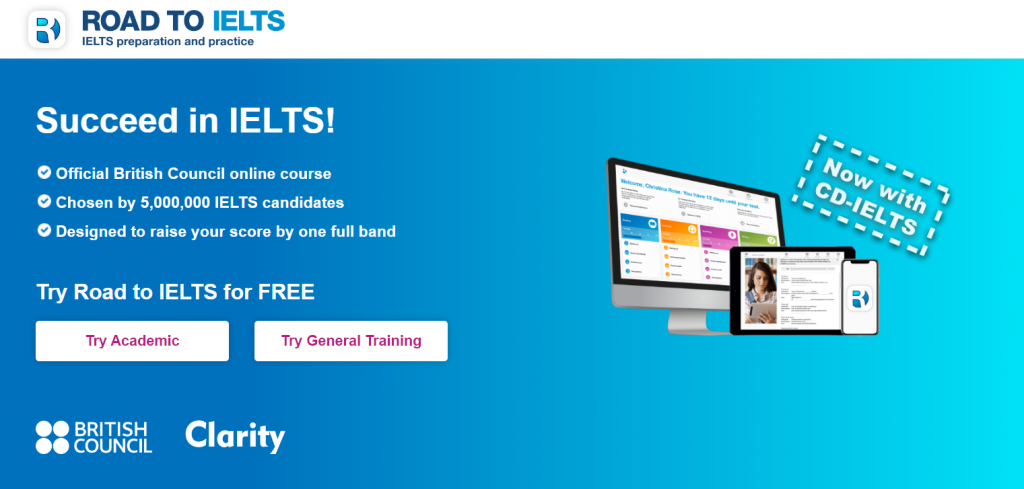 IELTSonlinetest.com
To take the online mock test at https://ieltsonlinetests.com/, first of all, you will need to sign up entering all the required info accordingly. You will additionally get tips and advice making good use of which you can further acuminate your competency in English. All questions of each month are accumulated in one folder named on the month itself. You can also join live lessons to get the best advice from expert trainers.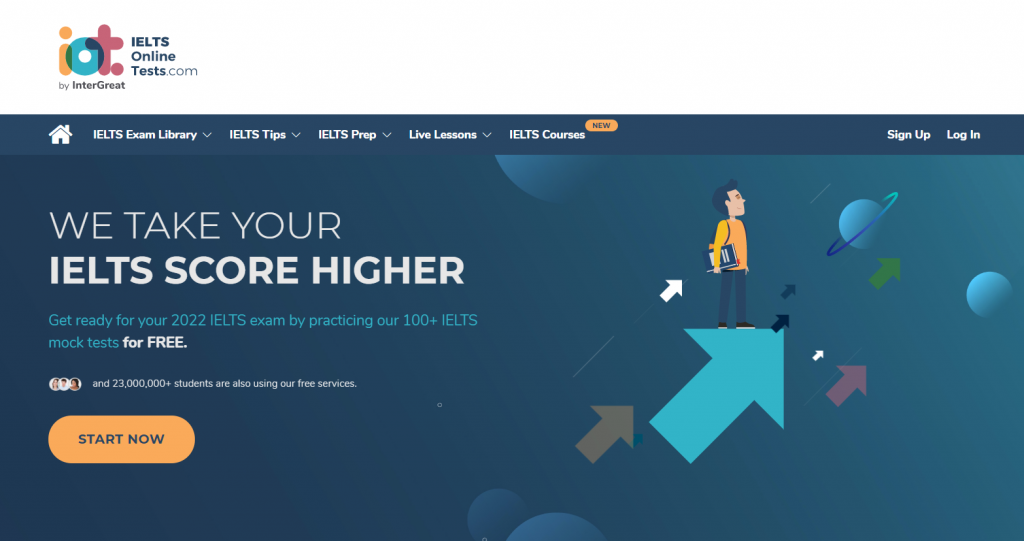 Some other websites
There are numerous more options for you to practice at your own home that does not cost even a penny. Here are more of these websites:
Why not improve your proficiency using all these free resources. Sign up on the website of your choice and start practising today!
Also Read: Practice for PTE Exams from the Convenience of Your Home