How do you like your content? 'Short and Sweet' or 'Long but Informative'? Now, the people have spoken, and they like their content short and sweet. A recently developed report from app monitoring firm App Annie suggests that the average time per user spent on the apps is higher for TikTok. This data clearly indicates higher levels of engagement for TikTok and shows how TikTok is slowly taking over YouTube.
App Annie featured TikTok as having "upended the streaming and social landscape". However, YouTube retains the top spot for overall time spent as it has many more users overall. In other words, YouTube has a larger user base and thus more use time overall. This shows that individuals tend to use TikTok more than YouTube for video consumption.
Among social, communication, photo, video, and entertainment apps, TikTok is ranked as the most downloaded worldwide since 2020. It also competes with YouTube for the top spot in consumer spending since last year. Moreover, Youtube has an estimated two billion monthly users whereas TikTok had about 700 million in mid-2020.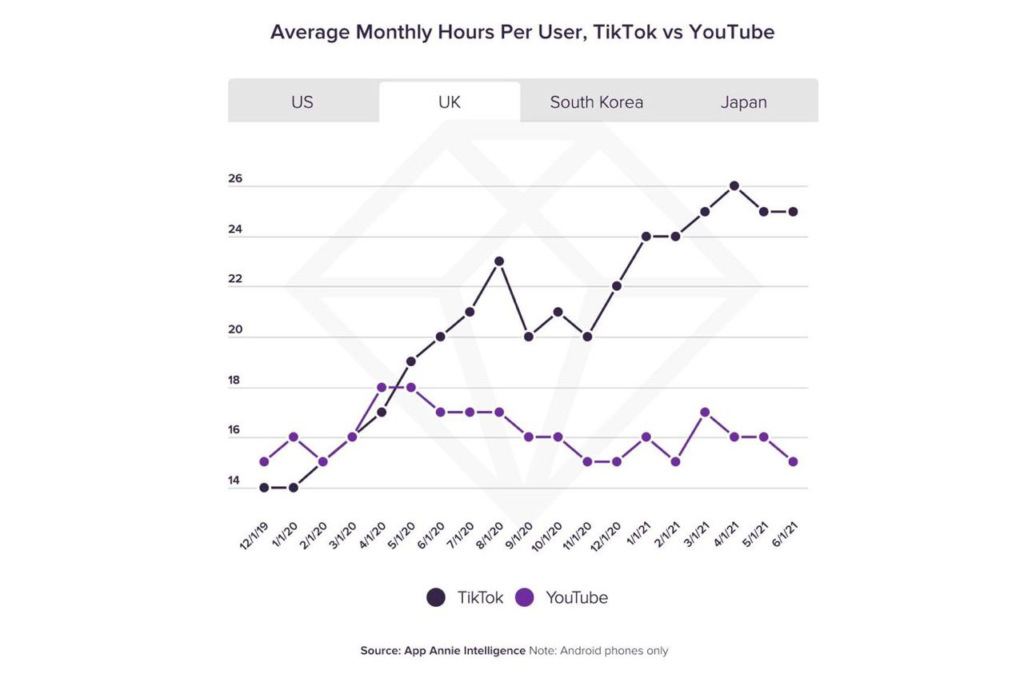 It was discovered that TikTok's users spend more time each month watching content than YouTube users. In the US, ByteDance's app first overtook YouTube in August last year, and as of June 2021, its users watched over 24 hours of content per month, compared with 22 hours and 40 minutes on Google's video platform. Similarly, In the UK the difference is even higher as TikTok overtook YouTube in May last year. UK TikTok users now reportedly watch almost 26 hours of content a month, compared to less than 16 on YouTube.
But, it would be necessary to consider another fact that the data is concentrated only on Android users. While the data is exclusive to viewership on Android phones — meaning that iOS users might skew the numbers in a different direction—the report's conclusion does seem to reliably reflect the fact that mobile users are increasingly inclined to kill time by flipping through an endless supply of bite-sized videos. It clearly shows that average users prefer short videos more than longer-format videos on YouTube.