Elizabeth Holmes might be a new name for a lot of people. The name sounds like that of a celebrity. Indeed, she was once a celebrity entrepreneur who rose to fame from her startup- Theranos. However, there is a dark story of her which might make you think ten times before you invest.

We hear the news of unicorn startups getting millions of investments in their venture in India and other countries. Nepal is also experiencing the growth of startups that started early on. Recently, a Nepalese startup company Foodmandu is receiving an investment of approximately USD 4 million (NRs 46 Crores) from Dolma Impact Fund. Dolma Impact Fund has invested USD 1 million in another e-commerce Sasto Deal in July 2020.
These investments have proven to scale up these start-ups in Nepal. However, we are about to discuss the dark side of some other startups where investors get scammed by fake promises and hopes by the founders. And it is prevalent not only in Nepal but also overseas.
Start Ups are fancy, but investors should remain alert where they invest their money
Here's a story of Elizabeth Holmes who is waitng for her sentence in prison for 20 years for scamming the investors in her startup
Let me shed some light on this with a recent notorious story of Elizabeth Holmes. Elizabeth Holmes was the CEO and founder of Theranos, a startup company that was supposed to bring a revolution in the medical sector.
Now, the company's founder Holmes has dropped from riches to rags since she was found guilty of 11 charges of scamming the investors with her startup company Theranos.
She will soon face imprisonment for 20 years from September 2022 for the offenses she took, being the founder of a tech company. She raised billions of investments from investors in the USA for her blood-testing startup.
According to The Guardian,
"She rose to overnight fame by advertising that her product could run common blood tests on a few drops from a finger prick. This took her company to the valuation of $9 billion in 2021."
However, the company collapsed after the revelation that the devices were flawed and showed inaccurate results. The investors flew into a rage and the court ran hearings on that. After multiple hearings, she was found guilty of scamming the investors with fake promises and demonstrations about her product.
Hence, selling dreams on what the company could do in the future (which it eventually couldn't), she scammed the investors, piling up huge money just to buy for her own riches.
So, this left the investors with their money lost on a tech start-up that once fake demonstrated itself as a game-changer in the medical field. A lot of start-ups hold launching ceremonies of their product and services and the people believe in them. Moreover, the media too exaggerates on what they can do, instead of on what they are actually doing.
I know, having said this from a media house itself might sound bitter. But that's the reality which the investors and the users should learn about the companies.
Obviously, big investors and venture capitalists see the cash flows and financial statements while investing in the companies. But the general investors and users get trapped in the lofty stories about the companies and they spend their hard-earned money in those companies, expecting a handsome return. But some companies intentionally collect funds just to finance their own needs. It then simply fails or becomes bankrupt. But the investors lose their money in many ways. Some even do not get their refunds.
Let us know about the company Sagoon which scammed the Nepali investors with fake promises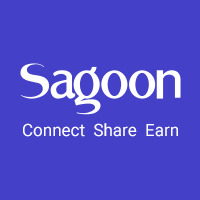 You might have heard the name before. It is a social media app developed by Sagoon Inc., Virginia. Saggon Inc. is a USA-based company that has raised millions of investments from Nepalis living abroad since 2016. It is operating from the USA and its regional offices in India and Nepal. The company raised $4.6 million from 4,000 investors worldwide in its initial Reg A + (Mini-IPO) offering in 2017, which was priced at $23 per share.
To be brutally honest, the Sagoon app launched by this company is just another Facebook. Letting this aside, if we see the features, all are similar to that of Facebook. The difference is that the app had promised that you'll get coins every time you post or share content on this platform.
However, the main concern is elsewhere. It's on the financials of the company. According to CIJ Nepal, it had an accumulated loss of $93 lakhs (Approximately NRs 1 billion) in the year 2019.
Even the Securities Board of Nepal (SEBON) Prohibitted Sagoon to Issue IPO, Also It Considered Investment in Sagoon as Illegal
It had already put about NRs 55 crore investment of Nepali investors at risk and was about to offer Mini IPO. Sagoon had planned to issue 300,000 units of C-grade ordinary shares (IPO) at a price of $30 per share in 2021. However, after studying the reports and the performance of the company then, the Securities Board of Nepal (SEBON) banned the issuance of IPO by Sagoon in Nepal.
It misused its linkage with the NRN Association of Nepal and pooled in a lot of investments.
From 2017 to 2019, the company raised $5.09 million through a public call for share investments. A total of $4.6 million has been invested, with 3,600 non-resident Nepalis contributing. Investors were panicked since the corporation spent such a large sum of money, and they had demanded additional investments within a year.
According to CIJ,
The board issued an appeal on July 29 this year, urging the public not to invest in Sagoon since it had caused confusion in Nepal. It stated that Sagoon's investment request in Nepal was illegal, and that investors would not be provided with legal assistance. It also asked the media not to use their platforms to spread information or advertisements regarding Sagoon.
Faking promises about self-charging phones through software; How Sagoon fooled the investors like Elizabeth Holmes did with her blood testing machine
Such a company collected a huge investment from the investors without givingany return to them since it projected huge loss in the financial statements. Moreover, it made a fake declaration that Saggon app could turn the phones into self-charging phones. It is technically impossible to charge mobile phones through software. Hence, this fake publicity stunt was not more than another gimmick for collecting additional investment.
Govind Giri, the founder of Sagoon, held a large event in Kathmandu on November 17, 2015, and made an unusual announcement. "The Sagoon mobile app, which will be released soon, will generate electricity on its own, and once charged, mobile phones will never need to be charged again."
The IT professionals and prominent individuals in the field of Information Technology in Nepal claimed that this was technically impossible. Moreover, it did not mention about this project on Securities and Exchange Commission (SEC) in the USA.
In addition to that, investors in Sagoon are unable to sell their shares on a secondary market and exit. Sagoon is not a publicly traded company in the United States. In 2012, the investors purchased the company's shares under the Jumpstart Hour Business Startup Act.
Investors! Hold your money tight and only invest after studying the financials of the companies
Be it a start up or any public limited company, a mere investment does not guarantee an easy return. For that, either you are a public investor or a venture capitalist, you must go through the detector-eyes to make your decision. A company might lure investors showing lights on the future prospects. But one as an investor must weigh down the profitability based upon the past and present scenario at first. Otherwise, some scammers like Elizabeth Holmes are already out there. You just need to be aware of where to invest.
Stock markets, start-ups, cryptocurrencies, NFTs are the most hypes in the world of investments these days. With the craze of people in the stock market in Nepal, IPOs are getting oversubscribed in recent times. Though considered illegal, investing in Hyperfund is getting popular among the private groups of investors in Nepal. The start-up culture is booming in Nepal with many companies coming into existence.
Be it a startup or financial market; scammers are increasing these days. Sagoon is just an representative story
Though the investment in crypto is considered illegal in Nepal, we are not unknown that many of the Nepalese are making investments in cryptos and NFTs from the account of their friends and relatives staying abroad. However, most of the investors are unknowingly going down the rabbit hole when some scammers lure them with huge profits in various MLM schemes.
The most popular scam these days is Hyperfund. Many claim it as a scam or a type of MLM scheme that has no any revenue model. Nepal has a lot of investors who do not have such knowledge but still are believing with their money on others. In such case, a lot of money is outflowing from Nepal to the foreign market.
We do not want to discourage you on investing but just make sure you study about the companies or investments before investing
Nepal Rastra Bank issued a notice on September 2021 warning that the investments, transactions and minings of cryptos is illegal. The statement signed by Ramu Paudel, the executive director of the Foreign Exchange Management Department of the NRB, states that it has come to the attention of the central bank that apart from being involved themselves, some individuals have also been encouraging others to engage in such illegal activities and doing so has or can result in general population being swindled.
The records are not out since the government is still not able to track those illegal investments. However, many experts and economists claim that investments in Hyperfund could be one of the cause of the ongoing liquidity crisis in Nepal.
Hence, scams are rampant these days since people are going crazy about easy money- passive income. However, one must be more active while making these investments and should have a proper knowledge about where they are investing and how they are getting the return. In a company, one must look after the revenue model and cash flows which gives the clear picture of the potential position of the company in near future. We will add more contents about this topic in the days to come since we are committed to keep you informed and alert.
Do you know any of those scams like that of Elizabeth Holmes or Sagoon? If you have any, feel free to share so that many of our readers might be alert with their investment decisions.