 With the improvement of Nepali technology in mobile app development and progress in Nepali literature, now we have several online book stores and apps that enable Nepali readers to access eBook right from their iPad smartphones, laptop, mobiles, and several other digital devices. In this post, let's have a look in detail at some of the best online books stores and apps of our very own country.
Kitab Yatra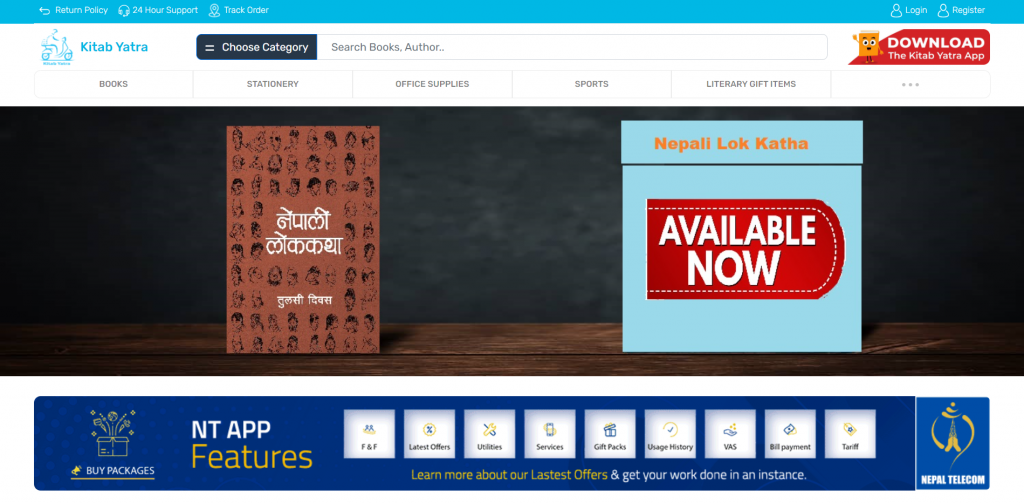 Kitab Yatra Pvt. Ltd. is a bookselling app formed by a team of self-motivated and dedicated professionals.
Incorporated in 2017, they wish to make reading an integral part of Nepalese daily lives.
This app provides access to different categories of books of different languages such as Non-fiction, Financial books, Science fiction, Drama, Action, Romance, and Self-help.
Its main objective is to arrange a hassle-free environment for all the bibliophiles who wish to grab a copy of their favorite reads.
Since its establishment, Kitabyatra has hosted a range of national and local events.
In the future, Kitab Yatra plans its own community-based calendar of events, including author appearances, children's story-times, poetry readings, and book discussion groups.
WeRead
WeRead is the first-ever Nepali e-book reader app introduced by Kathalaya.
This has been an amazing online platform for advertising, selling, and endorsing books by upcoming publishers and authors.
It is accessible for both Android and iOS users and can be downloaded for free.
This app comes with controls to adjust the text size, display brightness, spacing, margins, and font face.
The bookstore inside the app has an array of diverse books with more than 170 books as of now with free stories, books, and essays.
Users can download the presented free books and read offline during leisure.
Although, some books come at a price they can pay through several national as well as international payment gateways such as eSewa, PayPal, and bank transactions.
The setting also provides a night mode feature.
Authors can upload their books on the WeRead app themselves.
One of its exciting features is the publishers can also keep online track of their book downloads.
BooksMandala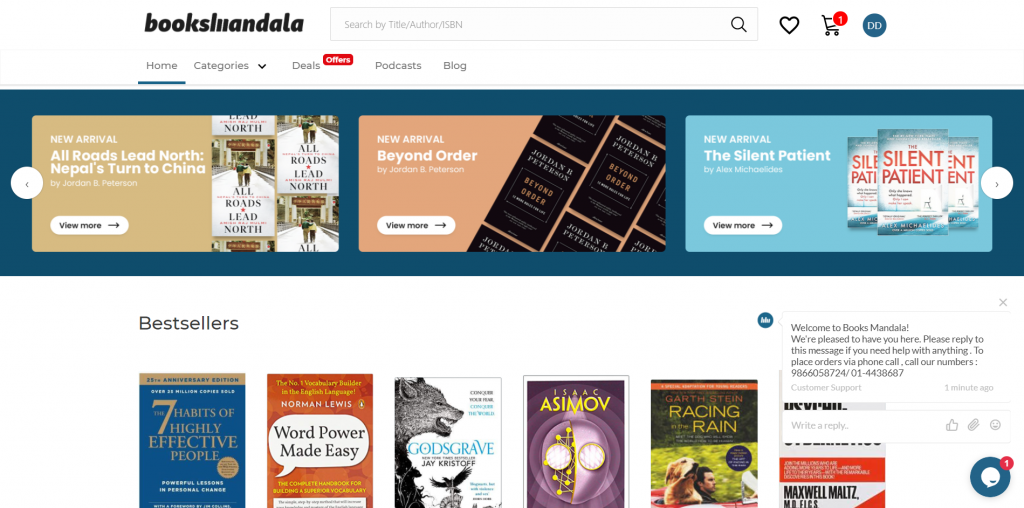 Booksmandala has been in the market since 1992, being the oldest online book store in Nepal
The site has to offer more than 25,000 books at a very reasonable rate.
Bookmandala also trades used books for an incredibly nominal rate.
Booksmandala was initially established in Pokhara and is now available in Gairidhara, Kathmandu.
Their website also offers a chatbot feature for customer service.
They also have a pre-ordering system for their customers.
Furthermore, Booksmadala offers amazing deals and discount schemes.
You can also browse books under numerous categories including Fiction & Literature, Action, and Adventure, Classic, Fantasy, Fiction, Horror, Humor, Literature, Love, Modern Classic, Mystery, Nepali literature, Lifestyle & Wellness, Academic & Reference, Religion & Mythology, Art & Design, Biography & Memoir, General Non-Fiction, Business & Finance, Poetry & Plays, Kids & Teens, Sports, Self-Development & Motivation, Travel, Atlas.
Thuprai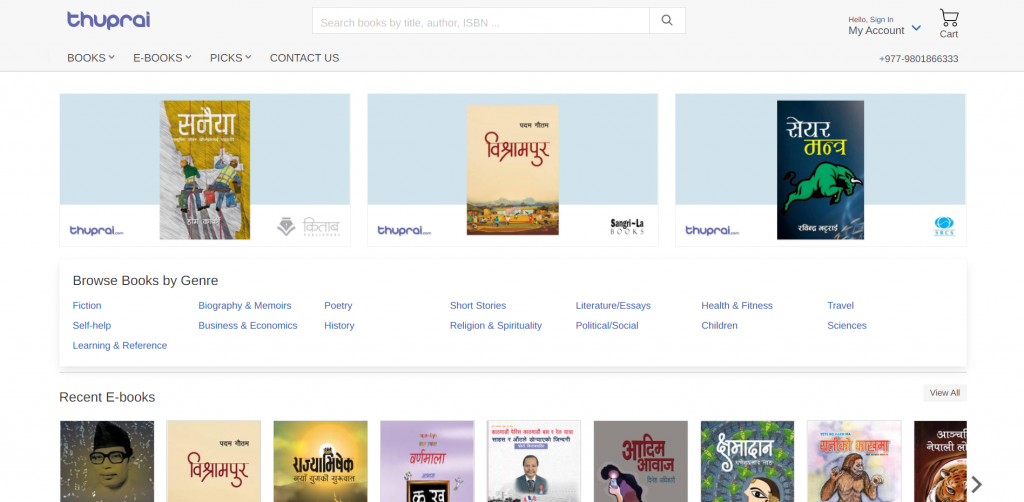 Purchasing online books of Nepali language wasn't easy but Thuprai is determined to overcome this issue.
The company began its service in collaboration with Shangrila Books, Akshar Creations, Bulbul, Nepalaya, Utkrista Prakashan, Book Hill, Kitab Publishers, Shilpi Kala Samuha, and many other houses.
While a variety of books are obtainable for a minimal amount some books are available for free as well.
You can easily search books by author, title, and International Standard Book Number through the search bar.
This app is easily available to android users in the play store and apple users in Appstore.
Nepali readers can purchase the available books through local payment gateways which include FonePay, Khalti, mobile banking, or eSewa.
Similarly, readers living abroad can also purchase through several international payment services.
Thuprai is located in Koteshwor Nepal.
Ekta Books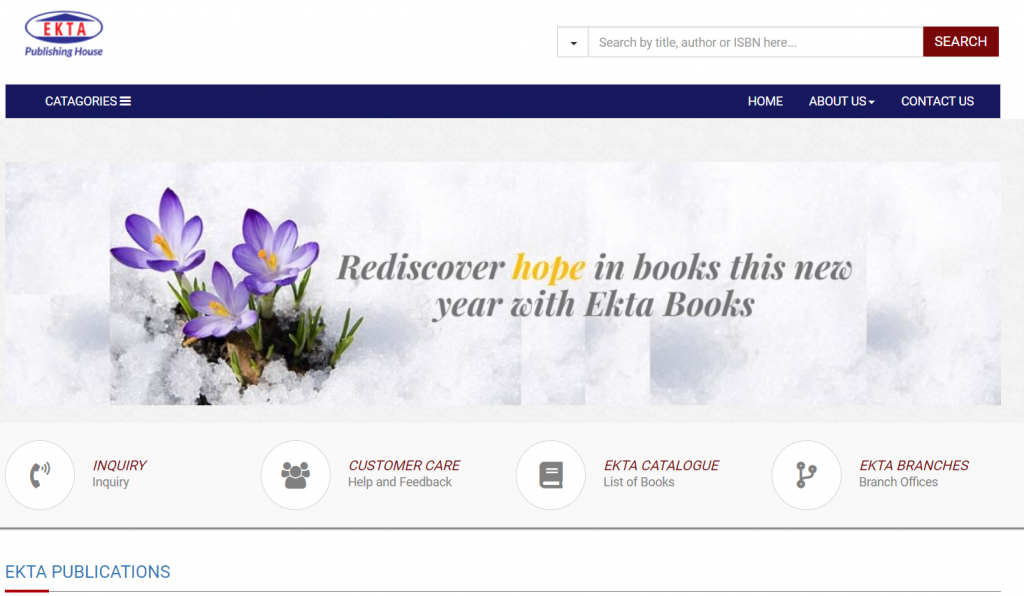 Ekta Books was established in 1982 under the talented leadership of Mr. Ramchandra Timothy.
Being one of the well-renowned book stores in all of Nepal, they have experience of more than 3 decades in the book publishing industry.
The company has made a special place in the heart of longtime Nepalese readers who loves good books.
Ekta books have also commenced an eBook platform for Nepal.
The easy search feature is very simple to use.
It provides a wide range of categories including Biography, Business/Management, Children Literature, Dictionary and Thesaurus, Fiction, History, Medical, Science, Politics, Religion, Self Help, Academics, Health, Non-Fiction, Poetry, Comics.
The website also has its own catalog of books offered by Ekta publications.
From its humble roots in Patan, Ekta Books has come a long way to being the best in the publishing sector.
The shop is located in Thapathali, Kathmandu.
Ratna Books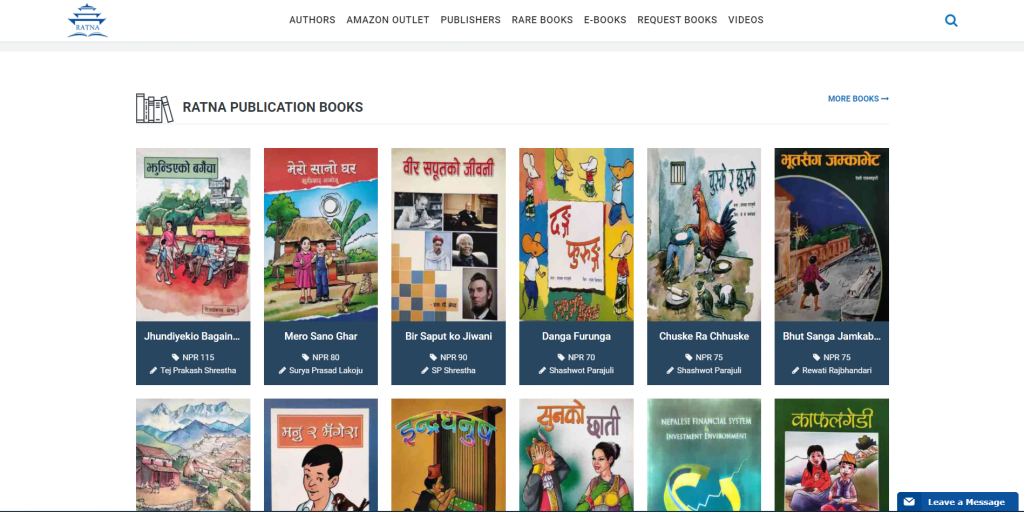 Established in 1939 AD, Ratna Books is the oldest book shop in Nepal.
Initially, it was known as Ram Das and Sons and later renamed as Ratna Pustak Bhandar in 1946 AD.
Now, Ratna Book is also operating online and delivers the ordered books all over the country. They do their best to deliver products at the specified time.
Not only do they sell books but also publish their own books. Ratna Books have contributed a lot to Nepali Literature.
Ratna Pustak Bhandar was honored with the prestigious Madan Puraskar Award on its Diamond Jubilee Anniversary.
Conclusion
All these online book stores and apps have made an incredible initiative to digitize and grow Nepal's literature all over the world. This effort shall definitely support Nepali literature to flourish and spread beyond the nation's boundary. Being a civilized citizen, it is also our duty to help thrive the reading culture in the country. So, hello fellow book readers, check all these online book apps and let us know which one you prefer.