 Big news for content creators in Nepal! EventsNP is going to launch the first Streaming platform extension in Nepal. Streamers land as a streaming platform hopes to help streamers to monetize and earn money from the live stream contents. As the first Streaming platform extension in Nepal, let us look at what services it is aiming to provide and why it is good for the content creators in Nepal.
Launch Date:
2 April 2022
6:30 PM to 8 PM
Watch the launch event through Facebook LIVE
How can Live Streamers benefit from this Streaming Platform Extension?
If you are a live streamer in Nepal and stream games or IRL videos, this is the big deal for you. As we are going into the digital and online space, people have found a new form on enjoyment online by binge-watching their favorite YouTubers or Twitch streamers. You might have seen the streamers of other countries like the USA, the UK, India, other countries where they get super chat from their fans for providing them entertainment.
This is not the case for our Nepalese streamers as no international payment system is available for the audience to support their favorite streamers. There are different live streaming platforms like Twitch, Youtube, Facebook, Omlet, Rooter, NemoTV, Loco, and many more but these streaming platforms do not provide the same facilities to Nepalese Live Streamers.
As an audience, we all want to support our favorite content creators for all the entertainment they provide us with but we can not because we do not have services that might fulfill this problem. Nepalese streamers currently just depend on the google adsense and promotion in their videos whereas international streams have the support of super chat, membership, and many more.
Gaming live streams have been on rising after the games like PUBG mobile, FreeFire, Fifa, counterstrike, and other various games grew on people and now people enjoy other people playing and streaming their perspectives. Live streaming is going to be huge in Nepal but with little to no support from all the big streaming platforms to Nepali creators, it might lose growth in the coming future.
To resolve this problem and support the creator economy in Nepal EventsNP is planning to launch its newest extension for the streaming platform named Streamer land in Nepal.
What is Streamers Land?
Streamers Land is a site built for Nepali streamers to help them monetize their online presence and it manages features such as On Stream Support, Top Supporter, Membership, Sponsorship Matchmaking, and so on. It will help streamers from Nepal in monetizing their content by abling them to receive support from local payment systems of Nepal like eSewa, Khalti, Connect IPS, mobile banking, E-Banking, SCT and you can expect many more to come in the future.
Streamers' Land's aim is to allow the streamer to stream their content in peace and monetize them. Streamers should not worry about the delay in their payment because Streamers land provides assurance to transfer money to the streamer's account every week. If you are a streamer then you do not need to wait for months and months to receive payment for your hard work. Not only that, but streamers land will also allow streamers to collaborate with their brands.
How to get started with Streamers Land?
Streamers Land UI is easy and friendly to use and you can easily get started with it. Add Streamers Land and start making living with your live streaming content as streamers will be able to earn a lot more money with features like TOP supporters, memberships, and many more.
Steps to get started:
Here's how you can get started with Streamers Land:
Streamers can choose between one of many Alert templates ranging from the most simplistic to the most feature-rich templates.
Streamers can then customize the look of the templates from their Stream Settings in Streamers Land and can even add sound alerts if they wish to.
After setting everything up, the final step is to add a browser overlay to the stream. In OBS studio this can be done by clicking on the + button on the scene and choosing the browser option.
Now, add your Streamers Land Streaming Link in OBS. The Streaming Link can be found in the Stream Section of Streamers Land.
After you step up everything with streamers land, it will look like this.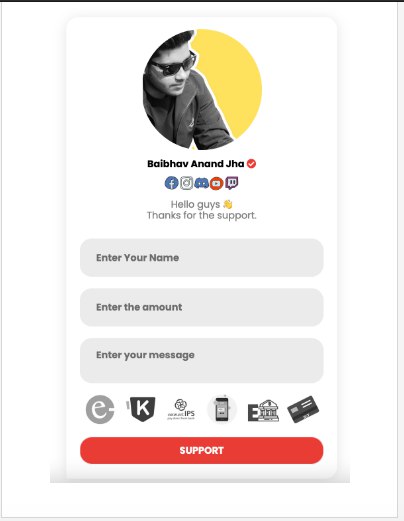 Partners in Streamers Land
Events Managed By: EventsNP
Community Partners: AskBuddie, InternSathi, Ghanta Gaming
Media Partners: TechSathi, TechPatro
Hosting Partner: Protozoa Host
Digital Tools Partner: Toolsmandu
Security Partner: MSecurity, ReconWithMe
Platform Partner: Sikshya Technology
Giveways
Streamer Land will come up with the big giveaway gifts of around 1 lakhs.
Hosting Coupons by Protozoa Host
Canva Pro & WordPress Theme Giveaways by Toolsmandu.com
Msecurity Licences by Msecurity
So what you are waiting for? Do not miss the opportunity to increase your online presence and make living out of it. Streamer Land has come up with a great concept of supporting our Nepalese live streamers. Streamers always have been pushing great content for their audiences and likewise, audiences always wanted to support their favorite streamers. With the announcement of the Streamer land platform for streamers in Nepal by EventsNP, it is a great boost to the morale of streamers who were doing their best to entertain their audiences.