Entrepreneurship is not all sunshine and rainbows. Growing and maintaining a successful startup requires a lot of hard work, determination, persistence, and perseverance. That's why many startups fail and many entrepreneurs give up, or fail for other reasons, like running out of money. You may fail five times in a row. But your startup can survive and grow if you choose the right mentor for your startup. Mentors are where the magic happens and a mentorship program serves as a foundation to let the power of mentorship happen i.e. giving legs and wings to your ideas. Urja Lab is now organizing a Startup Mentorship Workshop Season III event for providing the participants with an excellent mentorship experience.

About Urja Lab
Established in 2018, Urja Lab is a youth empowering organization with the vision of "learn to lead". It aims for a continuous effort to bring youths to the forefront of global change and innovation. Moreover, Urja Lab has been working its best to efficiently provide customized and well-updated solutions to its customers keeping into consideration their individual and organizational needs. With specialization in Information Technology, Incubation, events, and programs, they believe in empowering youths, women, and entrepreneurs with mutually beneficial relationships.
Startup Mentorship Workshop Event
After the grand success of the previous two startup mentorship workshops, Urja lab is now gearing up for the third one with full new energy, excitement, and enthusiasm. Starting on 4th June, the mentorship session is planned to last for 9 days. The 9 days shall be spent helping and guiding participants on their entrepreneurial ideas. This time the focus is put more on the implementation procedures of the ideas. The 9 days hourly session will cover the agendas that an entrepreneur must learn in order to develop their basic business idea into real action.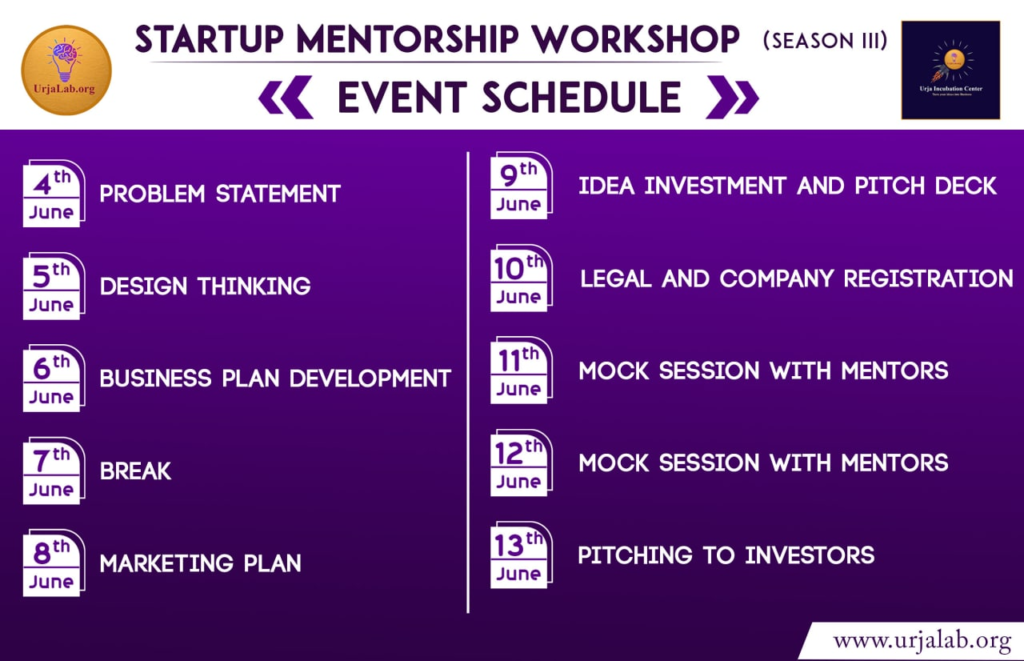 Furthermore, the great vision behind the startup mentorship program is to build a startup community. The community shall bring together entrepreneurs, investors, partners, and service providers across the nation to help nurture, nourish and empower new and growing startups. Not only this event provides guidance in starting and scaling a business but also helps in enlarging your network. The startup network seeks to build partnerships with organizations ready to play a crucial role in building the entrepreneurial ecosystems in Nepal.
How You Can Benefit
As a startup founder, one can benefit a lot from this workshop. Firstly, the community members get the opportunity to enlarge their networking. Likewise, it helps in connecting with co-founders, startup team members, mentors, advisers, incubation facilities, co-working spaces, investors, high net worth individuals, and other startup essentials. Through Startup Mentorship Workshop Season III Urja lab is committed to providing the participants with an excellent mentorship experience. Below are the six key benefits/takeaways for the participants from Startup Mentorship Workshop Season III:
One to one mentoring
15 experienced mentors
Enlarging your network
Potential investment fund
Develop a set of skills
10 days session
Conclusion
Many entrepreneurs may think it is unnecessary to consult with expert mentors as there is an abundance of information available on the Internet today. From webinars and podcasts to pre-recorded courses and e-books, it is true that an extensive resource is available out there. But nothing beats attending a live workshop event. Not only you get to meet other entrepreneurs but also you collect local resources available at your disposal. That's why attending this workshop can be the best decision you can make for your startup or your entrepreneurship journey.