 Hamro Patro is the most loved Nepali app that started as a Nepali Patro/ Calendar app. Later on, the app became a news or information portal and now it covers the information from various sectors. Additionally, Hamro Patro is a high ranking app to keep records of Nepali festivals, events, and days of religious significance. Currently, "Sorha Shraddha" is going on that mainly pays respect to the deceased members of the family. It is called so because this ritual lasts for 16 days. This is of high cultural and traditional significance to Nepalese.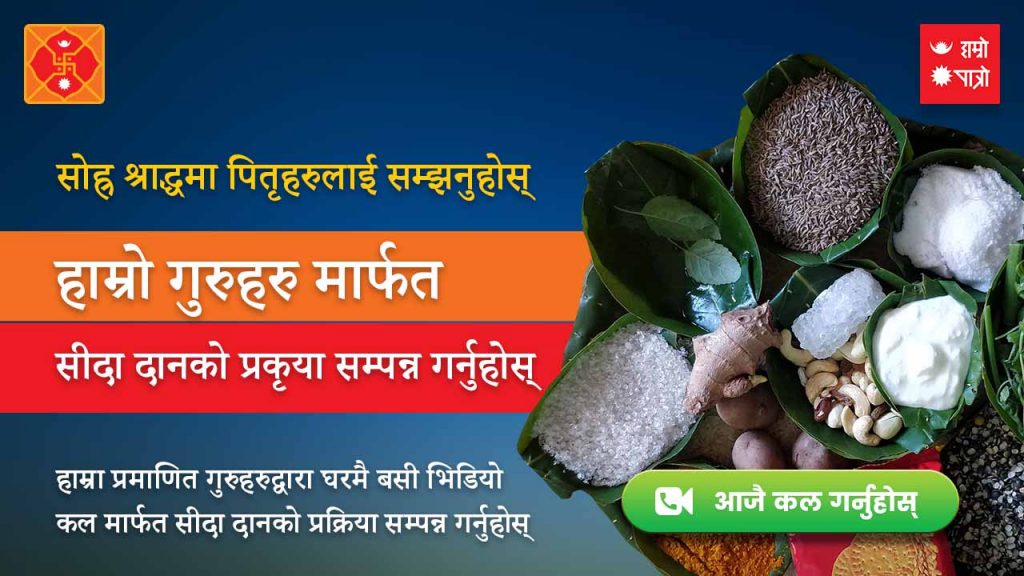 Hamro Patro is known to bring timely services and facilities to benefit its users. Lately, Hamro Patro has added a feature to perform "Sorha Shraddha" rituals online with the help of their experienced gurus/priests. This is an extremely praiseworthy move as visiting people and conducting such rituals has become problematic due to the Covid-19 situation. Also, the users can also perform "Sida Daan" through the app where people can donate food and other offerings for this ritual. In actuality, the Sida Daan facility is an improvised facility to compensate for one's inability of performing religious ceremonies and events.
Message from Guru Narayan Prasad Dulal
Guru Narayan Prasad Dulal says, "Previously, people staying abroad and people unable to find places to go and worship, thus used digital way of worshipping during "Sorha Shraddha". People used to donate food materials like pulses, rice, ghee, oil, vegetables, and more as offering to their deceased family members. Sue to the pandemic, the digital rituals seem relevant for times like these. So, we suggest people worship and donate Sida staying at home rather than not doing anything. This will make the departed souls satisfied as well"
Are you willing to do Sida Daan too but not a single priest is available around you? If so, Hamro Patro will connect you with some experienced gurus and help you perform the rituals of Sida Daan.
Procedure of Sida Daan
Take a bath and wear a clean white (for men) or yellow (for women) clothes. Then take a coin and clean water and pray to your departed ancestors.
Assemble pulses, rice, ghee, oil, vegetables, and more for Sida Daan.
Recall the names of your father, mother, grandfather, grandmother, great grandfather, and great grandmother. If possible remember dead ancestors from both your mother's and father's family streams.
After completing these steps, go to the official website of Hamro Patro. For Android handsets, click here and for iOS, click here to download.
Click on 'सीदादान' then go to 'menu' and select 'अनलाइनगुरु '.
Then scroll the page and click onवैदिक गुरुहरुसँगसीदा दानको प्रक्रिया सुरुगर्नुहोस्  option.
You can also go to the home page of the Hamro Patro app and follow the same procedure for Sida Daan.
When the Sida Daan session ends, click on 'दक्षिणा बुझाउनुहोस्' and submit your payment.
Then follow what the guru says and you'll complete the Sida Daan process easily.
Afterwards, donate Sida to your nearest priest, orphanage, or to people in need. Make sure that you donate it to people with gotra other than yours.
Payment Scheme:
| | |
| --- | --- |
| Country (For people living in…) | Amount to be paid |
| Nepal | Rs.500 |
| Australia | $15 |
| America | $9.99 |
Payment scheme for Sida Daan
People currently staying in Nepal will have to pay Rs.500. Similarly, people in Australia must pay $15 whereas people in America must pay $9.99.
Also Read || Hamro Patro Launches Hamro Market
Digital platforms to make payment:
People in Nepal can make the payment through digital wallets and platforms like eSewa, Khalti app, and connect IPS. Whereas people away from Nepal can use Mastercard, Visa, PayPal, etc. to make payment.
Conclusion:
Sida Daan feature primarily focuses on assisting the religious practices of people so that our tradition goes on regardless of the situation. Hence, we too recommend you Hamro Patro for Sorha Shraddha and Sida Daan if you're facing trouble finding priests. This year, let's say safe and pay respect to our ancestors differently; all that matters is our spiritual devotion.