 Like we all know the current pandemic has certainly made a big impact on our national economy. The COVID-19 situation has made things different in many ways. However, it has also brought light to the fact about the importance of digitalization.
Time and development have become the two crucial aspects that go along very well. With the passage of time, comes the advancement of technology, and digitalization has played a very important role in advancing technology. So, looking into these aspects of digitalization in Nepal, Fonepay is coming up with a live panel discussion. This panel discussion will focus on narrating how the future of digital banking looks like and why should we become more adaptive to it?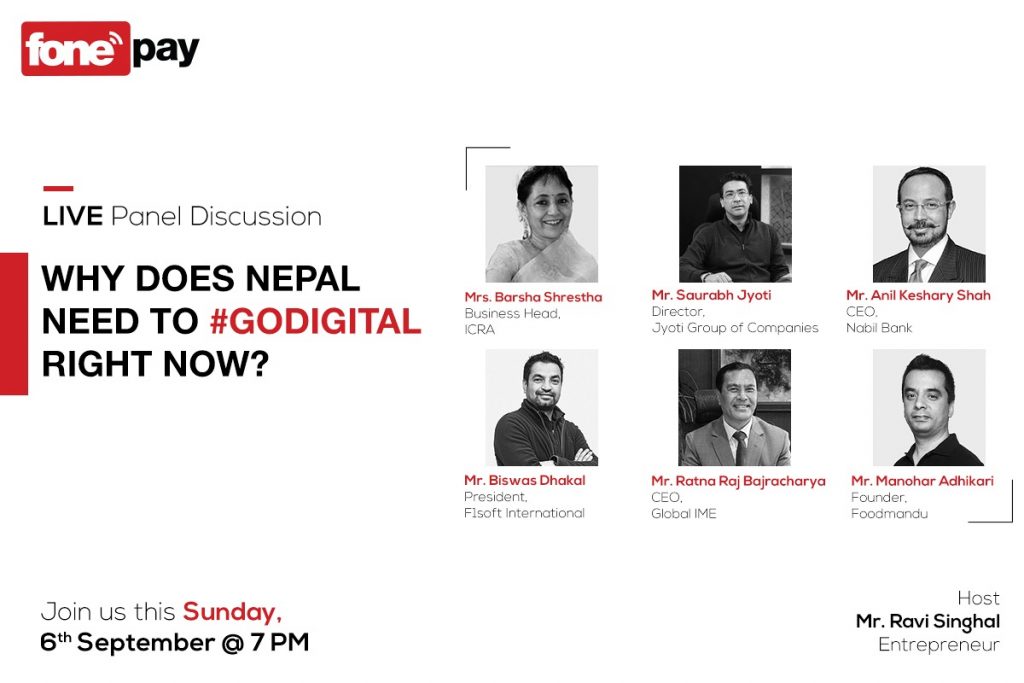 This is a great opportunity to get some inside scoop on digital banking and the whole going cashless scenario. Since this panel will be hosted and accompanied by some of the leading personalities in the business, it will be both informative and interesting at the same time.
Special Guest and Host for the Event:
This live panel will be something really inspiring session to look up to as it will be hosted by none other than Mr. Ravi Singhal who is an entrepreneur himself. But, not just that, this event will have following guests:
Barsha Shrestha– Business head at ICRA
Saurabh Jyoti– Director at Jyoti Group of Companies
Anil Keshari Shah– CEO at Nabil Bank
Biswas Dhakal – President at F1Soft International
Ratna Raj Bajracharya– CEO at Global IME
Manohar Adhikari– Founder at Foodmandu
Here, you will get to listen to experts from various industries and gain insights into where banks, businesses, and FinTech companies are going in terms of digital change.
Moreover, this will not just be a panel discussion, but will also be a great opportunity for enthusiasts to get an insight scoop from their idols. With a live room filled with so many amazing personalities, this is also an opportunity to get inspired and motivated in different fields of digitalization. So, if you want to be part of this amazing initiative by Fonepay in Nepal, then be sure to join the live panel.
Event Details:
Date: Sunday, 6th September
Time: 7 PM.