 Ncell, an esteemed telecommunication service provider in Nepal has brought Ncell Pahilo SIM quoting, "Begin your dream with Pahilo SIM". Annually, Ncell showers SEE graduates with various unequaled offers and facilities. Even this year, the offers are grand and better than before. In order to experience such offers, SEE graduates require a Ncell SIM card which Ncell centers will distribute for free. This year, the free SIM card is named Pahilo SIM because, for many of SEE graduates, it'll be their first-ever SIM.
If you are a SEE graduated, get your Pahilo Ncell SIM for free. For that, you must visit Ncell centers or Ncell offices around you. There, they'll provide you Ncell SIM card for only Rs.1. Like always, Ncell is in a race of being a prominent companion for young users.
Also Read || Ncell Non-Stop Data Pack Offers: Unlimited Internet Experience!
Materials required for Pahilo SIM
Following are the prerequisites for getting free Pahilo SIM from Ncell centers and offices:
SEE admit card
1 passport size photo
Citizenship card of your own or your parents
Features of Ncell Pahilo SIM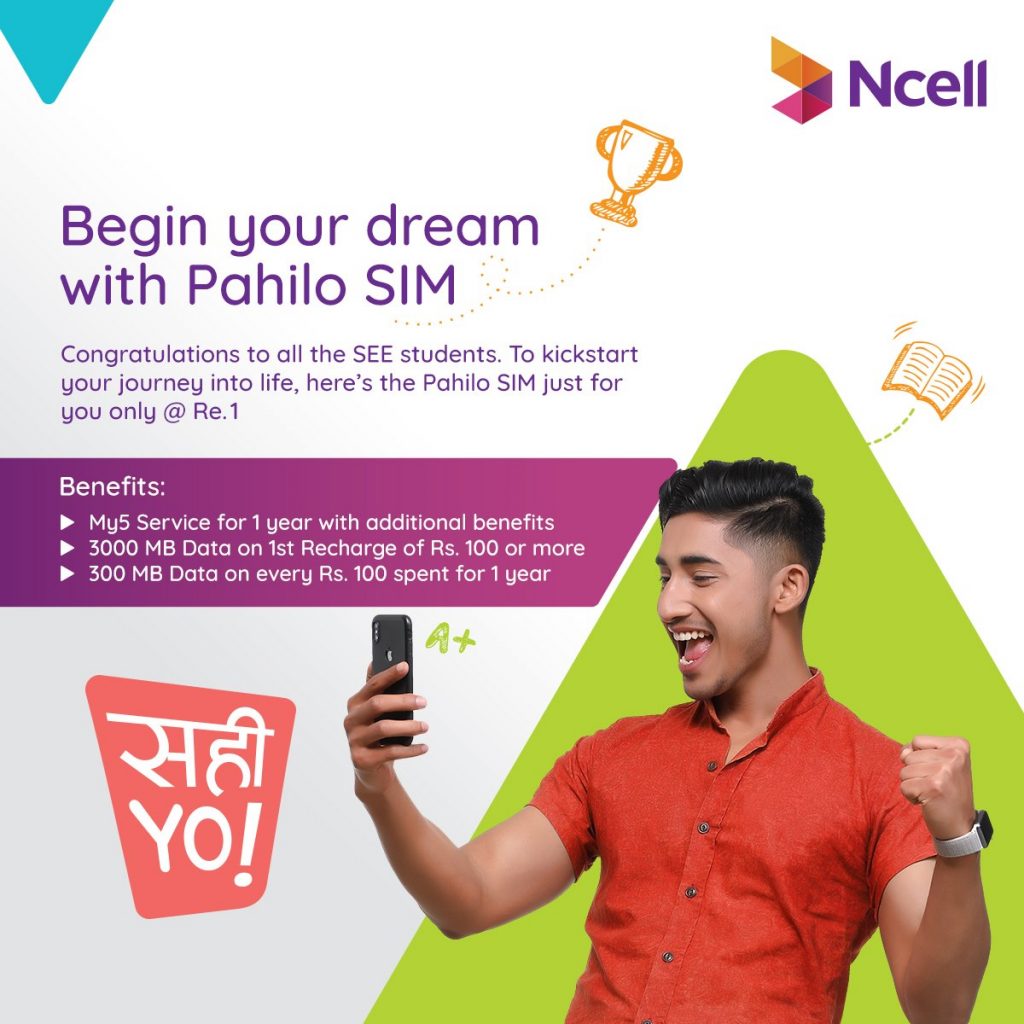 Ncell Pahilo SIM comes with many benefits embedded within it. Some of its advantages are listed below:
My5 service
With the activation of Pahilo SIM, you can take full advantage of the My5 service. You can add 5 contact numbers from your family and friends circle in the My5 list and enjoy free call service for a month. After a month, the free service will expire. But you'll still have access to My5 service for 11 more months with a discount rate of 99 paisa per minute. This means that My5 service will remain active for an entire year.
After a year, My5 service will expire and the calls will be as per standard traffic. The company will grant no more privileges to anyone. For further use of the service, you can dial *5599# and re-activate the My5 services. But this time, they'll charge you a standard fee for its re-activation.
How to change (add/remove) numbers in your My5 list?
To change contact numbers in your My5 list, dial *5544# and follow the instructions. Adding or changing the number list won't cost you for 5 times. Afterward, if you wish to make changes in the My5 list, you must pay Rs.5 per change.
Benefit on recharge:
On recharging Rs.100 till midnight of the day of SIM activation, you'll get 100MB data every day for 30 days and you can use it throughout the same day. Additionally, every time you spend Rs.100, you'll get 300 MB data (100 all time+ 200MB 4G). This data pack is to be used within 3 days or it'll expire. The company won't count balance transfer as spending. So, even when no balance is left in your account, you won't get the free data. Further, to check how much money you've spent, dial *17136#. The system will take the English calendar as reference and results will be displayed according to English months.
Gaming Pack:
Under this offer, you can get an exclusive gaming pack for just Rs.110. This gaming pack will be valid for 7days. Along with this; the pack includes 2GB data pack, free subscription of Playlive, Gamespark and Game Plus. To buy this gaming pack, dial *17103# and you're done.
Music Pack
In addition to the gaming pack, there's an exclusive music pack waiting for you as well. You can get this music pack for just Rs. 105. This pack will last for 7days too. Further, it includes 2GB data, free subscription of Hangama Music Pro and Dami Music. Dial *17103# to buy this music pack.
Conclusion:
Ncell Pahilo SIM brings several valuable offers to benefit SEE graduates all around Nepal. Similarly, the data packs might help you to research colleges and several other courses online. As a consequence of this, you may get admission in a renowned college. Therefore, do consider buying Ncell Pahilo SIM and get benefited as much as you can.