SmartDoko, one of the emerging e-commerce startups of Nepal has come up with Rakshya Bandhan special offer. With this offer, SmartDoko customers can win variety of gifts, get a sure shot chance to win cashback as well as enjoy up to 60% discount on select items.
SmartDoko Rakshya bandhan Offer
Customers can get heavy discounts up to 60% on Rakshya Bandhan items and gifts like perfume, smartwatch, wallet, Kurti, tops, jewelry, and other varieties of gift items under best deal and discount categories. Customers will also be able to win Crane Facial Mister every day. Also, they can win a cake with a photo of their brothers and sisters. During the offer period, customers will get 15% cashback up to Rs 500 when making online payments with Himalayan Bank's debit, credit and prepaid cards. In addition to this, users can enjoy 10% cashback up to Rs 500 when making online payments with Machhapuchhre Bank's debit and credit cards. Not only this, SmartDoko has also brought an attractive gift scheme on the occasion of Rakshya bandhan.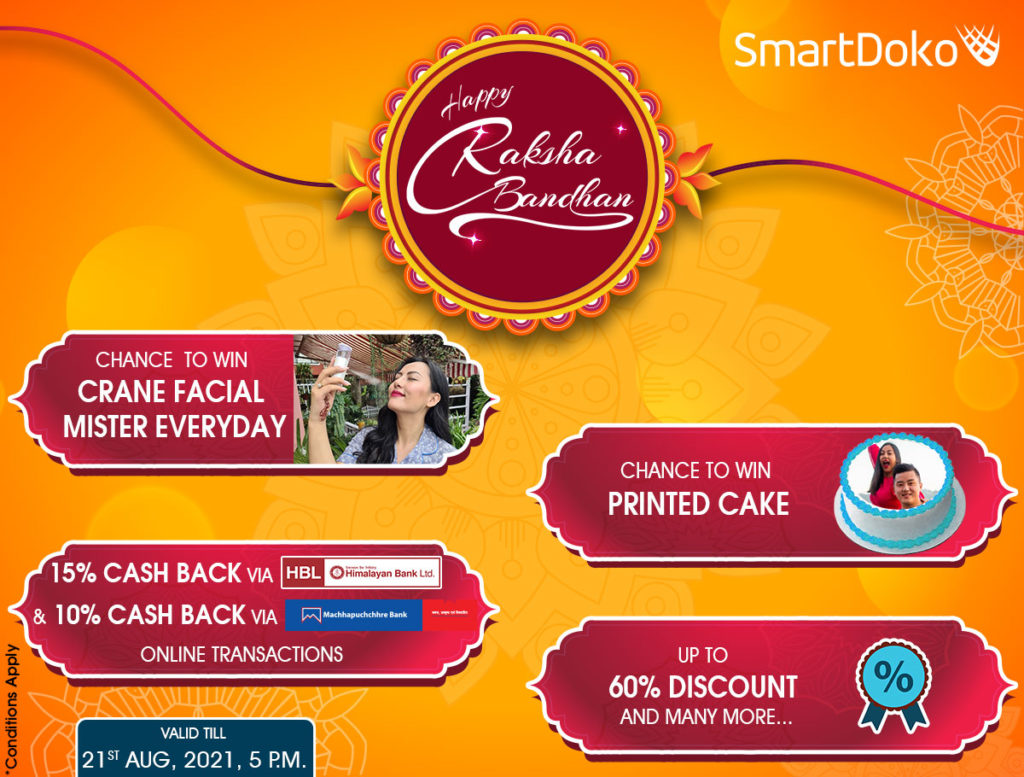 More About SmartDoko
Started in 2017, SmartDoko has managed to become one of the most convenient e-commerce platforms in Nepal. The company is rapidly increasing its presence in the Nepalese e-commerce space in recent years. SmartDoko has been offering a wide range of products at unbeatable prices. Likewise, it provides prompt delivery, a high level of responsiveness and reliability as well as reward points. The ecommerce company has also paired with a strong distribution channel. The company has been successful in becoming a reliable online shopping destination in Nepal. The platform has more than 10,000 products in various categories and sub-categories.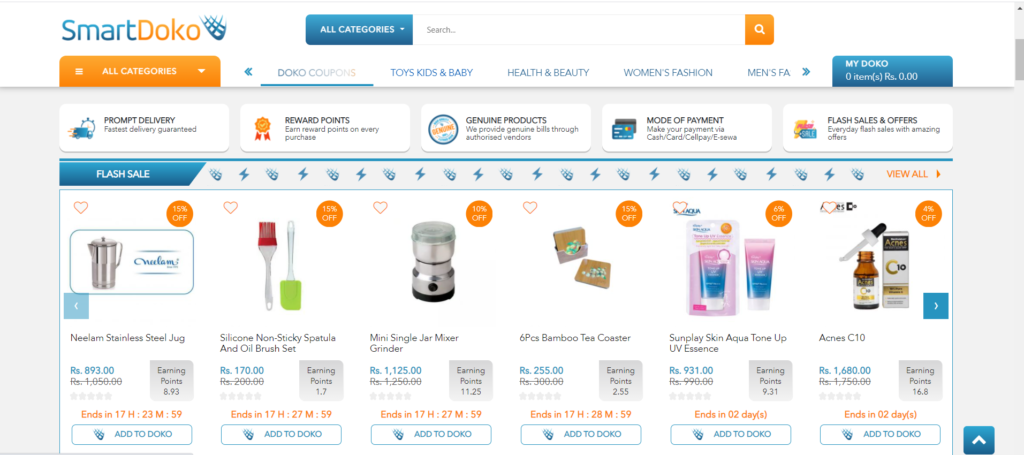 Customers can easily buy their favorite products including baby care, electronics, food and groceries, coveted essentials, health and beauty, and home and living. SmartDoko also provides free delivery when purchasing goods worth a minimum of Rs 250 within the Ringroad of Kathmandu Valley. Similarly, the service is being provided outside the Ringroad at a minimum delivery fee.
The e-commerce start-up which was recently acquired by IMS Group has been providing discounts and offers on major Nepalese festivals since its inception. Customers can download the SmartDoko app or place an order on SmartDoko's website to redeem the offer. Rakshya bandhan offer will be valid from 18th August to 24th August.