 Having a tough time searching for a cab? In a hurry to get somewhere and you need a ride for your group? Attending a party but don't want to spoil your dress? Well, you're in luck as Sarathi has got you covered with their fast and reliable taxi booking service. Although Sarathi had been on the sidelines for a long time, it has been pushing the progress really impressively recently. It was running a beta version for a long time and now it is ready to go full throttle as a Nepali Uber.
There are more than a thousand cabs connected with Sarathi currently along with several satisfied users of its services. It has been growing in popularity due to the innovative and simple yet much-needed service it provides. We do not need to wait for a taxi or go searching for one any longer, let alone the nuisance of bargaining. Sarathi is always there whenever you need a taxi even if it is in the middle of the night and the best part about it is that it follows the official meter system of pricing which means no more overpriced taxi rides. Also, Sarathi recently partnered with Kumari bank and Fonepay to launch taxi payment by QR code for the first time in Nepal in a step to make payment smarter.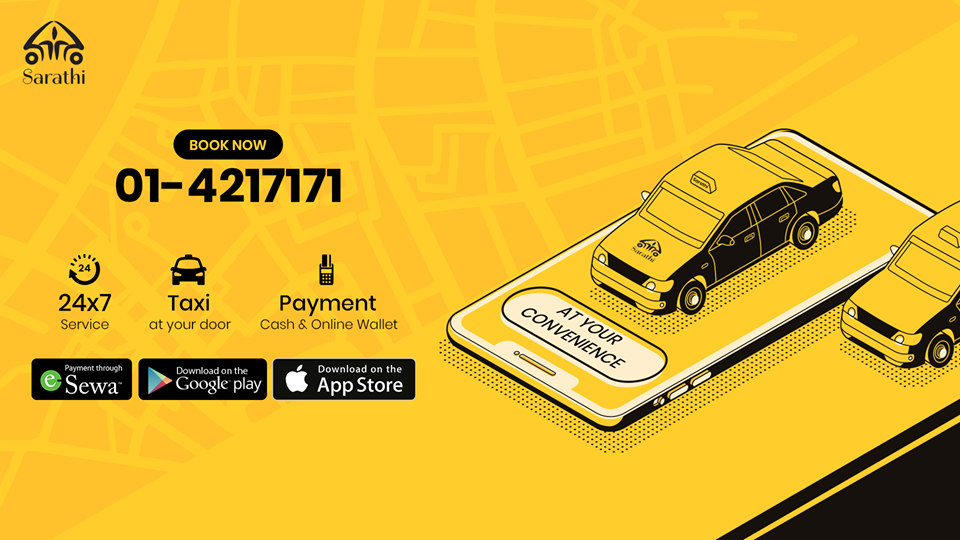 How does it work?
Just download the Sarathi app, set up your profile and you will be all set to go. The app allows you to choose your pick up location as well as your destination and you will have a ride within minutes. You also have the option to pay with your e-wallet or if you aren't a big fan of online payment then you can pay up with cash. If you think logging into the app and setting up the locations is too much of a hassle, then you can directly call their call center at +977-1-4217171 which is also available 24/7 to assist you with a ride within Kathmandu valley. It is user-friendly as well as easy to use so you don't need to be any kind of expert to use their services. The fare charged by their cabs is according to the meter so that you get the service you want for the right price. Along with that, they also track their cabs with a GPS system so that your safety isn't compromised.
Reach Sarathi through:
Why Sarathi?
With Sarathi you not only save yourself from the nuisance of bargaining but you also save your valuable time. If you are with your friends or family looking to attend a party, if it is raining heavily and you need to get somewhere urgent or even if you just don't like bike rides or think it is not as safe along with the ever-present pollution in the roads then look no further than Sarathi, as it is the solution to all of such inconveniences. You not only have your safety assured but also you can have a smooth ride with your friends and family courtesy of the GPS tracking system of their cabs. If that isn't enough then there's more as the price they charge is according to the meter system so that you don't need to pay a penny more than the allocated amount.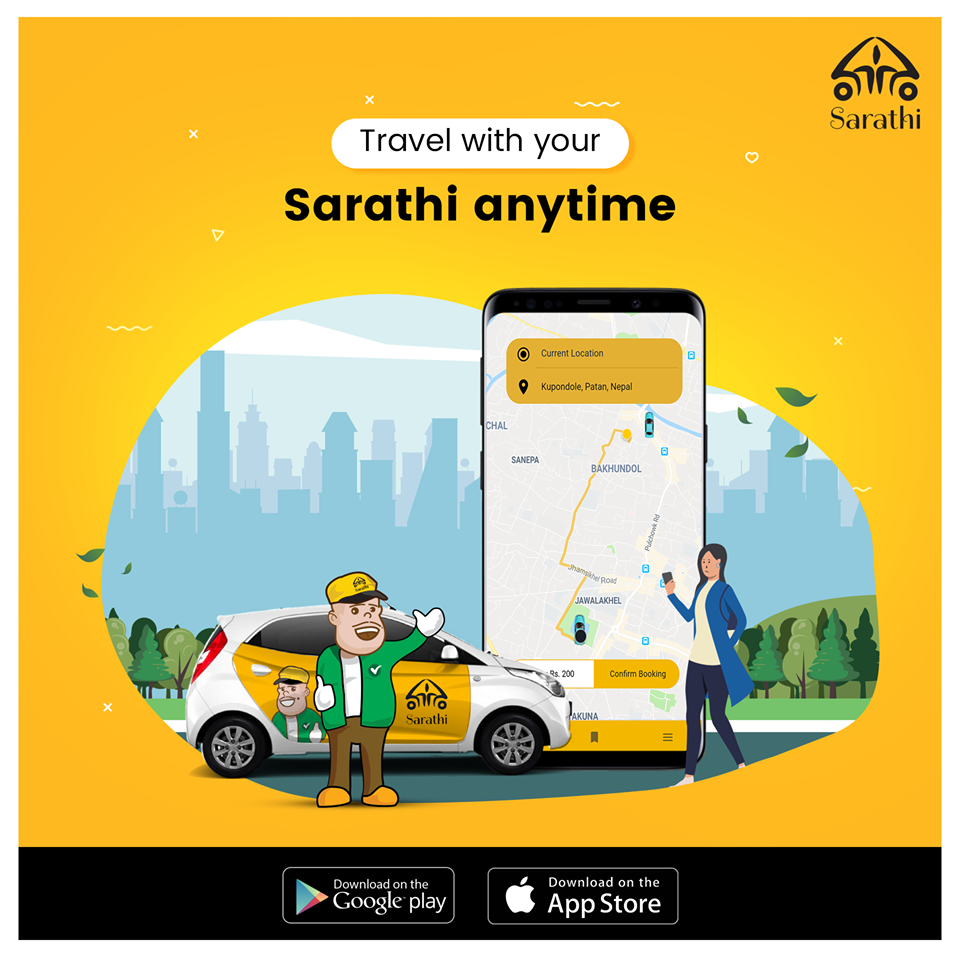 Talking about my personal experience with Sarathi, I along with my friend needed to attend a friend's birthday but we were short of time as well as it was raining. Also, there were no cabs around so I thought there was no way we could make it to the party but then my friend told me about Sarathi. He then quickly rang their call center and they hooked us with a cab in no time. Their cab arrived within just 5 minutes from the time we made the call and we were able to make it to the birthday just in time without any inconvenience. From then on if ever I've come across a situation like that or if I've needed a cab I've always made use of Sarathi. It is not only convenient but also efficient.
So, What are you waiting for? Get Smarter! Get Sarathi!