Now onwards, you can get a 20-Year Warranty on Samsung's Digital Inverter Motors for Washing Machines & Digital Inverter Compressors for Refrigerators. This offer is brought by Samsung to play its part to reduce e-waste, promote sustainability and offer consumers high-quality and durable appliances to promote a sustainable lifestyle.
Significance of Samsung's 20-Year Warranty Offer
This offer by Samsung actually contributes to reducing e-waste and enhancing durability as Digital Inverter Technology (DIT) has a prominent impact on energy efficiency, performance, and longevity of electric appliances such as refrigerators and washing machines.
To make it clear, Alok Kumar Gupta, Deputy General Manager, Consumer Electronics Business, Samsung Nepal said, "With our vision to offer sustainable solutions to our consumers, we have introduced a 20-year warranty on Digital Inverter Motors & Compressors used in our washing machines and refrigerators. Frequent replacement of home appliances not only costs time and energy but also produces physical waste. Hence, this initiative is aimed at reducing e-waste while also offering durability along with the peace of mind to our consumers."
Using digital inverters reduces your expenses apart from enhancing the durability and sustainability of washing machines and refrigerators. How? They reduce running costs by using precise operations for laundry loads. Furthermore, Digital Inverter Motor uses strong magnets which reduces friction and makes your washing machine run much quieter and smoother. This device with such fine functionality elongates the life span of your machine, also has a long life span itself as it is brushless and has a small number of moving parts.
The 20 years offer makes the customers happy as the parts required to maintain and service DITs will be made available for 20 years and the environment as it helps reduce e-wastes. All in all, this is one great initiative of Nepal's largest consumer electronics brand, Samsung.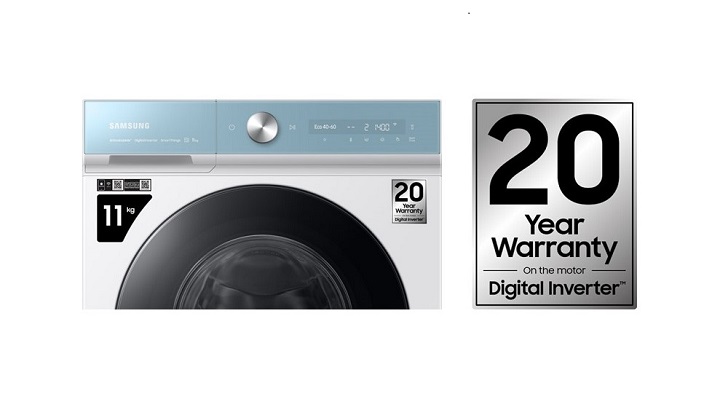 Also Read: Why do you need to get a feature phone? 5 reasons to have one