 In this age of competition of phones over the Megapixels, battery usage, and storage capacity, feature phones are still among the choices of people.
Feature phones no doubt have been the first generation of mobile phones that were handy could fit in our pockets, and were too strong to break.
Let's get to know about the journey of the market of feature phones
The mobile phone landscape looked pretty different for some decades. Feature phones ruled the market worldwide, being Motorola, and Nokia the top global leaders in that.
Motorola had more than 57% of the global market share in the mobile phone market during 1993. Similarly, the market share of Nokia was around 41-42% during that period.
Then, there were other players like:
Sony
LG
HTC
Lenovo
Palm
NEC, etc
After the first smartphone IBM Simon was introduced by IBM in 1992, it was just the beginning of the war on smartphones.
And when iPhone was released on June 29, 2007, this was the breakthrough in the world for smartphones. Its sleek body, minimal design, and smoothness made by using the genius of Steve Jobs made it to the list of most valuable companies.
Since then, the war of brands over the best smartphones is still going on. As a result, the company Nokia, which was once a leader among mobile phones with its super efficient and first mover feature phones with the popular snake xenzia game, failed in the competition.
The reason behind it attributes to a number of things like its failing bureaucracy and rigid management system that could not act promptly with the market demand, failure to realize the importance of lifestyle products like the iPhone, and some other internal management issues.
The models like Nokia 3110, Nokia 5110, Nokia 3210, etc created hype in the market in the beginning.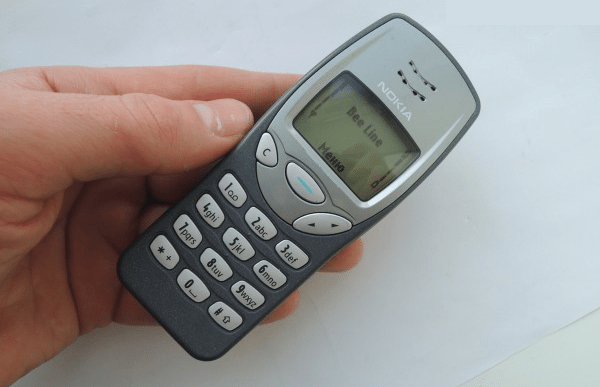 And if you remember the phones like Sony Ericson, Blackberry, Intex, Samsung, etc, they also got a chance to capture the market for some years.
However, the boom of smartphones nearly killed them. As a result, Nokia sold its mobile and devices division to Microsoft in 2014. It is somehow, the leader among feature phones at present too, after a recovery.
One thing that helped smartphones to boom was the internet. Or we can also say, the internet was responsible for the advancement in smartphones, and the reason why smartphone companies began to join a cut-throat competition in innovation. In a sense, they are correlated.
But, we can not fully ignore the existence and usage of feature phones.
No matter what, feature phones are here to stay
The market of feature phones experienced tough competition in the early 2000s. After 2014, it experiences a sharp downfall because of the dominance of smartphones.
After 2020, the demand is rising again, and it is expected to rise even more. According to Statista, the revenue in the feature phones segment will reach USD 11.01 bn in 2023.
In the global comparison, the most revenue is generated in India (USD 2,227.00 m in 2023).
Similarly, it has been forecasted that the feature phones segment is expected to show a volume growth of 3.7% in 2024.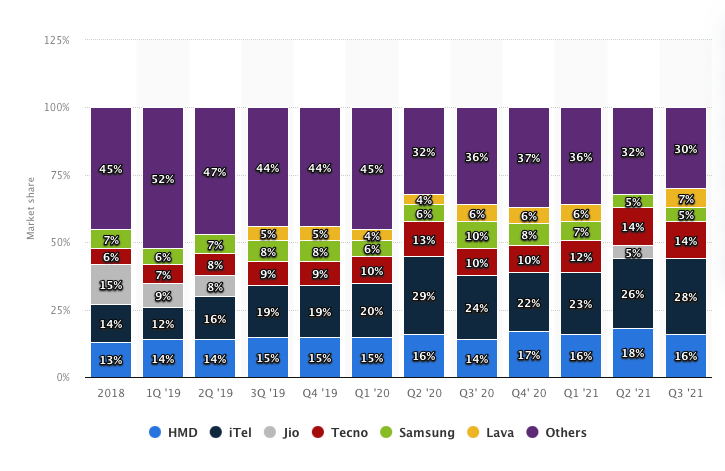 As you can see, the market share of the iTel brand is increasing among the featured phones since 2018.
Let's get to our topic: Why do you need to get a feature phone?
If you are reading this article on a mobile phone, odds are that you are using a smartphone. Obviously, smartphones have made our life much easier through their many amazing features like:
Internet Access
Social Networking
Email Access
Use and download apps
Taking photographs
Huge storage
Easy to touch, tap and swipe features and UI
Multiple features in a single device
But many of the users who use a smartphone also prefer to use a feature phone alongside. In an independent survey from TechSathi to our gadget enthusiasts, 56 out of 100 people preferred to have a feature phone.
So, what makes them use a feature phone? Why do you need to get it?
Among the respondents, most of them were business owners. The reason behind carrying a handy feature phone was to get control of distractions that a smartphone brings with their usage, which hampers their productivity.
Also, it has helped them assign one particular number to their business where customers, clients, and others can reach out to them. And they can simply maintain their work-life balance.
Apart from this, there are a few reasons why you should use a feature phone:
One who can not completely go into digital detox, for eg; social media managers, can use the feature phones to receive calls and notifications while doing the rest of the work through their laptops, or PCs.
Feature phones are trusted to be safer than smartphones in terms of digital access. Parents who want to control their children's activities in terms of access to pornography or violent content can switch to feature phones and save them.
Feature phones have limited internet capabilities, geo-positioning, and camera resolutions. This is a blessing in disguise as it limits their vulnerability to violations of users' security and privacy.
Feature phones are less likely to cause digital dementia, decision fatigue, and psychological stress like dopamine craving a smartphone does. There is a growing awareness of the psychological and social impacts that 24/7 digital access and social media users are having, especially among young people in more advanced digital markets in East Asia, Europe, and North America. This is reflected in movements like Wait Until 8th, which urges parents in the United States to take a pledge to limit their children's access to smartphones until eighth grade (around 13 to 14 years of age).
Feature phones technically have longer battery lives than smartphones due to their small screen and display. They literally can work for days on a single charge.
Having said that, it does not mean that feature phones just could replace all the smartphones. Smartphones have their own usage and one can not think of letting it go. However, you can keep feature phones for backups if the above reasons are relatable to you. Also, you can gift to your family members or relatives the feature phones, which are way cheaper and give a value proposition in terms of gifting culture.
Also read: Samsung Inaugurates its Global CSR Program Samsung Innovation Campus at Tribhuvan University IOE