Are you bored of always using the same old social sites? Are you looking for something new and exciting to keep you engaged?
Well, you're in luck. There's something really interesting that has caught our eye. It is an up and coming social media platform that goes by the name Sagoon. What makes it, even more, interesting is that the app is based on Nepal. It has a cool user interface, interactive features along with exciting redeemable gifts that make up for all the ingredients you need for a fresh social media experience. Be sure to read till the end for an exclusive offer we've just for you.
Sagoon Lite: Getting Started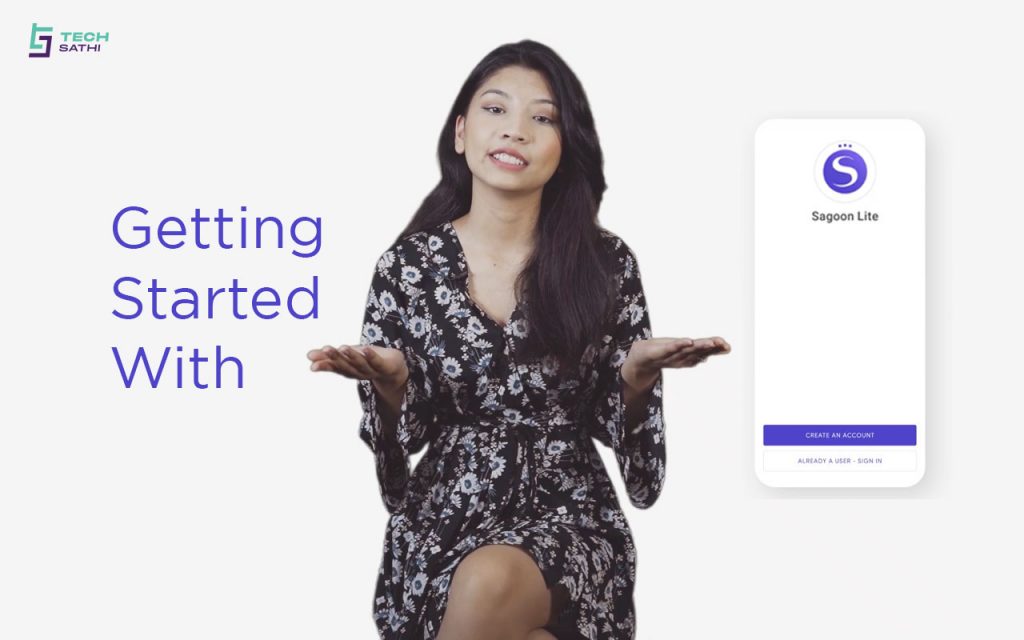 Firstly, you need to download the app to get started.
For this, simply search for Sagoon Lite on the Play Store or App Store and click on the download button.
While downloading, Note that there is Sagoon and Sagoon Lite so you need to download Sagoon Lite which is the newer version of the app. It will only take up about 14 Mb of your storage of so there's nothing to worry about there.
Once your download is complete, open the app.
You can see there you'll have an option either to create an account or directly sign in if you're already a user. For this video, we're going to show you how to create an account. Don't worry you don't need any expertise for this, it will just take a few clicks.
You just need to enter your mobile number and create a password for the app. Also, you can enter a referral code if you have any while signing up. Then, you'll be asked for access to your location which you can skip as well but we're going to put it to allow while using the app only which will help provide better stories.
Follow Topics
Once you log into the app, you are required to select a minimum of 3 topics of your interest so that the app will automatically curate stories for you according to it. There are topics like Explore Nepal, School/ College Life, Kabita, Nepalko Rajniti. There's one thing or the other for everyone here.
After that you will be logged into the app and can start viewing posts.

There are a couple of more things you need to do to fully complete the setup though.
You'll need to verify your phone number for which go to verify your phone number option and enter the OTP code received in your mobile number.
The catch here is you'll also receive 1000 coins once you verify your phone number. After your phone number is verified you'll need to set up your profile as in all social sites. Just fill in details like your Name, Email, Birthday, Gender, and upload a profile photo if you like and that's pretty much it; you're good to go.
Connect with Friends and Share your moments
So, now that you're all set up to use the app you can start connecting with people.
For this, you can go to My Circle and click on Access my Contacts.
It will sync with the contacts on your phone and connect you with the people who are already on the app. You can then search for more people to connect with manually or invite people to join the app if they haven't signed up already. Also, you get 500 coins every time when someone signs up using your referral code so make sure to invite as many people as you can.
Now, once you're done connecting with people let's see the feed. While scrolling through your feed you'll be able to see posts from topics you've followed and people you're connected with. Since the posts are tailored as per your interests, this makes the app a lot more fun to use.
The posts have the option to like, comment, and share like most social sites. Also, the number of viewers of the post can also be seen. While uploading your own post, you can post text on images, photos, videos from your gallery, or just record a video and share.
Go anonymous
There's also an option to post anonymously which will have a lot of people interested. The beauty of this feature is that you can freely share your thoughts, images, and videos without having to be overly conscious about people judging you.
Earn and redeem rewards, Transfer coins
If you aren't excited already then the next feature will surely get you hyped up. One of the coolest features of Sagoon which makes it unique from the regular social apps is that there are plenty of rewards for the taking in this app. Who wouldn't love getting gifts?
You'll first need to activate Sagoon Social Smart Card to have access to this feature. You are probably thinking this is going to be one of those difficult banking things but no You can simply activate it by going to Social Smart Card and clicking on Activate Social Smart Card. It's really as simple as that.
The Social Smart Card allows you to collect, transfer coins as well as redeem and send gifts through it. From Bhatbhateni Gift Vouchers, Foodmandu Vouchers to Recharge Cards, and QFX Movie tickets, there are plenty of exciting gifts that you can redeem through the app.
You might have been thinking what's the use of all those coins you collected earlier from the referrals and activation of your phone number. Here is the thing, you need to collect coins to be able to redeem rewards from the app. So, collect as many coins as you can by referring the app to your friends. Once you collect 25000 Smart Coins you can start redeeming gifts. It gets better as you can also transfer Smart coins to your loved ones once you gain up to 25000 Smart Coins and can also send them gifts through the app. Isn't that great? You can send gifts or coins on special occasions like birthdays, anniversaries, or festivals through the Sagoon app and make your loved one's day.
Exclusive Offer for Our Readers
If you want a heads up in your quest to gathering coins we've got you covered. You can get 6000 Coins for free just by signing up using our Referral Code – 1JKWGL.
Conclusion:
With all these amazing features Sagoon app makes for a unique and engaging social app for you to get hung onto. From connecting with people to sharing your stories and gaining amazing gifts they've got everything you might fancy.
So what are you waiting for? Sign up today and Come join me and others in being a Sagooner.