A 3-day event is going to be organized by Sagarmatha Hacktoberfest in order to promote contributions to open source. The organizers of Sagarmatha Hacktoberfest are organizing the event with the motive to celebrate open source throughout October month like every year. It is in actual a virtual event where any one willing to know more about open source can participate.
What is Sagarmatha Hacotoberfest?
Sagarmatha Hacktoberfest is a 3-day event that encompasses workshops and training that provides participants with knowledge regarding open source contributions. This was initiated by Digital Ocean which is an American cloud services infrastructure provider that has data centers across the globe and is solely controlled by GitHub. Hacktoberfest is organized every year in October. By participating in this event, a whole bunch of developers lay their helping hands to the open-source.
Open source is a code that is publicly accessible, meant that anyone can see, modify and distribute the code. Contributing to open source subjects you to many advantages. For instance, you can improve your communicating skills, build reputation, interact with developers and so on. Hence, in a nutshell contributing to Open source will benefit you in return.
The collective efforts of Birendra Open Source Klub, COESIS (Computer Engineering Society in Sagarmatha), NEC IT Club, Nepal Open Source Klub, and Open Source ASCOL Circle with the involvement of 13 members in the Organizing Committee have made this event possible. Furthermore, they are working out to make the event even more effective by including huge number of developers.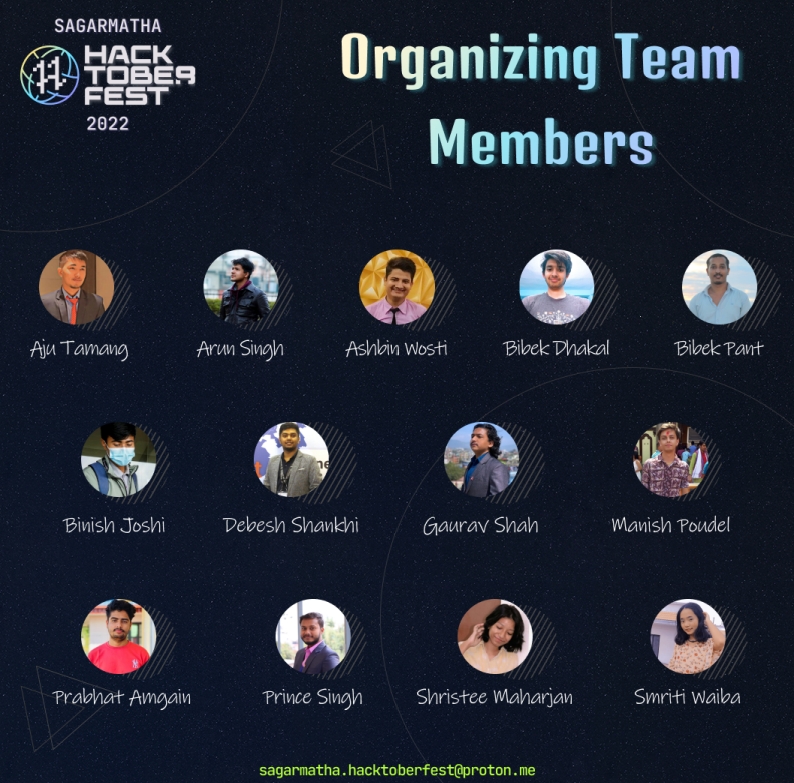 From beginners to professionals, every Tech Enthusiast who aspires to learn about Open source is welcome to be part of the event on Oct 12 to Oct 15 virtually from 4 PM to 7 PM Nepali Time. This is an online event so, you don't need to pay any sort of entry fee. The event is not far, so fill the form to be sure that you won't be missing the chance to learn about Open Source.
You will have to fill the following form entering your email address where you will be sent a join link of the event. https://forms.gle/2oSNoWyL4hputyuJ9
Routine of the 3 days of Sagarmatha Hacotoberfest
Day 1: Oct 12th
The program will start of from 4:00 PM. There will be 4 different sessions which are scheduled as follows.
Session 1: What is open-source and Hacktoberfest by Damodar Lohani
Session 2: Scenario of Open-Source in Nepal by Arjun Gautam
Session 3: Building Career in Open Source by Shoaib
Session 4: Open Source Licensing by Saroj Dhakal
Day 2: Oct 13th
The program will commence 4:00 PM onwards and will include 5 sessions and the schedule is as follows.
Session 1: Open Source Alternatives for daily use by Binish Joshi
Session 2: Free and Open Source Hardware by Manish Poudel
Session 3: Getting started on your cloud journey by Aju Tamang
Session 4: Git and GitHub by Bikalpa Dhakal
Session 5: Dos and Don'ts in Open Source
Day 3: Oct 14th
The event will commence 4:00 PM onwards on the third and the last day too. There will be 5 sessions in total that are scheduled as follows.
Session 1: Story of reNgine by Yogesh Ojha
Session 2: Non-Code Contribution by Ichchha Moktan
Session 3: Open Source Project Demonstration Ubuntu DDE, etc.
Session 4: Introduction to Linux Operating System by Mukesh Kumar Chaudhary
Session 5: Translation and open data
Additionally, you can also collect Hacktoberfest Swags i.e. a free t-shirt and many other special gifts by participating on the event.
To stay updated about the event, you can follow them in social medias.