Rastriya Banijya Bank has finally launched its own credit card service. The bank launched this service for the first time, after 56 years of its establishment. Though it appeared late, the bank is providing a huge credit limit of Rs 20 thousand to Rs 5 lakhs. Similarly, it is charging a 1.5% monthly interest rate which makes up the annual interest rate of 18% on this credit card service.
The card has following features for the convenience of the card holders.
Credit limit from Rs 20,000 to Rs 500,000
Acceptable in Nepal, India and Bhutan
Competitive interest rate
Customers can pay from their credit limit regardless of their bank balance
The bank has launched this service as a step towards providing digital banking services. Since all the banks and financial institutions have been adding as much as digital services in their line, RBBL is also following the suit. However, the bank has already issued its debit card services long ago.
What can you do with Credit Card?
The card holders of RBBL credit card can avail for payment, online shopping and cash withdrawal transactions. Normally, the banks provide a credit cycle of 15-45 days with 5 years of validity. This RBBL credit card will be widely accepted in Nepal, India and Bhutan. You can obtain it from any of its branches.
How to apply ?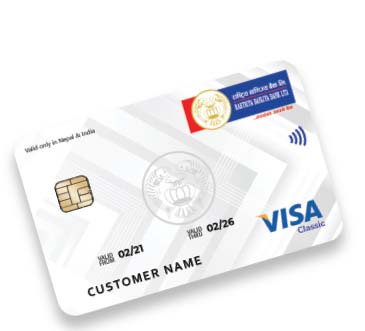 Normally the banks have similar process in applying for a credit card in Nepal. The domestic debit and credit card operators are Visa, MasterCard and STC. Most of the commercial banks provide debit/credit cards, supported by Visa. You can follow these simple steps to apply for Visa credit card in Nepal:
Apply for the credit card online or visit the nearest branch
Submit required documents and information
Collect your Visa Credit Card and get it activated by visiting the nearest branch
Also read: Debit Card VS Credit Card: How to Make the Most Out of Them?
Rastriya Banijya Bank Limited is an "A" class commercial bank of Nepal under the ownership of Government of Nepal. Established on 10 Magh, 2022 BS, RBBL is providing major banking services in each of the 77 districts through 247 branches, 209 ATMs and 98 branch-less banking services. Along with other banks in the path of digitalizing their services, RBBL is also introducing digital banking products.