The smart glasses market is broad and intriguing, whether you're searching for fashionable eyeglasses that serve as a set of headphones or a high-tech wearable that enables augmented-reality activities. Rapoo Z1 Sport smart glass from Rapoo offers various features in a compact set of glasses.
Smart glasses are still mostly seen as fun items, but they also represent the most exciting and futuristic aspects of the wearable gadget industry. This product combines classic design with cutting-edge technology and allows users to view surroundings from a variety of angles. Thanks to its brand-new speaker system, users will be able to hear sound in a whole new way and enjoy a richer audio experience. You can use your fingertip to tap, touch or slide. By interacting with others, it is much simpler and easier to obtain info, as well as build a more fascinating, humorous, active, and lovely lifestyle.
To this end, the company is devoted to advancing the study and implementation of Augmented Reality (AR) and intelligent video/audio software and hardware technology while improving interactive experiences and exploring new wireless life application possibilities. The glasses are very decorative. Fashion modelling and wearing scenarios may be expanded with these glasses, which have unique designs, a basic design, vintage and modern components, as well as soft and pleasant views.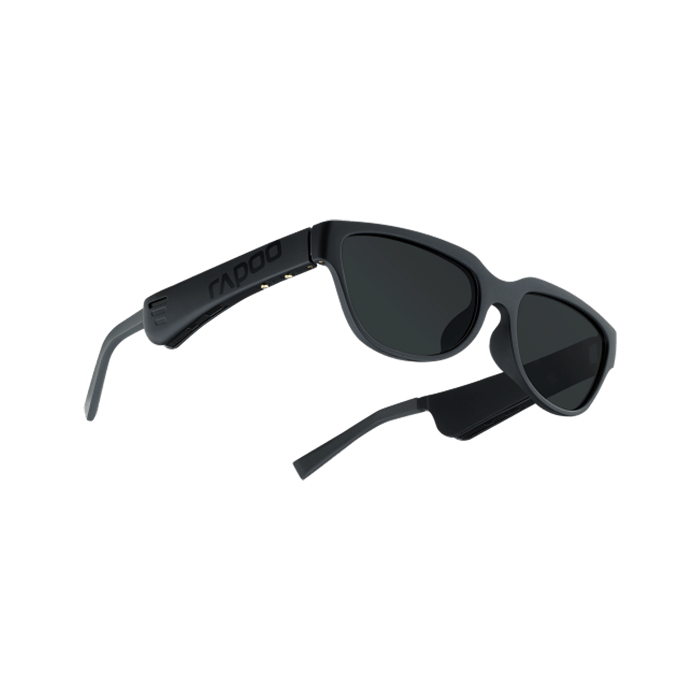 Product Details
| | |
| --- | --- |
| Brand | Rapoo |
| Model | Z1 Sport |
| Product Size | 159*163*42mm |
| Product Weight | 43±3g |
| Frame Material | TR90 Frame, light and flexible |
| Lens material | Anti-blue light, ultraviolet lens, polarized TAC |
| Frequency Range | 20Hz-20000Hz |
| Bluetooth Protocol | 5.0 |
| Channel System | Stereo dual-channel |
| Battery Capacity | 110mAh (Approximately 5 hours of battery life) |
| Charging Time | About 1.5 hr |
As one of Nepal's IT hardware distributors, Nagmani International has a dealer network of more than 450+ Dealers/Value Added Resellers around the country. It is an exclusive distributor for ASUS, Transcend, Cooler Master, Rapoo, etc. in Nepal. The Rapoo Z1 Sport sun glass is available in black frame colour.