 Citing PUBG for being prejudicial to the sovereignty, integrity, and security of India, The Ministry of Information and Technology in India banned PUBG in defense of their country along with 118 other mobile applications which are mostly Chinese.
PUBG in #1 App in India
This is seemingly going to have quite an impact as India is the world's second-largest internet market and almost half of India's population of 1.3 billion is online. Furthermore, India is PUBG's largest overseas market.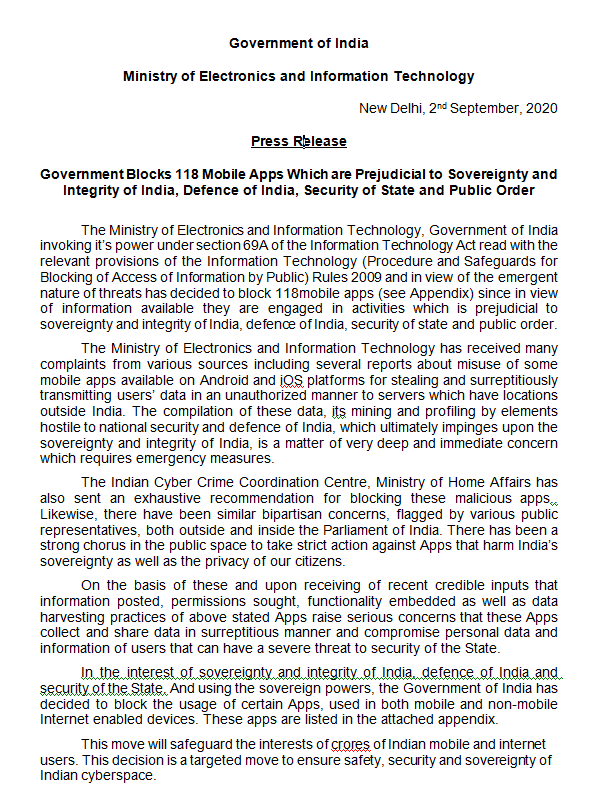 Till now, Indians have experienced 2 ban waves and this is the 3rd ban wave in India. Earlier this year, India banned 59 apps, mostly Chinese, like TikTok, WeChat, and UC Browser due to security concerns.. Later on, it banned clones of the previously deleted apps. It was not a big shock to people until the Indian IT Ministry officially banned PUBG.
Also Read : India Bans 59 Chinese Apps: Is this the Next Trade War After US-China?
PUBG is a famous and widely played mobile game. It is one of the vital sources of entertainment and refreshment during this global COVID-19 pandemic. Quarantine lives of people have become a bit easier because of PUBG. So, its ban may disappoint many people in India.
The ministry of electronics and information technology registered several complaints regarding user privacy and data security. Sources reported cases of misusing several apps and stealing and transmitting users' data to servers outside India. Hence, the IT ministry forcefully banned such apps including PUBG in order to guarantee users' security, privacy, and nation's sovereignty.
Besides PUBG Mobile, the IT Ministry also banned apps like PUBG Mobile Lite, WeChat Reading, FaceU, Express Edition, Tencent Weiyun, Tencent Watchlist, and Baidu. With this, the total number of banned apps in India reaches a count of 118 which includes mostly Chinese apps. Don't know if it's right to interpret things in our own way. But these bans seem to have a deep connection with the ongoing dispute between India and China over Ladakh.