 Nepal becoming more and more digital payment friendly and as users are increasing day by day to digital payment methods, a new payment application Namaste pay was introduced to the audience on Bhadra 29, 2078. It is easy to use and has many features that other payment methods such as eSewa, IME pay, Khalti, etc have.
It allows users to do recharge top-up, transfer the balance and pay bills such as water and electricity. You can load your wallet using mobile banking, e-banking, card, and connect IPS. You can easily transfer money to the banks and can load your wallet too. The great feature of this application over other similar payment methods is that it has 0% TAX on the transfer of your money.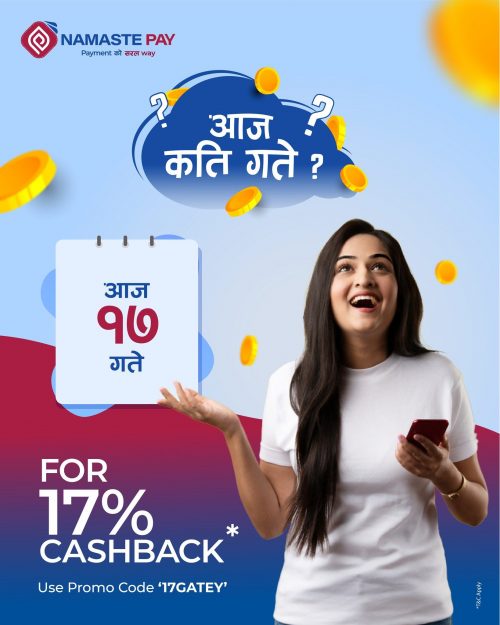 Namaste Pay is having daily promo code for its users. By using promo codes, you will get huge cashback on every recharge top-up.
Here is how you can get a promo code.
You can go to the official Facebook page of Namaste Pay and there you can latest news related to Namaste pay as well as promo code specific to that days.
Read More: How to get started with Namaste Pay? Know about the transaction limits as well
How to use Promo Code in Namaste Pay?
It is easy to use and to do the payment. You do not need to do much to get heavy cashback in Namaste pay while doing top-up. Go to the available service section and then choose the Recharge option after that provide the mobile number and amount that you want to top up into that particular SIM card. Before doing top up it will ask for the promo code of the day which you can get from the Facebook page of Namaste pay. Use the promo code and get huge cashback. Note the promo code can be used only once a day.
How to Register in Namaste Pay?
You can download it on your smartphone via the Google Play store. After downloading it from the play store here are the things you need to do.
Step 1: Fill in the mobile number which is compulsory and there is an optional option for email. After adding the phone number verify the number using OTP.
Fill in the name and your date of birth.
At last, you need to fill KYC form where you need to add the registration number of Citizenship, Passport, or any other government document.
So what you are waiting for, go and download Namaste pay and do the digital payment.