 Nepal Rastra Bank has issued a circular regarding the international payment for purchase of goods and services online. The document from the Foreign Exchange Management Department stated some amendment has been made on Unified Directive- 2076, which reads that it could issue prepaid dollar card with a maximum limit of $500 for easing the international payments to Nepali nationals.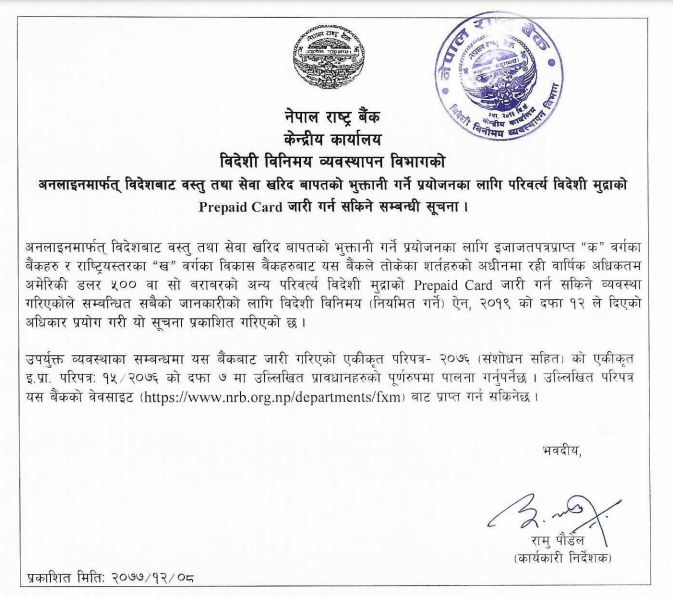 It means, one can now enjoy the products and services from Amazon, Netflix and other international companies by paying online through a legitimate medium. It would solve the problem where people needed to use the PayPal or other cards of their friends' or relatives abroad in the lack of formal international gateway.
According to NRB, one must abide by the following rules to get their prepaid dollar card:
Any person, firm, company, or organization willing to get a prepaid card on foreign currency can get it by converting their existing fund in NRS to the foreign currency from the banks.
As per the request of the applicant, an amount equal to $500 on the basis of exchange rate in the date of issue or the same amount on exchangeable foreign currency would be deposited in the card account
For issuing this card, users must have updated their KYC from the respective banks and should have a PAN number.
Users can enjoy this service at a maximum of $500 either through one transaction at a time annually or time and again
Users can only import/purchase the products/services that have been allowed by the prevailing law.
If the cardholder is found to have generated foreign income amounting to at least double the card amount of $500, additional funds may be deposited to the card. This can be considered as NRB's reward to the cardholder for generating international revenue for the country.
Who would be the most benefited?
This provision would benefit mainly the e-commerce platforms, IT companies, and individuals who need to make an online purchase from the international market on a daily basis. Similarly, now you can shop online from Amazon, Alibaba and other e-commerce giants, buy your domain for the website, subscribe to OTT platforms like Netflix and Amazon Prime and pay through your own account issued by the banks in Nepal. In addition to that, this would give access to the products and services that are not available locally in our country.

Also read: https://techsathi.com/international-payments-from-nepal
The Possible Costs of it?
Although this is a commendable step taken by NRB to facilitate international payments, we can not avoid the possible detrimental effects in the economy. This regulation apparently seems to focus on the consumer's side, where one can purchase Netflix, Spotify, Amazon products, however limiting to opt for investing options like international stock markets and others.
Moreover, there exists a question mark on the prosperity of local business. It could raise a concern about how it would affect our local products and services. Wouldn't they be overshadowed by the foreign goods and services? Well, both the customers and the balance limit of $500 is not enough for the companies, entities or individuals who require to make payments on a larger scale daily.
The Bright Side
Nepal Rastra Bank has been being liberal towards various aspects like digital payments, international payment gateway, and overall banking and payment system. This step is also anticipated to make a remarkable effect on international trade, thereby uplifting the overall good of Nepalese economy. The long awaited moment where Nepalese could freely enjoy international products/services and pay for them is definitely set to bring a progress in the field of innovation and consumer awareness. By getting international products entering the domestic market, it could be an advantage if the local businesses including SMEs and MSMEs could also level up their standards to give a neck-to-neck competition to international giants. Though the consequences are still unfolded, it is a welcoming decision made by NRB to provide digital freedom to the citizens by facilitating international payments on their own.
Click here for the original document by NRB https://www.nrb.org.np/contents/uploads/2021/03/Prepaid-card.pdf