 If you are a customer of Standard Chartered Bank Nepal, this is a huge relief for you. Recently, Standard Chartered Bank's credit card payment option is live on connectIPS. It means you can now pay for your SCB credit card bills online via connectIPS and get your payments settled in real-time.
What is a Real-Time Settlement?
Even though the digital wallets served various payment options, the real-time settlement was still limited to few types of payments. In the first phase, digital wallets and other PSOs came up with load options. One had to load funds from banks or agents on that particular wallet/ system before making payments. Then, after the payment was made, it could not settle in real-time for cross-bank payments.
In the case of credit card bills payments, you could make payments from other bank accounts too. However, settlement in real-time was still not possible. So, most of the users had to hurry in making payments before the deadline, just hoping if their payment would be settled within the limited time. Imagine if you forgot to pay your credit card bills on the last date! How could you prevent from paying fines?
Luckily, SCB was live on connectIPS in May 2021. In the initial phase, it allowed any bank's customers to transfer funds to SCB accounts online through connectIPS for the first time. As per their agreement, in the second phase, its customers will be able to do outgoing transfers to other BFIs. And in the later phase, they had agreed to allow SCBNL customers to link their bank account to connectIPS, so as to make outgoing payments directly from connectIPS.
Which cards do this service support?
Standard Chartered Bank Nepal is the market leader in terms of credit cards. The bank's credit card customers have been getting exclusive discounts and attractive reward points. However, it was still a hassle while paying credit card bills. Most of the time, one had to make bank deposits to extend their limit or make credit card bills payments of SCB.
Still, the credit card bills payment could not settle in real-time. But now, one can easily pay their credit card bills before the deadline. If you have a credit payback period on the 4th of September 2021, you can simply pay on the same date and prevent fines on late payments.
You can make payments for three types of Visa cards provided by Standard Chartered Bank Nepal:
SCB Credit Card- BBSM: SCBNL has partnered with Bhatbhateni Supermarket to allow exclusive discounts to its card holders on shopping via this card.
SCB Credit Card- Visa Classic: It is a common type of Visa credit card accdeptable in both Nepal and India. A person with a monthly income of NRs 9,000 or a self-employment income of NRs 10,000 can apply for it. This comes with a credit limit below Nrs 150,000.
SCB Credit Card- Visa Platinum: This card is for premium cardholders with a monthly income of NRs 100,000 and above. The card holders can enjoy a credit limit above NRs 150,000.
How to make credit card bills payments of SCB in connectIPS?
Log in to www.connectips.com
Then, go to the "Financial Institution" option from the left corner or scroll down
Select the SCB Credit Card icon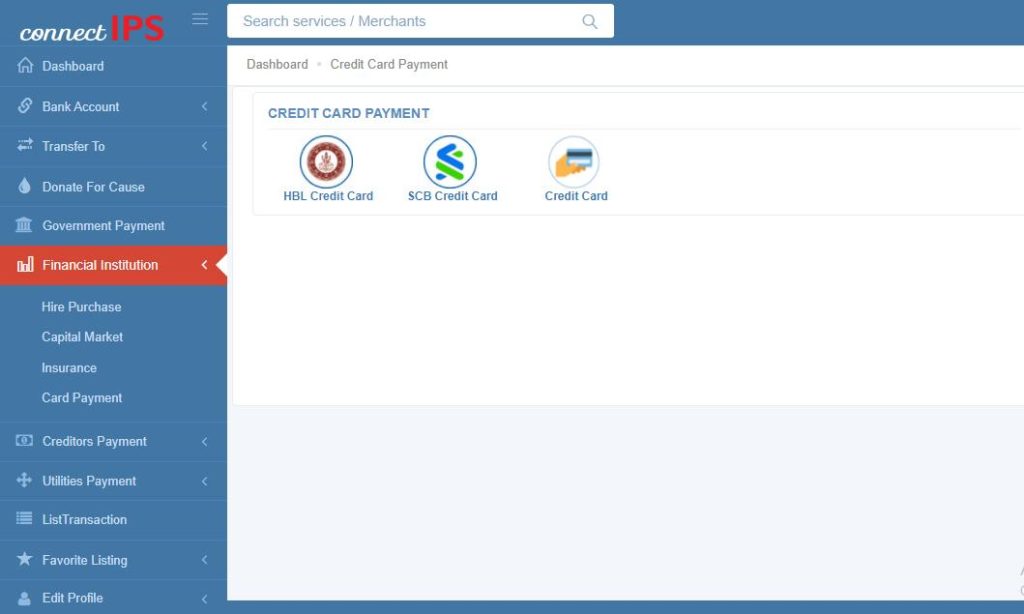 Then, select your bank account, card type, enter the amount and click on "Transfer"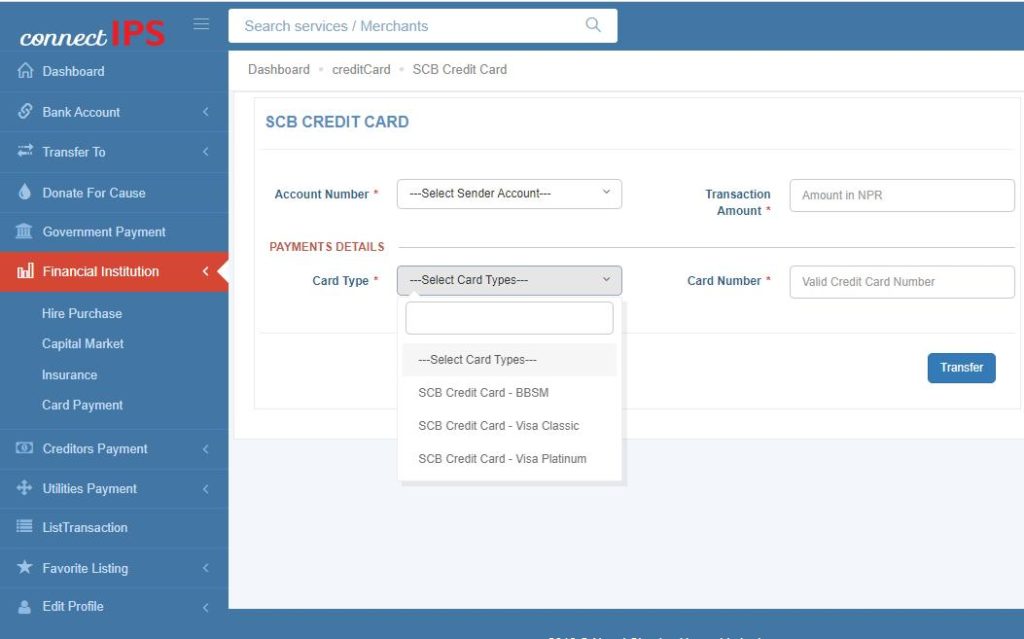 Enter your OTP and complete the process.
In this way, you can make your credit card bills payments without worrying about the late charges.
Also read: Debit Card VS Credit Card: How to Make the Most Out of Them?
connectIPS has made it easier for real-time settlement
connectIPS has been providing a secure, swift, and reliable payment system since 2018. It allows direct payment from linked bank accounts which reduces the hassle of loading funds like in digital wallets. Some of the digital wallets also have bank link options now, which is a good sign. Still, connectIPS is the first mover in this case.
And with this new integration, the users of these three types of credit card holders can make instant credit card bills payment in real-time. For the first time in Nepal, SCB customers can pay their credit card bills instantly, without making bank deposits. So, it's your call to go digital and save your time, effort and worry while making payments. These types of integration are making our life easier, allowing the power in the hands of customers. Digital payments are democratizing financial transactions which lessen the hassle of users along with reducing the paper costs of banks and financial institutions.