IME pay, an emerging digital payment gateway of Nepal has announced a partnership with Bhojdeals, Nepal's one stop foodie app. This collaboration between the two brands will facilitate users to make digital payments for food ordered online through Bhojdeals. On this introductory offer, users will also get instant 20% cashback on Bhojdeals orders.
Amod Bhattarai, Business Development Manager at IME Pay Solutions Pvt Ltd, and Niket Agrawal, Co-Founder, and CEO of Bhojdeals signed the strategic partnership agreement at the special signing ceremony. Senior Business Development Officer of IME pay and Business Development Executive of Bhojdeals were also present during the signing ceremony. With this partnership, Bhoj customers will be able to order their favorite food from hundreds of restaurants in Kathmandu valley and pay using the IME pay app. As soon as the customers confirm their orders from the available restaurants, they will instantly get 20% cashback in their account.
Announcing the partnership, Amod Bhattarai, Business Development Manager at IME Pay Solutions Pvt Ltd. shared,
"The mutual partnership between Bhojdeals and IME pay will pave a new way for digital transections during and beyond the difficult time of the covid-19 pandemic. The partnership between IME pay and Bhojdeals equipped with limited time additional 20% cashback offer valid till 19th August 2021 will definitely help to retain customers to both platforms."
About IME Pay
IME Pay is Nepal's leading Digital Wallet. It is a subsidiary brand of IME Digital Solutions Pvt. Ltd. IME Digital has obtained permission to provide mobile wallet service as per Nepal Rastra Bank's Payment and Clearance Policy-2072. Also, it is the first payment service provider in the country to get such permission. IME Pay has eased the transaction procedure among people. It allows users to conduct most forms of Digital Transactions from simple person-to-person money transfers to QR payments at various online and on-site stores. IME Pay has also been providing attractive cash-back and interest offers from time-to-time.
More on Bhojdeals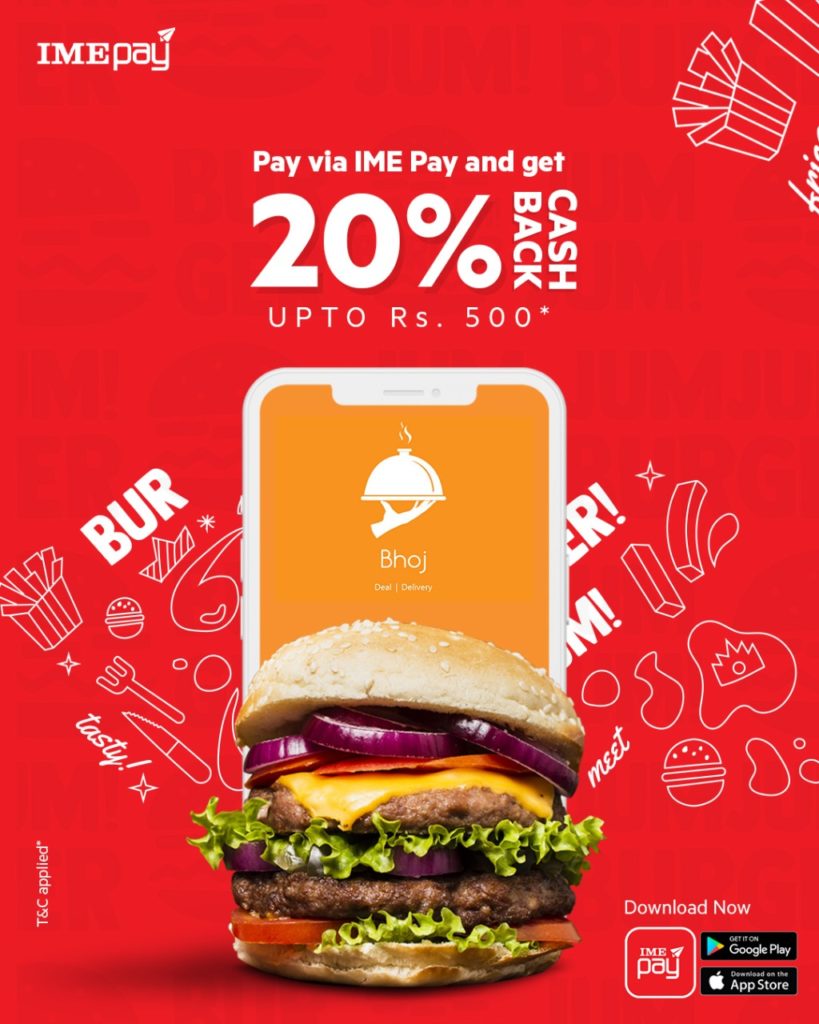 Bhojdeals is one of the most popular online food ordering and delivery platforms in Nepal. Launched in October 2015, Bhoj provides an online platform to restaurants and connects them to customers. The company has hundreds of its partner restaurants in and around Kathmandu valley where customers can place orders for food. They can order from the Bhojdeals' website or from Bhoj's mobile app and pay through IME pay and enjoy 20% cashback instantly. The app has also integrated its own wallet named Bhoj Wallet with which it eases the cashback and rewards collection. Customers can regularly get exciting deals and discounts from restaurants of their choice on a frequent basis. The app has over 100k+ downloads in the play store and provides takeaway services as well.