 For anyone processing to go abroad or applying abroad, Police Clearance Certificate and Police Report Verification might be familiar terms. For others who are not so familiar with police verification reports, it is a brief document that represents the innocence of an individual going to foreign countries. This official report may also be useful to anyone whose employer requests it in Nepal. In this post, we are explaining in detail how one can apply online for police report verification in Nepal.
Table of Contents
About Police Report Verification
Police Report Verification is the official document that confirms the innocence of an individual which is used especially for foreign procedures. It clearly states that the person applying for it has no criminal records. Besides this, the document also consists of important personal details, such as his passport number, residence, date of birth, etc.
A few years back, police clearance report verification was done manually by visiting the related offices. But, as the Covid pandemic disrupted the daily life of citizens and the technology became more advanced, now the police report verification can be taken online. The Department of Consular Services has brought the provision to verify the police report online since September 2021.
How To Apply for Police Report Verification Online
Police Report Verification Online application allows an applicant to enter the text data and documents for document attestation. An application can be saved temporarily or a submitted application can be edited till the application is not processed. But before it can be saved, certain mandatory fields must be filled in. These fields can later be entered to retrieve the saved or submitted application. Applications are saved for 15 working days or till document attestation is done, whichever is first. After 15 working days, even if document attestation is not done, that application can no longer be retrieved using the information.
Before we start talking about the process of police clearance certificate verification, it is important to understand that you don't need to verify the police clearance certificate from the Consular office if the document from Nepal Police already contains QR Code. However, if the condition arises where you have to get verifications from the consular, you can apply for verification online and proceed accordingly.
These are the steps that need to be followed for getting police report verification from the consular office.
Step 1: Visit consular office official website here, and start scrolling the messages. After that, mark the agree on terms and condition checkbox and click on next.
Step 2: You will get a short captcha which needs to be rewritten on textbox and proceed further. If the captcha is correct, you will land on form page where the application can be sent with your details and other required documents.
Step 3: The first page consist of user registration details where you have to fill Name, Passport No., Province, District, Municipality, Mobile No., and softcopy of Passport. After that move on to next page by clicking next.
Step 4: The second page is where you need to upload the softcopy of all the required documents.
Step 5: The last page will consist of preview of all your details and documents. Thoroughly confirm all the personal details and submit the application.
Step 6: After filling the form online, the message will come to the mobile number after the application is approved from the office.
Step 7: After receiving the SMS, the department has made an arrangement to submit the revenue amount online by visiting here after receiving the message. Furthermore, Revenue can also be filled through Connect IPS directly through electronic payments or through branches of Global IME Bank across the country.
Step 8: Finally, the applicant or person specified in the application should be present in person from 10 am to 2 am with a color copy of the voucher or police report filed for revenue. When you go to get the documents, you have to go to the department with the citizenship certificate or the identity document with a photo.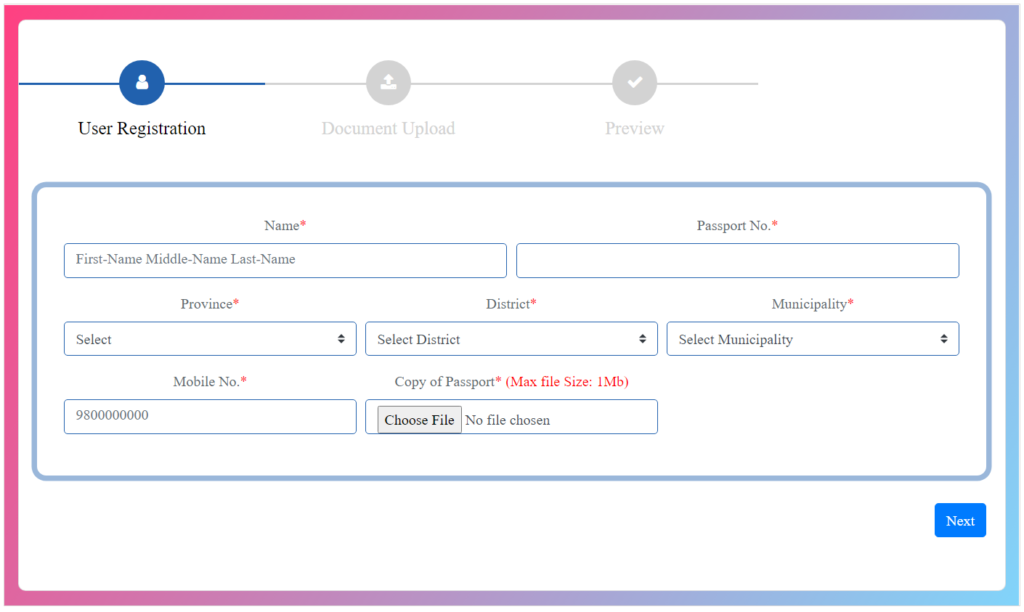 Police Clearance Certificate Report
Furthermore, it is important to note that the consular office provides only verification to the police clearance certificate from Nepal police. Police Clearance Certificate (PCC) is an essential document if you are planning to go abroad. It is evidence for the fact that you have a clean record. It is a legal document issued to Nepali passport applicants. Most of the countries require Police Clearance Report in Emigration points.
Last year, on the 16th of Falgun 2077, Nepal Police had allowed the beneficiaries to print Police Clearance Report on their own, after applying for it online. The applicant can apply for the Police Clearance Report online from the Online Police Clearance Registration System and proceed for a color-print of the report on A4 size paper. Then, that report could be submitted directly to the Department of Consular Services, Ministry of Foreign Affairs for verification.
How long does it take to get a police clearance report?
If you have submitted your all detail correctly you can get your police clearance report within 2 to 3 days.
How long is a police report valid in Nepal?
Your police report is valid for 1 year in the context of Nepal. After 1 year you have to apply again and you have to get new police report.