Nepal Clearing House Ltd. (NCHL) has bagged the Digital Services ICT Awards 2021. ICT Awards is the annual flagship award of Living with ICT.
The award ceremony took place on the 2nd of Poush. The awards included 12 categories for best personalities, organizations, and products who have made significant contributions from their respective fields. Among the nominated companies, NCHL stood out as the winner this year in the "Digital Services" category.
Neelesh Man Singh Pradhan, the CEO of NCHL received this award on the behalf of whole NCHL team.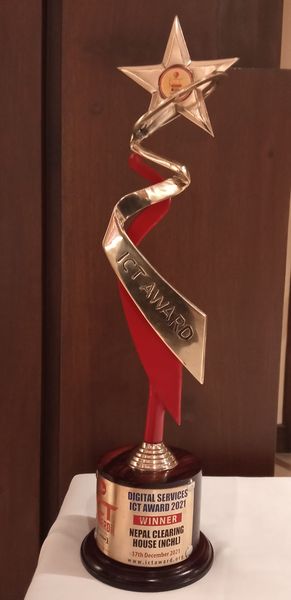 NCHL has got this award for its significant contributions to facilitating electronic transactions by establishing and operating the payment infrastructure required to play a key role in digital transformation. It has been providing payment infrastructures since its establishment in 2008.
NCHL has proved it is worthy for this award since it has introduced various digital services for payments and settlements
After the establishment of connectIPS in 2017, it has upgraded the digital payment ecosystem. At present, NCHL has 6 major products and services that are supporting digital payment and settlement. It is supporting the financial market, government, and corporates in their day-to-day activities through electronic cheque clearing system NCHL-ECC, NCHL-IPS for interbank electronic payment, connect RTGS for high-value payment, National Payment Interface (NPI), and corporate Pay for business transactions.
In addition to that, connectIPS is holding the major share in retail payments. cconnectIPS has reduced the transaction cost to a maximum of Rs 8 for payments more than Rs 50,000/ This has also made it easier to use. Many people today prefer connectIPS for making digital payments.
The metrics of payments are awesome! NCHL transactions have exceeded the Nepal's GDP by more than 3 times
NCHL has won the Digital Services ICT Award 2021 and set an exmaple for other peers. It is the payment system operator (PSO) licensed by Nepal Rastra Bank. It has made digital payments really easier by facilitating payments and settlements. Moreover, it is introducing National Payment Switch very soon so as to allow wallet to wallet transfer.
In the fiscal year 2077/78 alone, electronic transactions through NCHL's channels reached about NRs. 13.04 trillion. Similarly, it has already settled about NRs. 6.5 trillion of transactions till the first 5 months of this fiscal year.
This figure includes all the transactions related to the governmental units, capital markets, insurance, remittance, big corporates, and organizations along with real estate payments made through 6 payment systems of NCHL.
In addition to that, it has recently added 7 financial institutions in the Real-Time Gross Settlement System (RTGS).
With Digital Services ICT Awards, NCHL is growing in the digital payment ecosystem of Nepal. NCHL is upgrading its system time and again. It has made government payments possible from digital mediums. Not only that, but it has also brought an easy way to make retail payments through connectIPS. Moreover, now high-value settlements between financial institutions, governmental units, etc. are made through the RTGS system. TechSathi congratulates the entire team of NCHL in winning the Digital Services ICT Awards 2021.