Finance Minister Janardan Sharma has inaugurated the electronic payment system of customs duty organized on the occasion of the 70th International Customs Day. Importers and Exporters can now pay customs tax online. All products brought to the customs point by the trader can now be paid online from anywhere. This will help accelerate customs department work while also saving time and ensuring the security of service recipients.
The Customs Department had previously done a trial run of this service at Birgunj's Dry Port Customs Office. This approach eliminates the need for customs agents to carry cash, go to the bank to prepare goods for payment checks, and so on. During the event, the minister also informed that a 'vehicle scanner' will be used at the customs point soon. According to the customs authority, the service will now be available at 24 more customs offices across the country following the successful testing of the dry port. The expansion of online customs tax payment from the Tribhuvan Airport Customs Office was also inaugurated by Finance Minister Jarnadan Sharma.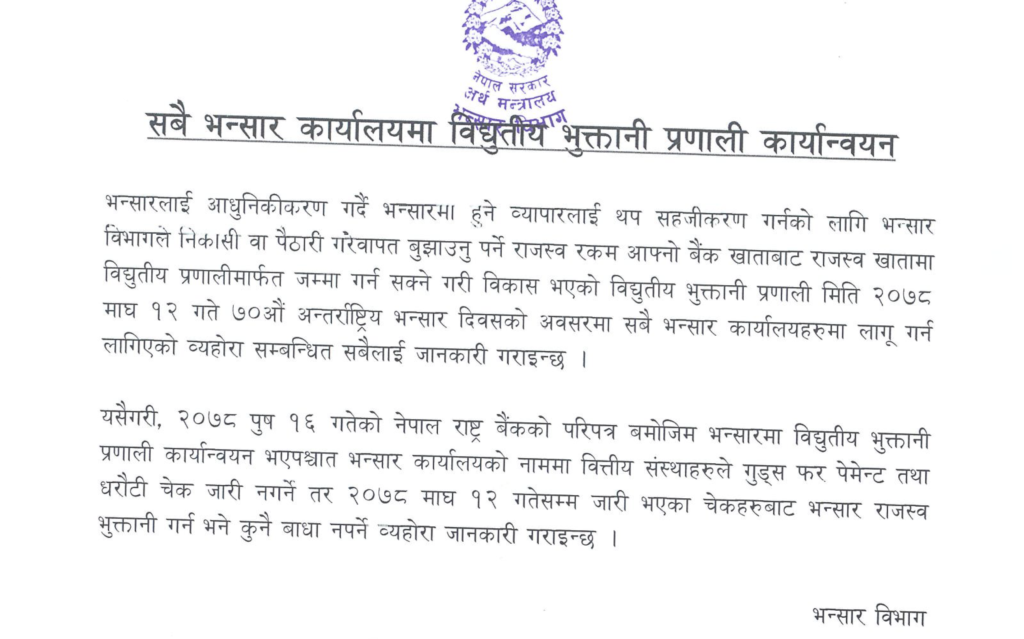 Also Read: Nepal Clearing House Limited (NCHL) Bags Digital Services ICT Awards 2021
More about paying Customs Tax Online
Real-time transactions would allow users to pay up to Rs 20 lakh on each transaction, while non-real-time transactions will let them pay up to Rs 30 crore if they choose to pay customs tax online. The service recipients can pay by entering the details after the declaration is accepted at the customs.
According to the customs department, when making an online payment, the user must choose a suitable device and enter the login and password. You must link your bank account and get it verified by the bank branch. Users, businessmen and individuals will be able to pay the revenue due from their bank account through any device in such a way that it is credited to the customs fund account.
After the declaration and inspection of the goods at customs, arrangements will be made to pay the amount directly through the financial medium you use by entering the general details of the declaration form. If the payer follows the payment procedure after confirming the name of the importer and the revenue tax to be paid, a receipt of revenue payment will be received from the bank branch at customs.
Users can pay customs tax online through Nepal Clearing House's Connect IPS, Mobile App, Corporate Pay, NCHL Bank Center, and Digital Wallets linked with Nepal Clearing House to make online payments.