 The Home Ministry has warned to take action against those found operating online and networking businesses without permission and registration. Home Ministry Spokesperson (Joint Secretary) Pradip Kumar Koirala issued a statement saying that e-commerce was flourishing without permission. Hence, the Ministry has released a notice directing to stop such activities.
A lot of businesses are running without permission or without registering in Nepal. The income earned by them does not go into the tax revenue of the government. Hence, it remains out of the records of GDP calculation. This is a disadvantage for any economy.
The Home Ministry has also warned to take actions against any activities that are operating illegally in the name of online businesses, networking, online banking, online insurance, online cooperatives, etc.
This indicates even the online businesses that are running without registering should register very soon.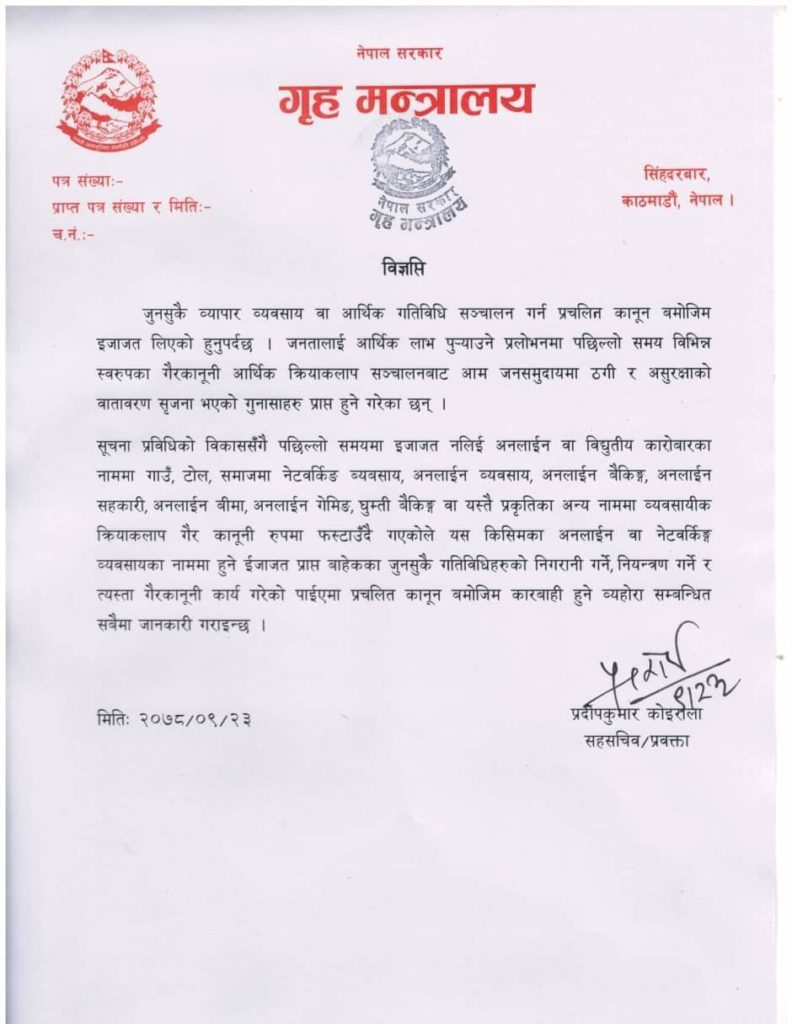 Before operating as such businesses, you must get permissions complying with the acts associated with the nature of your business. For example, the trading of crypto is illegal in Nepal as of now. Hence, if you are operating such a trading business staying in Nepal, the Home Ministry has eyes on you.
You can register your business in any among these categories based upon your nature of business, capital, and liabilities.
Sole Proprietorship
Partnership Firm
Private Limited Company
Public Limited Company
Why should you register your online business and get permission?
Well, registering your online business has a lot more advantages to both the economy and to the business too. Registering a business is an expense in the books of account but in reality, it is an investment.
Let me explain how. Suppose you started an online clothing business a year ago without registering it. Within a year, let's assume you made a handsome profit, reaching tremendous sales. What if another company emerges with the same name and brand? If it is registered, that company is considered legal, not yours. The new company that is registered can enjoy all the facilities given by the government to the businesses.
For example, the Fiscal Policy of Nepal 2078/79 has allocated about Rs 13 billion to provide an interest subsidy of 5% to SMEs and MSMEs, women-run businesses, and commercial farming. To get this facility, you need to register your business properly in the Company Register Office, PAN Office, and Ward Office.
Moreover, you can be eligible to get loans from the banks too if you are register your business. As the startup culture is growing in our country, we need to make sure that this supports both the market and the whole economy. So make sure you register your business before operating it.