NIC Asia Bank has been practicing dynamic and reliable banking for a long time. With its branches and networks spread throughout the country, the bank provides unequaled and unlimited banking services. The timely introduction of several sophisticated services and facilities is one of the utmost specialties of NIC Asia. In the process of bringing such vital services, NIC Asia has lately unveiled "Super Six Plan". This plan emphasizes digital payments which are vital in crucial times like these. Now, let's dive into the text and learn every possible thing about the Super Six Plan.
NIC Asia Super Six Plan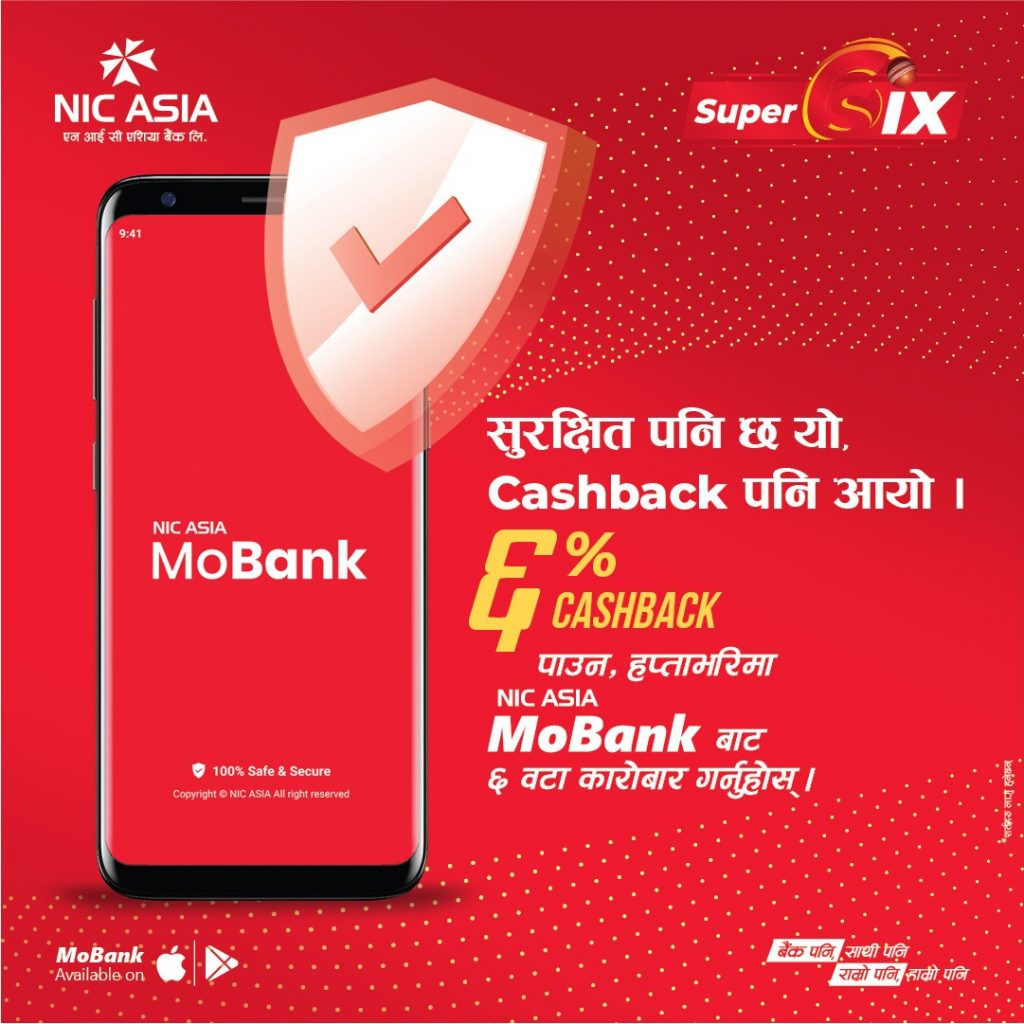 According to the "Super Six Plan", customers can make 6 transactions per week through NIC Asia Mobile Banking. On making transactions, customers get a refund of up to 6% of their sixth transaction every week i.e., up to Rs.700. The cycle starts on Sunday and ends on Saturday; customers can get up to 500 refunds. This service scheme is valid only for transactions made from 8th to 27th Bhadra, 2077. Further, more than or equals to Rs.100 transactions are to be made by customers in order to get refunds.
Also Read: NIC Asia Bank: Transforming Digital Banking Services in Nepal
The bank has launched this significant and exciting digital transaction service through more than 15,000 QR merchants. To ensure people's safety and to reduce the risk of corona transmission, the bank has brought Super Six Plan. Customers can stay safe and sound at their home and pay digitally for the services they consume. They can make electricity and drinking water payments, payment for insurance premiums, television bill payment, purchase mobile recharge, and more. However, this plan doesn't include wallet loading, money transfer, and credit card payments via mobile banking.
Click here to learn more about this offer
NIC Asia brings user-friendly, sophisticated, and advantageous services and facilities time and again. Digital service is the major gateway for all sorts of transactions these days. So, Super Six Plan is sure to be a success. The bank has even made an arrangement to give up to a 30% discount on the transaction amount. This discount is granted to mobile banking users as well as debit/credit card users. This scheme is valid while paying for services of more than 2,300 hospitals, hotels, and restaurants, department stores, etc. across Nepal.
NIC Asia in Nepal:
With the long term strategy of being a digital-first bank, NIC Asia has progressed a lot. It has increased its customer number by 4 lakh 84 thousand in only the past fiscal year. This is the highest growth of commercial banks in the past year. With this, the total number of customers using the bank's service reaches 22 lakh. Past year, the bank experienced remarkable achievements in the sector of digital banking. After all the hardships, the bank has successfully extended its customers' number list. The bank has altogether 7 lakh 66 thousand debit card users. Further, it has 12 lakh 1 thousand active mobile banking users. Additionally, it has 1 lakh 12 thousand internet banking users as its trusty customers as well. The bank has is providing quality services through more than 15 thousand QR Merchants and nearly 4 thousand POS Merchants.
NIC Asia is the biggest digital commercial bank with the largest branch network within the country. It provides banking services through 326 branch offices, 466 ATMs, 102 extension counters, and 64 branchless banking. This all was possible only because of the immense love, support, and trust of people. Executing with more than 22 lakh customers across the country, the bank's major financial indicators seem to be quite interesting. Practicing responsible banking, the bank paid 1.87 billion directly or indirectly to the Government of Nepal in the last fiscal year. NIC Asia has established its branches in remote districts as well and also in 34 local bodies. NIC Asia also serves the area where other banks and financial institutes haven't reached. So, NIC Asia is worthy of being people's favorite and nation's biggest commercial bank.