 NIC Asia Bank, a prominent A-level commercial bank in Nepal, never lags behind in impressing its customers with exciting offers and facilities. As one of its timely offers, NIC Asia has unveiled the "Monsoon Ma Vansoon" offer to benefit its customers, both new and old. In this offer, the existing QR merchants and account holders can refer to their friends for installing NIC Asia's QR in their outlets and earn Rs.750 for every outlet. Note that you can make as many referrals as you want and earn as much as you can.
Before diving into the terms and other aspects of this offer, let's first learn about QR.
Quick Response Code
QR code payment is a contactless payment method where payment is performed by scanning a QR code from a mobile app. It's an alternative method for transferring electronic funds at the point of sale using a payment terminal. It overcomes the traditional way of making payments and eliminates the use of payment cards, POS machines, and cash.
Also Read || NIC Asia Super Six Plan: Get 6% Cashback on Every 6th Transaction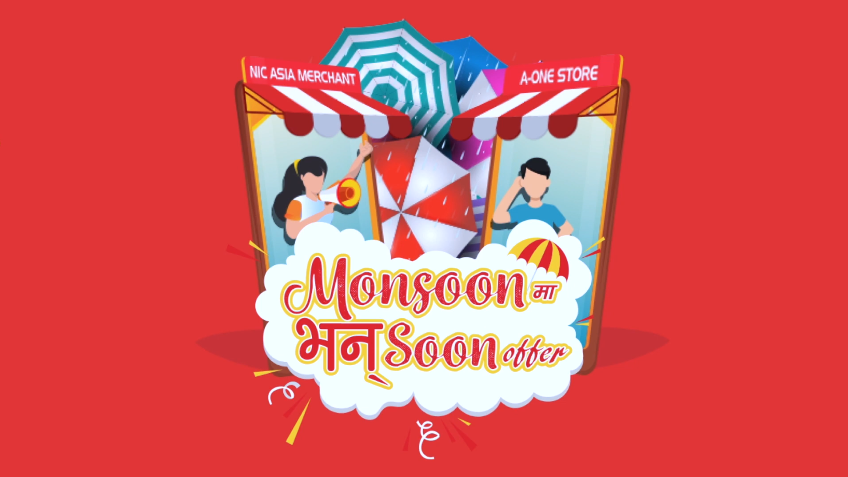 Advantages of QR code payment
NIC Asia accepts QR code payments made from Nepal's largest mobile payment network, Fonepay. Merits of this payment method are as follows:
Merchant can easily accept QR code payment from Fonepay mobile banking customers in Nepal.
The customers can simply scan the QR code of Fonepay using their mobiles and pay bills instantly. Then the payments will be directly transferred to the merchant's Bank account in no-time.
QR code-based payments present in Fonepay are accepted by most of the merchants across Nepal. So, it would be effective and convenient for customers to make QR code payment via Fonepay.
How to register in Fonepay to use QR?
Download Fonepay Merchant App from Google Play Store or App Store.
Click on 'I agree' option when terms and conditions are displayed.
Fill your business details, bank details, personal contact information, upload your pan certificate photo and click on register.
You'll then be successfully registered in Fonepay.
Afterwards, the bank will send you SMS providing you your username and password.
Login with the username and password provided to you via SMS.
On every payment, both Merchant and Customer will receive an SMS notification from Fonepay.
In this way you can successfully register in Fonepay and use QR.
How to refer?
Log into www.nicasiabank.com
Apply for QR by submitting your interest
Fill the required information and also include the name and contact number of referee in the referral form.
Submit the details
The bank will incentivize the referee upon the onboarding of merchants and reward them accordingly.
Who can claim this offer?
Merchants using their QR or existing customers:
The existing customers of the NIC Asia bank or merchants using their QR can claim this offer. They can refer their friends (merchants) and earn cash Rs. 750 for each referral on successful installation.
Merchants not using their QR or not their customers:
Those who are not the customers of the NIC Asia bank merchants not using their QR can also claim this offer. They too can simply apply for the offer and share their interest in the bank's QR. After a successful application, the bank will contact them and will help them to install the bank's QR.
Validity of this offer
Monsoon Ma Vansoon offer will remain valid till the end of Ashwin 2077. No specific date has been revealed yet but the bank might notify it later. Time runs fast. Hence, stay updated and don't miss this wondrous offer.
Reward amount and reward distribution
The bank will provide Rs.750 (net of tax) for each new lead (on successful onboard) to referral merchant/Customer. There's no limit in the number of referrals that a single customer can make. So, referrers (existing customers) can earn good money. The rewards will be distributed after the end of this campaign i.e. after Ashwin. Hence, wait patiently for your rewards.
Privilege for top 10 referral customer/merchant
There's an extra and a special offer for the top 10 referral customers and merchants. Top 10 merchant's referrers will be provided with additional Rs. 50,000 each. But at first, the referrers must make a minimum of 50 merchants' referrals.
Documents required for applying QR:
QR Merchant Establishment Application Form.
PAN
Current Account in NIC Asia Bank
For more queries, contact 9828711115 via what's app, viber and direct call.