 NIC Asia Bank becomes the first bank of Nepal to have 1 million downloads of its mobile banking app in Google Playstore. Among all the mobile banking apps in Nepal, NIC Asia MoBank App has crossed this landmark for the first time in history.
The bank has thanked its users for this achievement today. NIC Asia MoBank is the only mobile banking app that has reached this milestone. After eSewa, Khalti, IME Pay, and MeroShare, NIC Asia MoBank is the fifth fintech app to cross 1 million downloads in Android. Moreover, it is the first-ever mobile banking app to enter this 1 million club. Meanwhile, most of the mobile banking apps of commercial banks have crossed 100,000 downloads in google Playstore. Among them, the mobile banking apps of Rastriya Banijya Bank and Global IME Bank have crossed 500,000 downloads.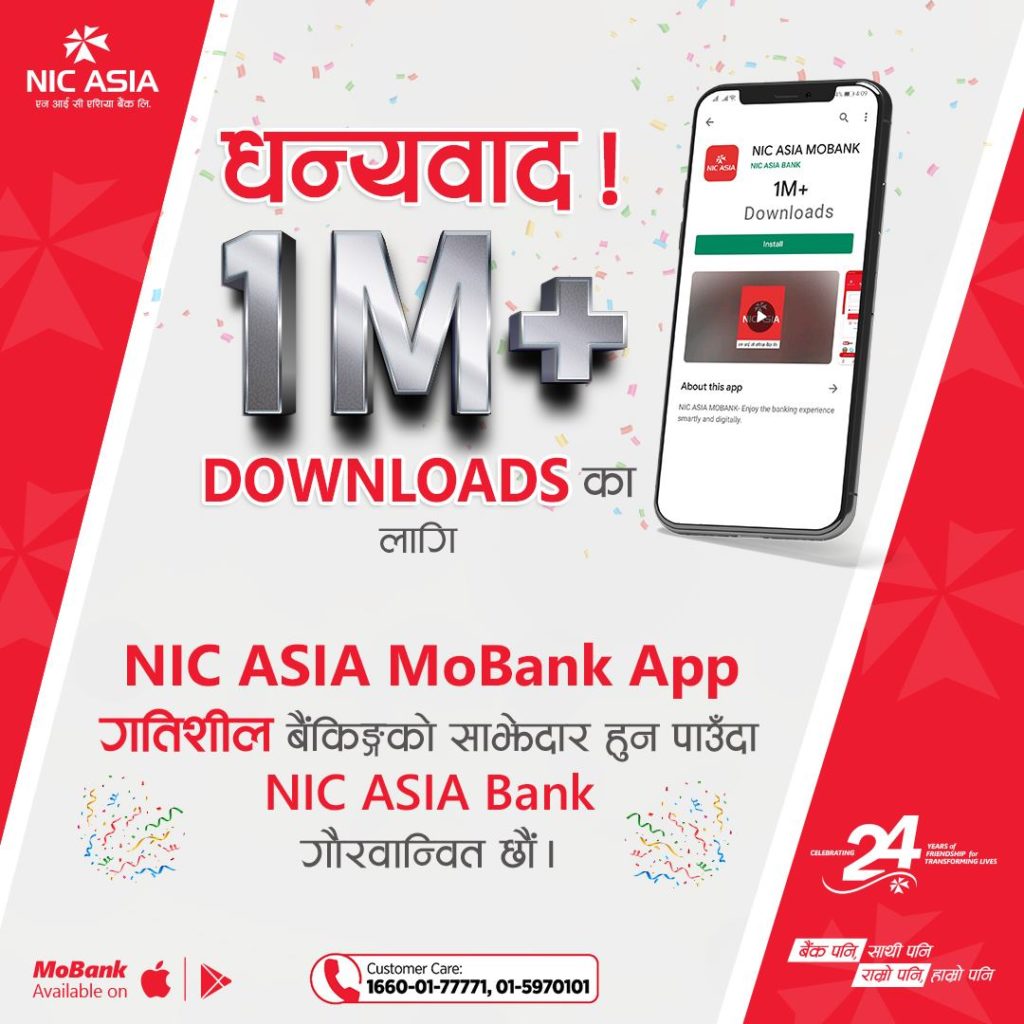 About NIC Asia MoBANK
NIC Asia MoBANK is the mobile banking system of NIC Asia Bank which is also a member of Fonepay Network. FonePay is the system operator of most of the commercial banking apps in Nepal.
NIC Asia MoBANK, like other mobile banking apps, offers easy and quick digital banking options to its customers. Along with common banking services like fund transfer, remittance, utility payments, top-up, QR payment, and digital banking, it offers other varieties of services like:
Applying for IPO
Debit/credit/prepaid cards application
Foreign Exchange rate enquiry
Safe and secure experience with 128-bit SSL encryption
Attractive dicsount offers
Customer care service with Chatbot, video tutorials and direct contact with bank's staff
It's noteworthy that NIC Asia Bank is the first bank to initaite IPO apply through its mobile banking app in Nepal.
In addition to that, NIC Asia MoBANK emerges with new cashback offers time and again which we could attribute to the increase in its customers. The number of downloads for this mobile banking app reveals that NIC Asia Bank has the fastest growing bank for digital services. In addition to that, NIC Asia Bank has the highest number of branches in the country. Its 356 branches and 70 extension counters are serving its customers to date.
Similarly, the bank has also followed its motto of becoming "Digital First Bank", with the timely upgrade in its digital banking services.
Mobile banking apps Vs Digital wallets; How can they differentiate their services?
This upsurge in the downloads of mobile banking apps indicates the growth in financial literacy among the Nepalese. On the other hand, digital wallet users are also increasing at a faster pace. While mobile banking apps are also adding services like that of digital wallets, there arises a question- What might be the future of mobile banking apps?
Also read: Celebrate Father's Day with CellPay; Get Cashback Up to Rs 500 on Making Purchase via CellPay Kart
At present, many banks are competing among themselves to provide digital banking services to customers. However, some even argue that it might threaten the market coverage of digital wallets and other PSPs. Since banks also provide services like digital wallets, which include top-ups, utility payments, merchant payments, and QR payments, how can they differentiate their services?
However, this achievement shows the brighter side of the digital economy that Nepal is soon to become. We hope more Nepalese would opt for using digital options which provide them safe, convenient, and reliable services. Similarly, Nepal Rastra Bank is also supporting in maintaining interoperability among these digital payment systems. In this regard, we can be hopeful of having a wider usage of digital payment and banking options.