NIC Asia Bank has launched payment services to its merchants through WeChat Pay mobile wallet app. This would allow Chinese tourists in Nepal to make payments through the WeChat Pay app for the purchase of various products and services in the country.
For this, the bank itself, First Pay Technology Pvt. Ltd. and the Chinese Swiftpass Company have signed a tripartite agreement, which was signed by Mr. Roshan Kumar Neupane, Chief Executive Officer of NIC Asia Bank;  Mr. Biplav Joshi, Director of First Pay and Mr. Magic Tang, Vice President of SwiftPass. 
Under the agreement, WeChat Pay mobile wallet users will be able to make digital payments by scanning QR codes at merchants associated with the bank.
NIC Asia Bank has made arrangements for merchants who want to receive payment through WeChat Pay to apply through the bank's website  NIC ASIA QR (Quick Response).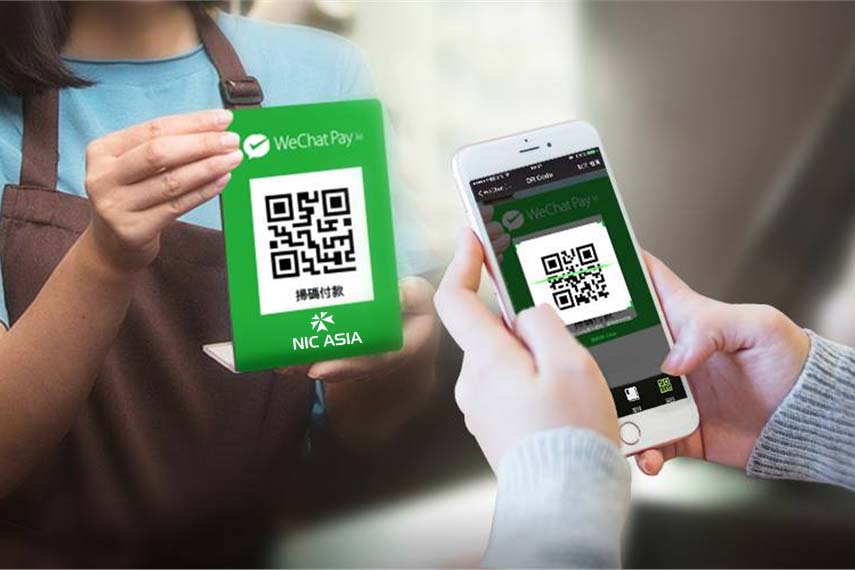 Although the number of tourists is very low due to the Corona epidemic, a large number of tourists come from China every year. In this way, Chinese tourists who are making significant contributions in the tourism sector of Nepal can buy various services and materials and easily pay through WeChat-Pay from now on which relieves them from currency conversion.
WeChat is a Chinese messaging, social media app which was introduced back in 2011. It gained wide popularity in recent years where it has over 1.15 billion monthly active users.
In 2013, it launched WeChat Pay mobile app which is considered the largest rival of Jack Ma led Alipay. Since then, it has been the most popular mobile payment app among the Chinese. 
With 15,000 and more QR merchants all over the country, NIC Asia Bank aims to help make the country's economy a cashless economy by contributing to the Government of Nepal's "Digital Nepal Framework" campaign by making reliable transactions through digital media amid a significant increase in the number of smartphone users as well as the number of dignitaries doing digital business. We hope this integration would set an example for other fellow institutions to serve their customers for a seamlessly convenient and secure payment system all over the country (and hopefully abroad too). 
Click here for more details: https://features.nicasiabank.com/merchant-acquisition