 NetTV has recently launched its new version of Set-top Box called NetTV Streamz+, which is powered by android tv in association with Google. With this, NetTV has become Nepal's first google certified android TV operator. This is the new version of Set-top Box which is powered by android tv in association with Google. Android TV is a smart television-specific modification of Google's open-source Android operating system. You can buy two different types of Android smart TVs: AOSP-based and Android TV OS-based.
You can also use this TV box to play games along with multiplayer support. It would include over 180 competitive and collaborative games in collaboration with AirConsole.
Users are subscribing to online OTT services, which are growing increasingly popular on the market. All authorized applications and the official version of the Android TV OS are supported by a Google-certified device which allows you to install your favourite OTT service on your device.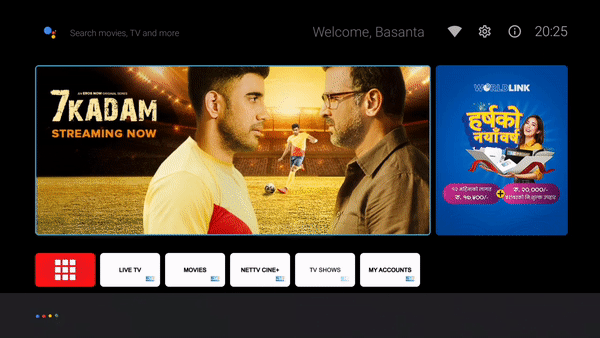 What benefits do you get on Google certified devices?
Google takes care of all flaws and defects with Certified Android TVs, implying that the operating system is more reliable than the Open Source Android (AOSP) version. They use the open-source Android operating system but without Google's authorization. As a result, some of these devices may be unable to access Google services such as the Play Store. But, in the case of the certified device, all apps are optimized to run on your device. You'll also get access to the official Google Play Store with a selection of over 5,000 applications that are guaranteed to run with your device if you have a Google-certified Android TV.
Specifications
| | |
| --- | --- |
| Operating System | Android TV 10 |
| Connectivity | Wi-Fi and Bluetooth |
| Ports | USB Type-A (2), HDMI 2.1 (1), LAN (1), AV input (1) |
| RAM | 2 GB |
| Storage | 8 GB |
Also Read: How can you purchase NETTV Streamz+?
You would be able to convert any normal LED TV into Android TV with the help of this TV Box. Along with this, it also consists of 200+ Live TV channels. As it is loaded with android tv, you will have all the functions such as Google Assistant, Chromecast and many other apps and features that a normal Android Tv would consist of. You can also use your smartphone as a remote to control this device.
About NetTV
NETTV is Nepal's first OTT/IPTV platform, with a government-issued IPTV license. It is managed by NITV STREAMZ PVT LTD, a Kathmandu-based corporation. As a team of market leaders in streaming and triple-play multiscreen device distribution solutions, they focus on developing an open platform where anybody may sell and make money by collaborating with them.
It has also launched new services to help viewers get the most out of their viewing experience. These include Ultra High Definition Quality IPTV Service, which provides 4K video streaming via a set-top box and is provided by several ISPs. NETTV has always thought that anything you want to watch, listen to, or enjoy should be available on your television at all times. Its IPTV streaming services are known for their ease of use, a wide range of entertainment options, and great pricing.