 In today's age, passive income has become an important thing. As the creator's economy is blooming, affiliate programs have been a huge success in many parts of the world. Keeping that into consideration, Analogue Mall – a venture by ANALOGUE INC. has introduced a passive income tool open for anyone anywhere, free of any hidden cost. Anyone can participate in Analogue Affiliate Program in Nepal and participate as per their ease. This affiliate program is different from other available programs in a sense that, not just institutions, even individuals with a followers base can participate.
Here's how you can participate in Analogue Affiliate Program:
1. Visit the following link https://analoguemall.com/about_affiliate
2. Click the "become affiliate" option
3. Register an account or if you already have an account you can simply log in
4. Copy the affiliate link of the affiliate product and share it amongst your family, friends, or for the public viewing
5. If anyone buys the product following the link you share, a transaction will be recorded and your affiliate account will generate its incentive.
Most affiliate program in Nepal do not have a transparent commission package. But, Analogue is different in this case. The Commission Package designed by Analogue is as follows:
| | |
| --- | --- |
| Category Name | Commission(%) |
| Computers & Peripherals | Upto 2 % |
| Desktops & All In One | Upto 2 % |
| Storage Devices | Upto 1.5 % |
| Networking Devices | Upto 2 % |
| Hardware & Peripherals | Upto 3 % |
| Software | Upto 1 % |
| Video & Photography | Upto 2 % |
| Security & Surveillance | Upto 2 % |
| Smart Watches & Band | Upto 1.5 % |
| Tablets and Ipads | Upto 2 % |
| Speaker | Upto 1.5 % |
| Accessories | Upto 1.5 % |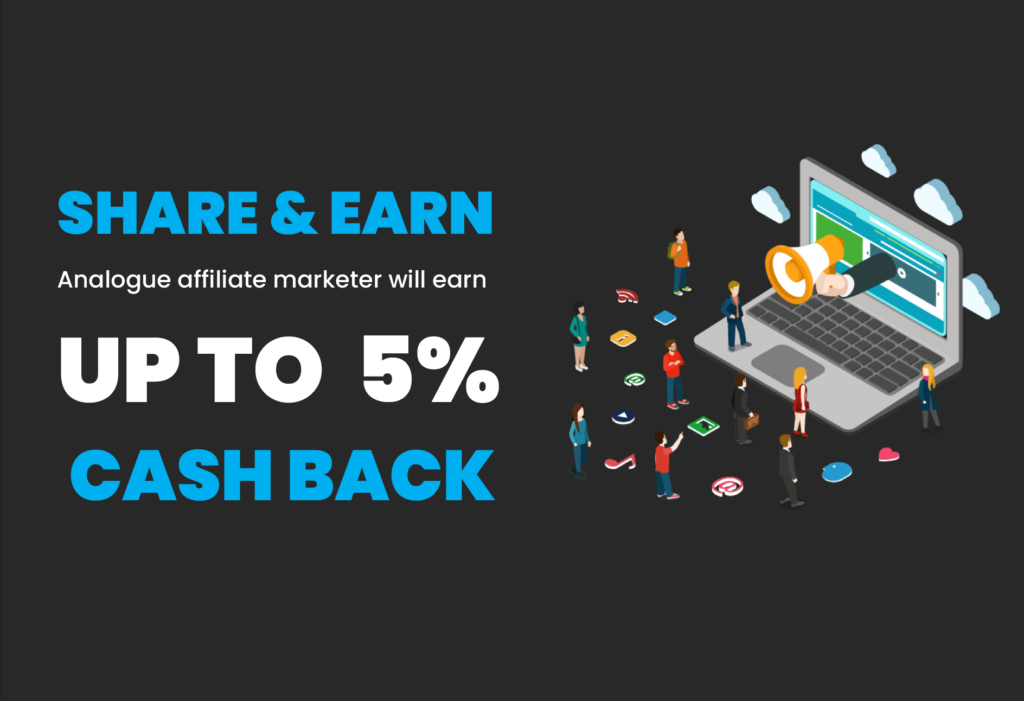 About Analogue Mall
Analogue Mall is a venture established by ANALOGUE INC. in the form of E-commerce and the physical outlet. It provides high-quality products at the best possible prices. The company aims to make its services user-friendly, transparent, lucrative, and fun, as they should always be.
As we see our youth heavily involved in the realms of the web, Not everyone is tech-savvy and not everyone knows how to use the perks of the internet, As a company, Analogue Inc. believes in making Nepal digitally smart and this is one of the tools we created to help anyone from anywhere to make a bit of extra income, as well as contribute to us. It's a two-way module and I hope everyone can benefit.

Analogue Inc.
Also Read: Analogue Care by Analogue Mall | A Step to Revamp Customer Experience