 One of the best e-learning platforms of Nepal, Digital Gurkha has recently hit a sensational milestone with 30 courses on their website. As of Now, Digital Gurkha has 30 plus free and paid courses on their website from different experts and experienced instructors. Since its inception, Digital Gurkha has constantly been trying to make education cooler and better, with opportunities to earn right after you learn.
About Digital Gurkha
Digital Gurkha is an ed-tech platform in Nepal with an aim to empower youths, make learning easily accessible for everyone around the world, and provide quality courses at an affordable price. Not only do they target the urban areas of Nepal but also the people who live in the rural areas, people who do not have easy access to a good education or a variety of courses.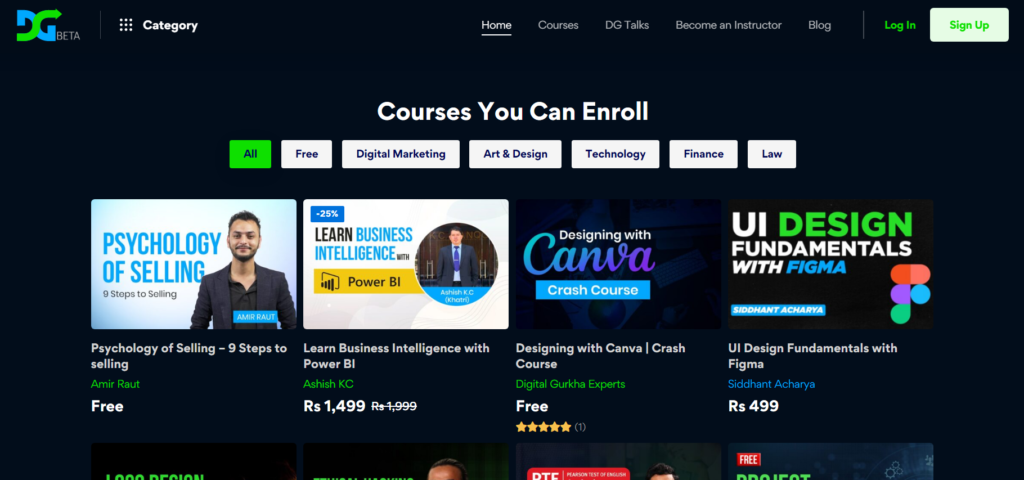 Popular Courses by Digital Gurkha
| | | |
| --- | --- | --- |
| Course | Instructor | Price |
| Psychology of Selling – 9 Steps to selling | Amir Raut | FREE |
| Learn Business Intelligence with Power BI | Ashish KC | Rs 1499 |
| Designing with Canva | Crash Course | Digital Gurkha | FREE |
| UI Design Fundamentals with Figma | Siddhant Acharya | Rs 499 |
| Logo Design Essentials | Explained with real-time project | Digital Gurkha | FREE |
| BEST – NEPSE Technical Analysis Training | Ashok Kumar Shah | Rs 1999 |
| Fundamental Analysis of Share Market | A complete beginners guide | Digital Gurkha | FREE |
| Cryptography For Everyone | Anmol Guragain | Rs 999 |
| Fundamentals of Communication | Learn Communication Skills | Nishan Ali | Rs 499 |
Get 20% OFF on all Paid Courses : Use Code TechSathi
In the context of Nepal, Digital Gurkha has been doing awesome work by providing online courses at an affordable price. That too coupled with less complexity and less barrier of language as they provide courses most useful for Nepalese people.
The company acknowledges the gap in the country where there is a lack of skilled or job-ready people that companies need. Digital Gurkha aspires to make people job-ready with the required skills and knowledge through their courses. Digital Gurkha mainly focuses on technical courses, Investing related courses and also offers soft-skill courses and creative courses.
Just within its 3-4 months of operation, Digital Gurkha has gained 7000 + students on the website with 1000+ daily active users. With this amazing news, Digital Gurkha is also providing an additional 20% off on all of their Courses on the Digital Gurkha website. So, makes sure you check them out NOW!