 Department of Customs Nepal has processed digital revenue collection of over NRs 7.4 Billion transactions till the end of Magh 2078. It was started as a pilot project from Poush 1, 2078 from the Dry Port Birgunj Customs Office.
On the 12th of Magh, 2078, Finance Minister Bishnu Poudel formally launched the e-payment system for tax collection from customs offices across Nepal.
With the DoC's full implementation of e-payments for customs declaration forms (Pragyapanpatra) through various NCHL and BFI digital channels, there has been significant growth in digital revenue, which has substantially aided importers in automating their payment process.
The e-payment of DoC has been enabled through National Payment Switch (NPS) for real-time and non-real-time payments, corresponding to which NRs.3.4 Billion was processed as real-time through retail payment switch and NRs. 4 Billion as non-real-time through NCHL-IPS during the period.
The custom agents or importers need to obtain details of Registration Year, Registration number, Custom Office Code, and Pragyapanpatra No. from the ASYCUDA system to initiate a payment from any of the available channels. ASYCUDA is a computerized Customs management system that covers most foreign trade procedures.
The transaction limits may vary depending on the payment channel selected by the user. The custom agents and importers can make their payments to DoC from their own bank account using different channels of connectIPS, CORPORATEPAY, and bank branches.
These are also being extended to the mobile/ internet banking of the BFIs and various wallets integrated with NCHL, which will soon be introduced. Such payments were earlier made through cheque or cash at the bank counters.
How Department of Customs Nepal collects the revenue?
DoC collects customs duty, value-added tax, excise duty, and other taxes at various customs points, representing 44 percent of total revenue and 50 percent of tax revenue.
DoC e-payment is projected to improve Customs Offices' overall operational efficiency and service delivery by allowing them to deploy cash-less and face-less services for quick, reliable, and transparent services.
The total e-payment of GoN revenue collection during FY 2078/79 till the end of Magh was NRs 13.2 Billion, whereas DoC alone has contributed around 56% of the total in a single month.
During the fiscal year 2077/78, GoN received about 10% of its revenue through digital channels. In the current fiscal year, this is predicted to increase by 2-3 times, and the e-payment of DoC revenue collection will significantly increase GoN transactions.
What is the role of NCHL in the collection and payment of Government revenues digitally?
NCHL is a public limited company promoted by Nepal Rastra Bank, along with the BFIs in Nepal. It offers a system and technology for both offline and online transactions (mostly online). Started in 8th Poush, 2065 as a central clearinghouse for cheques in the banks, now it has grown to a full-fledged company that supplies six major systems:
NCHL-ECC for faster electronic cheque clearing
connectIPS for retail payments and interbank transfers in a lower rate up to maximum of Rs 8
CorporatePay for the corporates to make their payments and office expenses
NCHL-IPS for direct account-to-account payments fro banks and financial institutions
connectRTGS for Real Time Gross Settlement of high-value transactions for both government and private sectors
National Payment Switch for the interoperability of transactions among PSPs, PSOs, mobile banking systems, digital wallets, cards, QR codes and otehr payment methods.
connectIPS is the first system in Nepal by NCHL to provide government payment options. Currently, you can make payments to 9 government offices directly through connectIPS.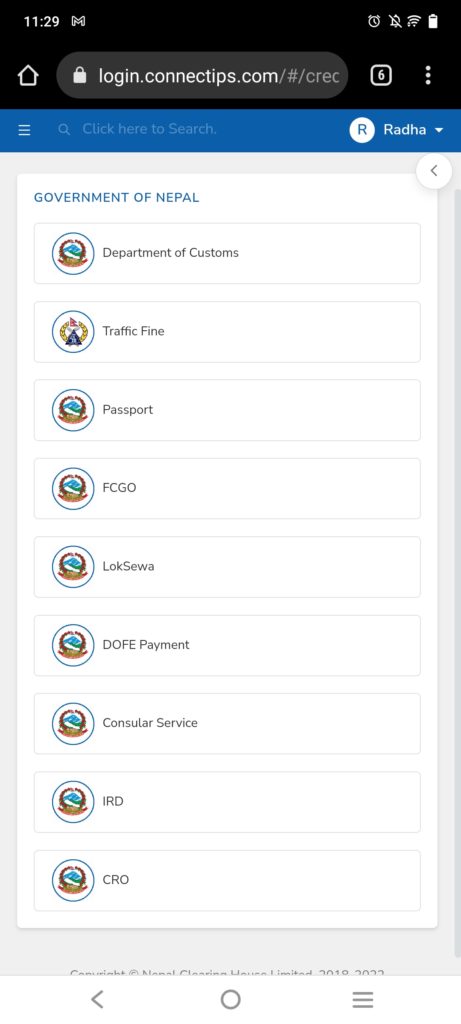 Similarly, you can make payments to 7 semi-government offices through connectIPS.
How to make payments to Department of Customs in connectIPS?
Open connectIPS mobile app or go to www.connectips.com
Then log in to your account and go to Government Payments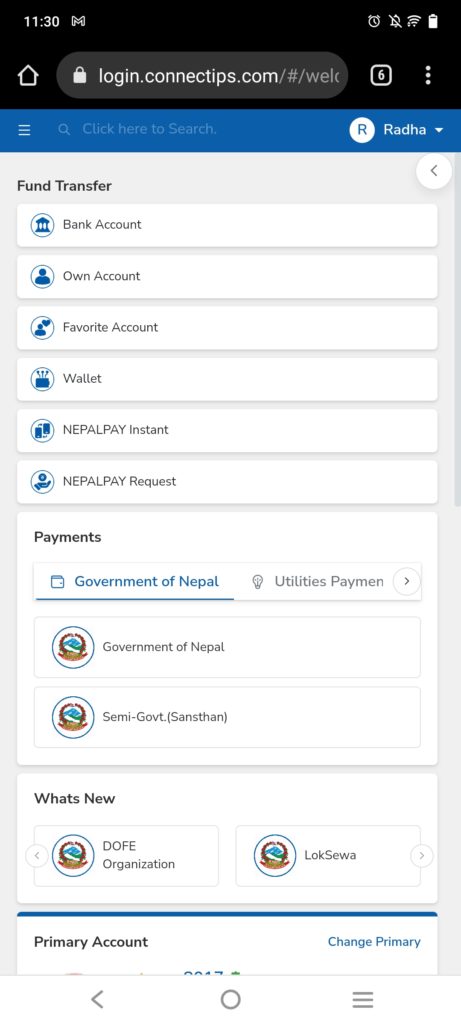 On the first option, there is the Department of Customs. Click on that option.
Then, enter the details like which customs office you are applying from, the registration year, registration serial number, and registration number. Then click on the make payment option. You'll have to enter a 6 digit transaction PIN. Then, you'll get an OTP to complete the transaction.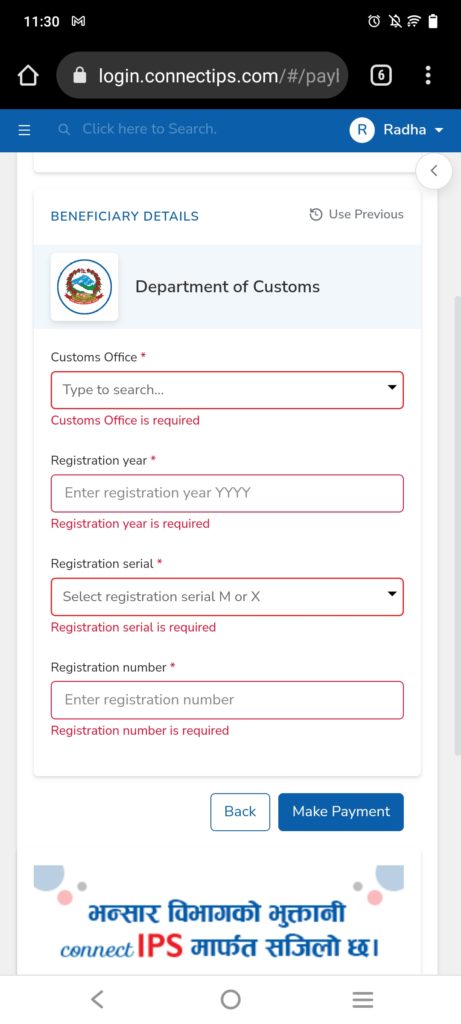 In this way, NCHL has made it easier for making payments to various government authorities directly through the linked bank account. It has been facilitating both high-value and retail payments for corporates, governments, BFIs, merchants, and general users. Moreover, the National payment Switch is going through its Phase 1 of operation where interoperability among the payment platforms is getting possible. Soon, we will be able to make wallet-to-wallet transfers and integrate the payments among cards, QR codes, mobile banking, PSPs, and PSOs for easier and hassle-free transactions.
Also Read: Nepal to Adopt India's UPI Payment System; Will Support for Easy Cross-Country Payments