For the first time in Nepal, Nepal Telecom has introduced a new service VoLTE in its network system. This service would allow the subscribers to experience HD Quality voice calls within its network.
What is VoLTE?
VoLTE stands for Voice over LTE. It is an advanced technology that delivers high quality sound over voice call. Over VoLTE, one can experience ultra-clear voice quality with reduced background noise.
It uses LTE network instead of the traditional wireless voice network. The bonus of it is that it allows you to browse the internet and use data-driven apps at 4G speeds while on a call.
VoLTE is available in all areas having 4G network coverage. This is the first time where Nepalese can use VoLTE under NT services are :
Enjoy simultaneous use of HD voice and LTE data
Experience high-definition sound quality when calling another VoLTE-enabled device
Get a faster call setup within seconds
How to Activate Nepal Telecom VoLTE on Your Device?
To activate Nepal Telecom's VoLTE service, you must own the SIM of NT. And you should follow some USSD dialing procedures like you buy your data packs. Follow these instructions for activation:
Dial *444#
2. Among the given 3 options, choose "Activate VoLTE" to activate it in your SIM
3. Enable VoLTE setting in your mobile device to activate it in your device
Ensure your device's (phone) software has been upgraded recently
Ensure that you are using NT 4G SIM
Verify that the VoLTE voice calling feature has been enabled on your smartphone.
For this, go to Settings-> Mobile Network -> Turn on VoLTE call
(This setting may differ from one phone to another)
Users with Dual SIM handsets should insert NT 4G SIM with data capability and network mode as "4G/3G/2G (Auto)"
Then the "HD/VoLTE" icon will be shown on the top bar of the screen. To know if you are on VoLTE service, dial *111# and verify.
How to deactivate Nepal Telecom VoLTE?
Well, VoLTE is way better than just a 4G service since you can enjoy both voice call and data surfing at a time. However, if you change your mind and would like to deactivate VoLTE service, all you need to do is again dial *444# on your phone and then select "Deactivate VoLTE". It will be deactivated then.
What makes calling on VoLTE different?
Before knowing the difference, let us know that VoLTE is an improved, more refined version of 4G LTE.
Then, what is LTE? Did it tickle your head? Well, LTE stands for 'Long Term Evolution'. Generally, LTE is also called 4G. During this service, the internet runs at 4G speed on your smartphone. In this network, you can enjoy the internet with high-speed bandwidth.
However, the drawback of this network is that if you are using it in your smartphone and someone calls your number, then the internet connectivity stops.
To solve this problem, VoLTE technology was firstly introduced in the beginning in August 2012. MetroPCS launched the world's first commercial VoLTE services in Dallas, Texas, in the United States. In India, it was introduced in 2016 by Jio.
In Nepal, Nepal Telecom is going to grab this first mover advantage. Using the VoLTE service, you can both use internet and make HD quality voice call at a time. Similarly, it allows you to enjoy data services at the cost of normal calls, which means it will not consume any additional data. It also implies, you do not need to activate a separate pack for VoLTE services.
Now, let's know what makes VoLTE different. It all starts with the difference between normal LTE calls and calls on VoLTE.
List of Devices that Support VoLTE
So now you've known about the difference, let's know what devices NT VoLTE service supports at present.
1. Samsung
Galaxy M01s, Galaxy M02, Galaxy M02s, Galaxy M11, Galaxy M12, Galaxy M21, Galaxy M30s, Galaxy M31, Galaxy A12, Galaxy A51, Galaxy A52, Galaxy A70, Galaxy A70s, Galaxy A71, Galaxy A72, Galaxy Note 10 Lite, Galaxy S10, Galaxy S10+, Galaxy S10e, Galaxy S20, Galaxy S20+, Galaxy S20 ultra, Galaxy S20 FE, Galaxy S21, Galaxy S21+, Galaxy S21 Ultra, Galaxy Note 10, Galaxy Note 10+, Galaxy Note 20, Note 20 Ultra, Galaxy Z Fold2
2. Xiaomi
Redmi 9 Prime, Mi10, Redmi 9C, Redmi Note 9 Pro, Redmi 8A
3. Nokia
Nokia 5.3, Nokia 7.2, Nokia 3.4
Did not find your device? Do not worry. Nepal Telecom is adding more devices (including iOS devices too) to this network very soon.
Introductory VOLTE Offers
VoLTE is a newly introduced technology in Nepal. To mark this achievement, Nepal Telecom has an exciting offer to the early adopters of VoLTE services.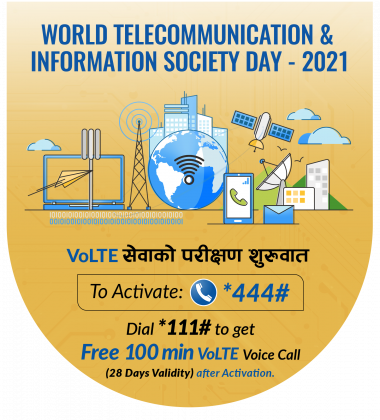 Once VoLTE is enabled, you can dial *111# to get 100 minutes free VOLTE Voice Calls which is valid for 28 days.
Nepal Telecom has initialized a new technology to home with its VoLTE services. Unlike traditional LTE service, VoLTE would enable the users to enjoy internet and call services at the same time which was not possible before. Seeing this, we can be proud that Nepal is heading in a faster pace with adaptation to the technology than ever before. It would cut off the additional costs to make a sound voice call that we bear in external software like Facebook Messenger, Whatsapp, Viber, Skype and others because NT charges as similar to your regular calls (based on minutes, not data) in VoLTE services. And now it is time to bid farewell to infiltrations and background glitches while you are making a call and welcome to HD-quality voice call. If your device is the one among listed above, hurry up to grab this opportunity and experience the life-like voice call through NT VoLTE service.
Also read: https://techsathi.com/buy-nepal-telecom-data-and-voice-packs-from-esewa