 This morning, when I checked the balance on my Namaste SIM, I was shocked! I had purchased a data pack of 20 rupees yesterday, and the balance of 50 rupees was remaining on my phone. But it seems after the data from the pack was fully consumed, internet continued to run and started deducting mobile balance. And when I checked the balance, it showed zero rupees left on my account.
I checked the SMS sent by Nepal Telecom and it said the balance on my account is 0.00 rupees, and my number is 'One Way Bar'. It further said, "For more information, please contact our customer service staffs or dial 191."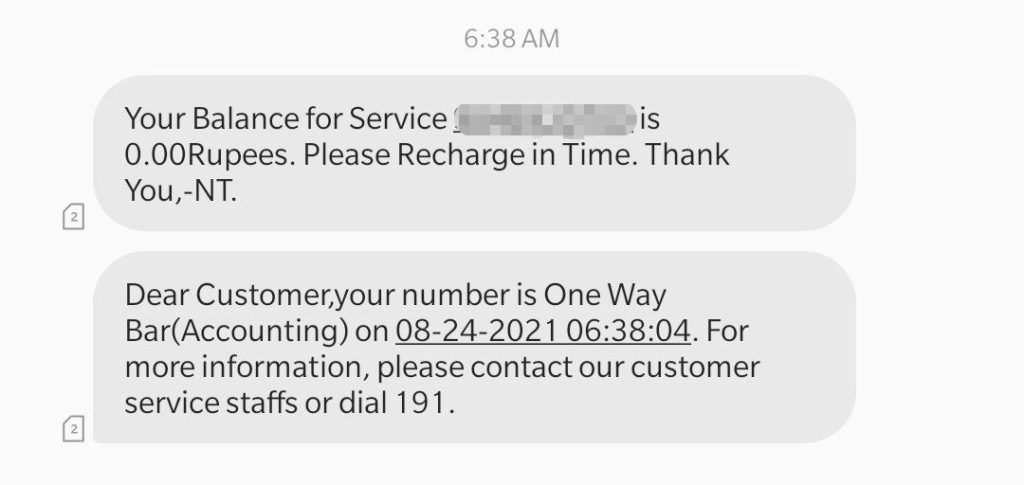 (Screenshot of the message)
But when I dialed 191, it said "Tapai ko telephone sewa nishedhit gariyeko chha. Sorry, your call is restricted." The call was not successful. And, when I dialed the general customer care number, 1498, it again said "Tapai ko telephone sewa nishedhit gariyeko chha. Sorry, your call is restricted." So, what's the point of asking to dial this number – 191, in the message, if calls can't be made to the number when the mobile balance is zero? And what's the point of restricting customers from dialing your own customer service number too when the balance is zero?
I also use Ncell SIM. And while using Ncell's mobile data, internet service stops automatically after the data pack is fully consumed and you have to purchase a new data pack to use internet again. With this, you are safe from the risk of balance being deducted from your SIM.
Improvements need to be made to Nepal Telecom's Internet Service!
I feel Nepal Telecom also should apply similar mechanism like Ncell so that innocent customers don't have to feel sad for losing money like that.
Last Saturday, I went to a mart nearby my home to buy a few grocery items. While I tried to buy 0.5 kg of an item, the owner said, "Sir, there is a special price for this item today if you buy 1 kg instead. You can buy 1kg at 320 rupees today, special rate only for today. But if you buy half kg only, you have to pay normal rate i.e. 200 rupees. So, we recommend you to buy 1 kg of this item." The shopkeeper would have earned more if customers buy without participating in the offer i.e. special pricing for that day. But customers might feel cheated if later they find such an offer existed, but the shop owner continued processed the billing without informing them. They will be more loyal towards the mart/shop if they get such offers, and the shop owner informs about such offers.
I wanted to share this incidence of shopping mart as it relates here. Various data pack exists, and customers can buy suitable packages and surf internet at cheaper rate. But NTC continued service even after the data pack was over, and I lost all the amount from my account.
Alert message from NTC?
If a customer makes a call longer than 10 minutes without buying a package, I recommend NTC to send an alert message recommending to buy a voice pack. And if a customer spends more than 10 rupees on surfing internet without buying data, please send alert message to buy a suitable data pack. By doing this, you might earn less. But customers will be more happy with such an experience and be more loyal to you.
There should be some mechanism to disable the internet service after the subscribed volume of data is fully consumed. Because, the customers must know that they've fully consumed the volume.
50 rupees, in the above case, might not be a big amount of money. But what if a customer had 1000 rupees in his/her phone? And all the amount got deducted when the customer used internet, in a single day? We all know video streaming service and social media apps are voracious. They consume a lot of internet. And smartphones have so many things running on background. While mobile data is on, even when we are not using phone, so many things are running on background that consume mobile data.
I am fully certain that I am not the only customer who had to face this issue. Thousands, or even lakhs of customers should have faced this issue already. I request Nepal Telecom to look into this issue and fix it ASAP!