The alarming Covid-19 pandemic has hampered the educational sector a lot. Even during this outbreak, people are somehow managing time and money to attend online classes. Everyone is trying their best to return back to their normal lives and most of us are working from home or working outside with enough safety measures. Online classes are under operation. Moreover, the Education Ministry is encouraging everyone to learn via the internet as well whether it's from any digital learning apps or institute's official sites. Staying within the periphery where everyone is promoting e-learning, Nepal Telecom has brought "Happy Learning Data Pack" for a consistent learning experience.
Now the users can easily use the learning pack and keep their child connected with his/her institute's activities. Meanwhile, institutes can carry out online classes effectively once they register phone numbers and names of their teachers and students in Nepal Telecom. To know more about this interesting pack, read further.
Available Data Packs: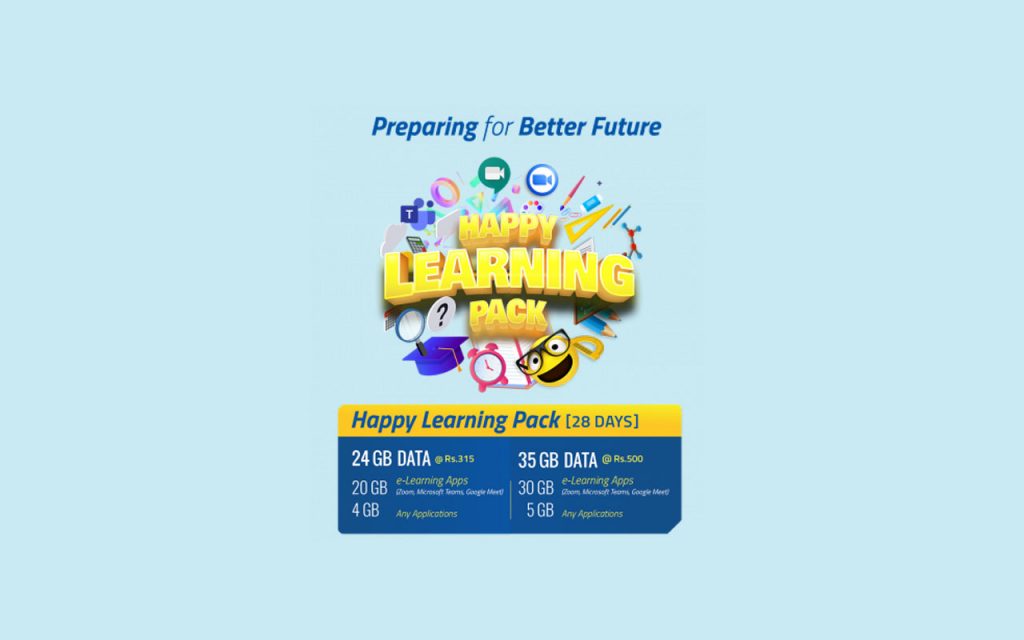 This beneficial learning pack has two varieties of data offers: one with 24GB data and the other with 35GB data. Now we present you a bit more information about these packages:
24GB data pack costs you Rs.315.This data pack can be categorized into two parts: 20GB & 4GB. The 20GB data type can be used to run e-learning apps like Zoom, Microsoft Teams and Google Meet. Contrary to this, the 4GB data type can be used for any other applications.
35GB data pack costs you Rs.500. This data pack can be categorized into two parts: 30GB &5GB. The 30GB data type can be used to run e-learning apps like Zoom, Microsoft Teams and Google Meet whereas; the 5GB data type can be used for any other applications.
The price of these data packs are inclusive of all taxes.
How to register for this pack?
Anyone willing to use this offer must first contact his/her institution. Then the institution will send an email to edupack@ntc.net.np, the mailbox of Nepal Telecom. The email sent by the institution needs to include phone numbers and respective names of its teaching staff and students in it. Afterward, Nepal telecom will send a message to every student and teacher listed in the mail for confirmation of their request. As your institution will help you register your name and phone number in Nepal Telecom, you needn't worry. All you'll have to do is dial *1441# and then go for the data package which you would love to use after receiving the confirmation mail from Nepal Telecom.
Availability:
Nepal Telecom Happy Learning Data Pack is highly affordable and available in all areas served by Nepal Telecom. Anyone with NTC SIM can use this pack whenever they want. Therefore there's a 24-7 service provision for customers to use this data pack.
Purpose of this pack:
Happy Learning Pack comes with a slogan: "Preparing for a better future", the main motive is to provide a quality learning environment. NTC introduced this pack to benefit people while they get involved in e-learning activities. This pack also enables people to make video calls as the part of package.
Who can use this pack?
Happy Learning Pack can be used by all NTC customers with GSM Data Services (2G, 3G, 4G). This pack can also be used by SEE students who have made their registration for SEE Student Offer2077. They'll have to follow the same procedure as everyone else. As the SEE graduates have the privilege of using e-Sikshya as well, they'll get benefited even more. This pack can be used whenever and wherever you like.
For how long will this pack be available?
Happy Learning Pack started from Father's Day i.e., 3rd Bhadra (19th August). It will last no longer than 28 days; registrations have already started. To be more specific, this pack will end after 17th September, so, better hurry up and make your registration as soon as you can.
Conclusion:
Happy Learning Pack is a truly satisfying data pack to purchase and use for anyone using e-learning tools. If you are searching for a better data option for your online studies and other activities as well, go for this pack.