Nepal Telecom, the foremost telecommunication company in Nepal never lags behind when it comes to surprising customers with its tempting offers. Along with it, their service provisions are undoubtedly tremendous as well. With a lot more to bring out in the Nepali telecommunication sector and many offers and giveaways to shower people with, NTC Stands at the front line holding immense love and support from its customers. Annually, Nepal Telecom has been bringing exclusive offer for all SEE appeared students.

Though SEE of the year 2076 was canceled due to the COVID-19 outbreak, some educational reforms were made particularly for SEE appearing students. As a result of it, students were in a privileged position and the results are out on the basis of the internal exam evaluation report. After the results, NTC hereby brings SEE Student Offer 2077 for all the SEE graduates of this year. If you too are this year's SEE graduate then you might want to read this post till the end.
Nepal Telecom SEE Offer: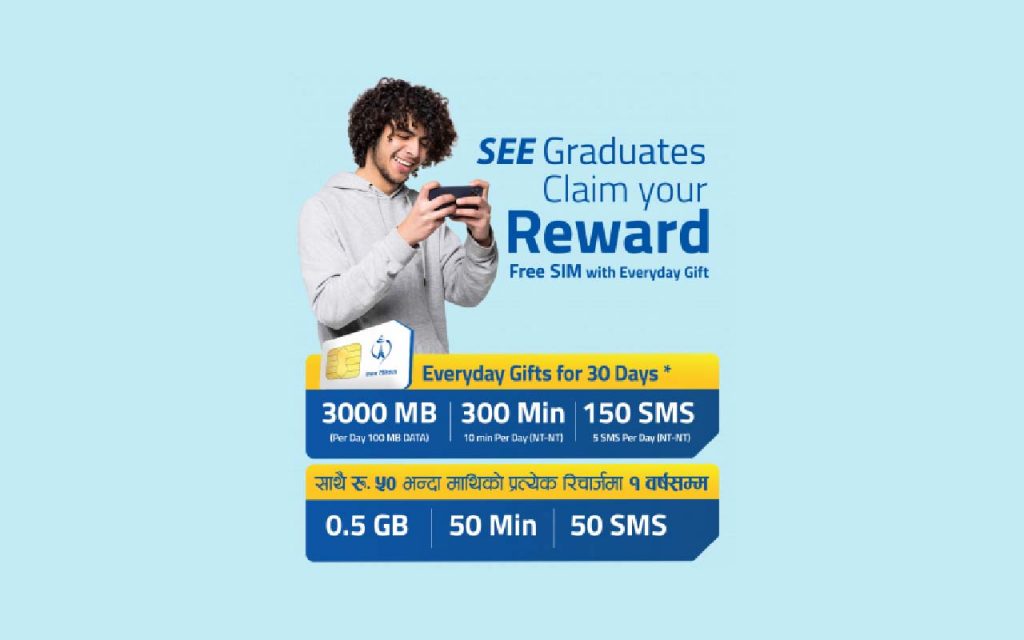 Nepal Telecom SEE Student Offer 2077 is loaded with exciting surprise packs and bonus. In this offer, students will get a free SIM card with Everyday Registration Gift for 30 days, Bonus On Recharge for a year and facility to subscribe to e-Sikshya packages as well. The facilities are listed below briefly so that it becomes convenient for you to read and understand them:
Free Rs. 10 main balance, 60MB data, 40 minutes on-net talk time and 20 on-net SMS in the SIM
Free 100MB data, 10 minutes on-net talk time, and 5 on-net SMS for 30 days as Everyday Registration Gift.
Free 0.5GB data, 50 minutes on-net talk time, and 50 on-net SMS for a year as Bonus On Recharge.
Students can subscribe to e-Shikashya packs by dialing *1441# and spend time preparing for college entrance exams as well.
Also Read: Ncell Brings Ultra WiFi SIM Plus: Plug and Play Wifi Service For Home and Office
How to get a free SIM Card?
To enjoy NTC SEE Student Offer, you will need an NTC SIM Card. You don't have to worry about the price of SIM as you'll be getting it for free from your nearest NTC office. For this, you'll have to fill a form with a passport size photo and attach a copy of your SEE Admit Card and a copy of your own citizenship or your parent's citizenship as well.
Procedure to register for Nepal Telecom SEE Offer 2077:
If you couldn't get a free SIM Card then pay Rs.90 and buy an NTC SIM from NT distributors. Now that you have the SIM, follow the below-listed instructions well:
Insert the SIM to your mobile
Dial *1600#
Then enter your symbol number and date of birth for registration.
What if you use your old SIM for registration?
If you already own an NTC SIM Card and you don't feel like visiting the NTC office to get a new SIM for free then you too can follow the above-mentioned procedure. Like others, you will get a free 100MB data, 10 minutes on-net talk time, and 5 on-net SMS for 30 days as Everyday Registration Gift but you won't get Bonus On Recharge.
How long will this offer exist?
NTC SEE Student Offer started from 17th August i.e., the day when SEE result was published. Further, this offer is said to be valid for 90 days. So, the countdown has already started. If you have not registered for this offer yet, hurry up. The late, the demerit. Therefore, make your registration as soon as you can and spend quality and productive time enjoying this alluring offer.